Today on KSR: Freddie's BACK
After propelling Kentucky to a ten-win season and a Citrus Bowl victory, Freddie Maggard is back on Kentucky Sports Radio. Sure, Josh Allen and Benny Snell did plenty for the UK football program, but the numbers don't lie. When Freddie is on the UK coaching staff, Kentucky wins ten games. Period.
After a successful run as Director of Player Development, Freddie left the hectic life inside the Joe Craft Football Training Facility to become the Director of Community Engagement and Veteran's Liaison for Shepherd's House. On top of Dad duties Freddie will drop football knowledge on the blog and in KSR podcasts. Later this afternoon he will dust off his media hat and write his first KSR post since April 2018.
Until then, we've got plenty to talk about.
A Busy Week of Recruiting
The UK football coaches were out in full force across the country on Monday. Mark Stoops and Vince Marrow traveled to Tennessee to visit two four-star defensive linemen, UK commit Tre'vonn Rybkka and Tyler Baron. The latter will announce his college decision on the first day of the Early Signing Period. A Tweet has not been posted, but Marrow mentioned after the game a trip to "Hutch," which means this jet took them to the middle of nowhere Kansas to see Ronald Williams Jr., a JUCO cornerback that got offers from Alabama, Oklahoma and everybody else right after he took an official visit to Kentucky in November.
On my way to lock down this class! #BBN pic.twitter.com/cWkZMpD61R

— CoachMarrowUK (@vincemarrow) December 2, 2019
Meanwhile, Eddie Gran and Michael Smith were in Ohio visiting with wide receiver Kalil Branham. There will be a few more recruits checked off the UK coaches' to-do list before the day is done.
Tra Wilkins Moves On
The first offseason act of attrition was true freshman linebacker Tra Wilkins. The Georgia native played in two games after enrolling this spring. A tad undersized, Jamin Davis' progression and the move inside by Marquez Bembry made it tough sledding for Wilkins to find PT in the immediate future. Instead of riding out the wave a little longer, he'll search for greener pastures.
Wilkins is the first of a few defections that are to be expected each offseason. As a handful or so players leave the program, it opens up another spot for what will ultimately be the highest-ranked recruiting class in school history.
A New KSR Football Podcast
While Austin MacGinnis makes moves to become a professional placekicker, Drew, Charles and I had a good, hearty laugh at the Louisville Cardinals. Drew Franklin is not known for his impressions, but his Scott Satterfield is so spot-on, I'm worried we may lose him to the transfer portal.
UK Basketball Moves Up
The Cats climbed to No. 8 in the AP Poll after Feast Week created big movers and shakers across college basketball. The Louisville Cardinals moved up to the top spot, a ranking that may not last for long. Tonight they'll face one of the hottest teams in the country at the Yum! Center. Michigan comes to town after jumping from unranked to No. 4, tied for the biggest move in the history of the AP Poll. Tip-off is at 7:30 p.m. ET on ESPN. A few other games on tonight's slate:
7:00: #24 Butler at Ole Miss on SEC Network
7:00: Northwestern at Boston College on ESPNU
9:00: #17 Florida State at Indiana on ESPN2
9:00: Rutgers at Pitt on ESPNU
9:30: #10 Duke at #11 Michigan State on ESPN
What are Those?
The phrase is typically reserved for shoes but we must make an exception for these slacks worn by John Calipari. This picture crossed timelines across the Big Blue Nation when Coach Cal wished Brandon Knight a Happy Birthday.
Happy birthday to @Goodknight11! Has it really been nine years since I coached Brandon?! pic.twitter.com/MYkTmw0DyG

— John Calipari (@UKCoachCalipari) December 2, 2019
Always known to be a snappy dresser, I don't recall a time when Calipari needed a tailor so badly. Those pants were meant to be worn at the 2003 NBA Draft, not on the sideline of a 2011 Kentucky basketball game.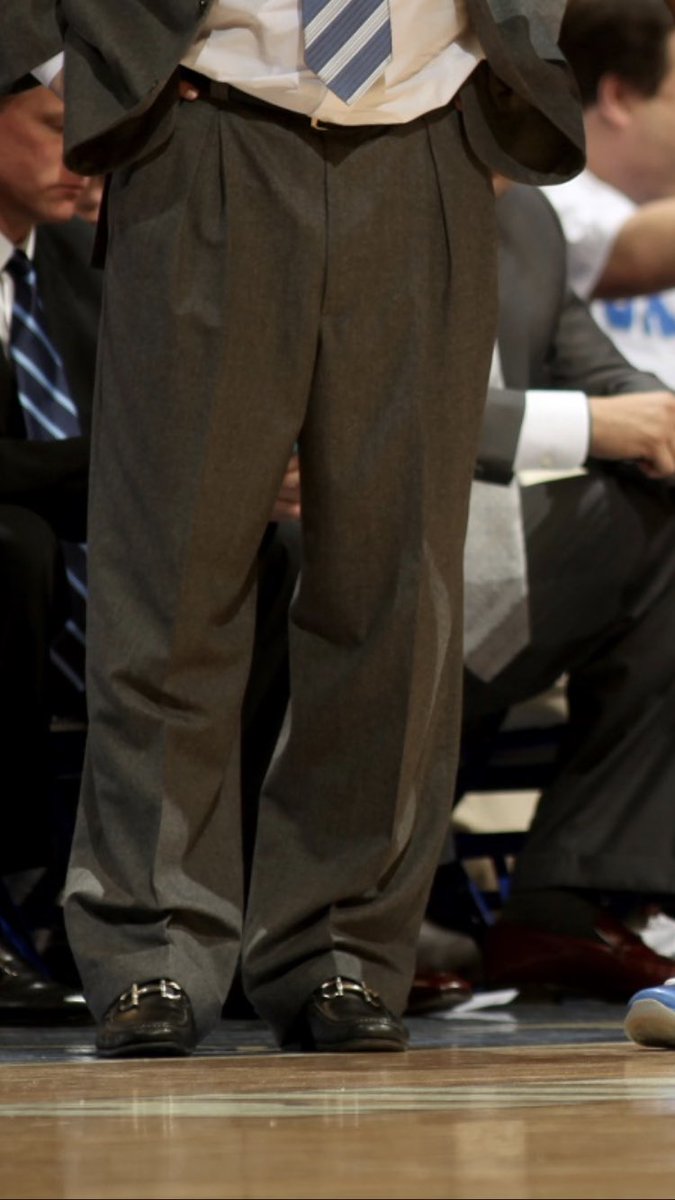 Jeff Piecoro Joins KSR
Tom Leach's righthand man for Kentucky football games is making his debut as a KSR cohost, joining Ryan Lemond and Drew Franklin for two hours of exciting radio. Don't miss it.