Today On KSR: Did Tyler Herro meet up with Chad Johnson?
Tyler Herro is still getting accustomed to his new home in Miami, and last night he asked Twitter for, "Food spots in Miami?"
Former Cincinnati Bengals wide receiver Chad Johnson, who now lives in Miami, was quick to respond with an offer to pick Herro up:
I'll pick you up, where are you? https://t.co/uvQJ6uKapU

— Chad Johnson (@ochocinco) July 24, 2019
Herro told him, "By the arena, pull up"
By the arena, pull up ?

— Tyler Herro (@raf_tyler) July 24, 2019
Things went silent from there, at least publicly, leaving all of us unimportant people with no involvement in the situation wondering if the two ever met up and formed a bizarre and random friendship over McDonald's. We may never know. (This is the kind of stuff we talk about during the slowest news week of the year.) One thing we do know, though…
We now know UK's out-of-conference basketball schedule.
With the addition of five new games and the announcement of Texas Tech as the Cats' opponent in the Big 12/SEC Challenge, the non-conference schedule is set for this coming basketball season. It looks like this:
Oct. 27 — vs. Georgetown College (Exh.)
Nov. 1 — vs. Kentucky State (Exh.)
Nov. 5 — vs. Michigan State (Champions Classic in New York)
Nov. 8 — vs. Eastern Kentucky
Nov. 12 — vs. Evansville
Nov. 18 — vs. Utah Valley
Nov. 22 — vs. Mount Saint Mary's
Nov. 24 — vs. Lamar
Nov. 29 — vs. UAB
Dec. 7 — vs. Farleigh Dickinson
Dec. 14 — vs. Georgia Tech
Dec. 18 — vs. Utah (in Las Vegas)
Dec. 21 — vs. Ohio State (CBS Sports Classic in Las Vegas)
Dec. 28 — vs. Louisville
Jan. 25 — @ Texas Tech (Big 12/SEC Challenge)
It feels like last season just ended and here we are looking ahead to next.
Carrington Valentine to decide today.
A cornerback out of Cincinnati is ready to announce his decision and he will do so later today on Twitter (which, side note, has a new desktop version that I hate). Valentine is a three-star corner out of the talent-rich Archbishop Moeller High School and Kentucky is among the schools he is considering for the next level. In fact, Mark Stoops' program is considered the favorite over other offers from Michigan State, Pittsburgh, Cincinnati, Louisville, Minnesota, Purdue, Rutgers, and West Virginia, to name a few.
Valentine took a visit to Lexington in late June, his most recent recruiting trip, so the Cats are fresh on his mind. Keep an eye on his Twitter account (@run_carri7) for the decision at 3 p.m.
Are you watching the new season of Last Chance U?
KSR radio listeners have homework: finish the new season, the fourth season, of Last Chance U on Netflix by Monday. We will break it all down then. Have you gotten started? You better get going. There are eight episodes. I finished the second last night.
Here's that picture of Enes Kanter and Harry Potter that you always wanted.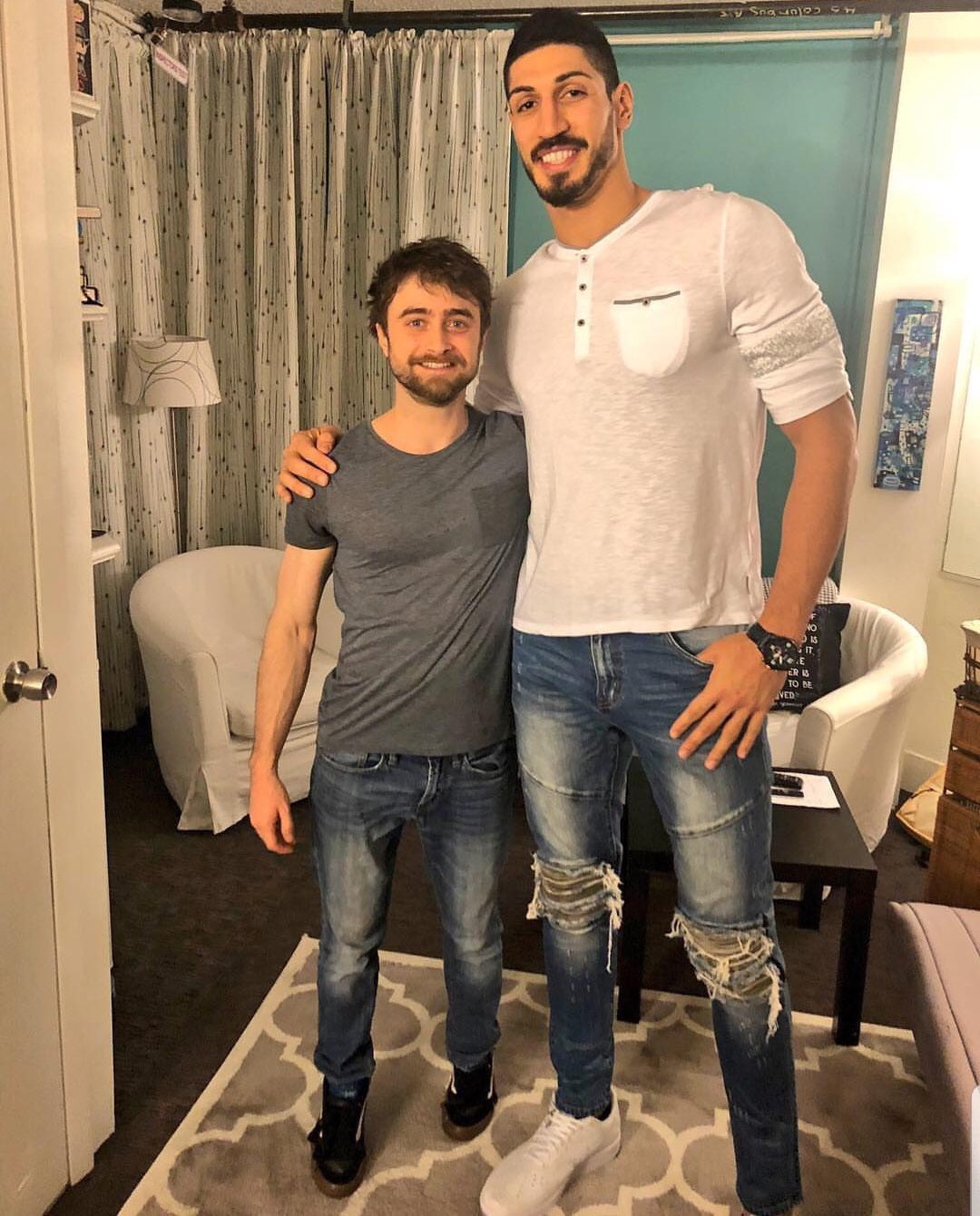 Kanter tweeted it yesterday to wish Potter a happy birthday.
KSR is at Conley Bottom this morning.
Today's tour stop is always one of our favorites. We will be at the Conley Bottom Marina in Monticello for two hours of Kentucky Sports Radio radio, broadcast live from a boat dock. The marina recently suffered a horrible fire, but it is on the road to recovery and we will be there today for a morning of fun. Join us if you're in the area.
[mobile_ad]