Today On KSR: Check out these Maker's Mark Jordan 4s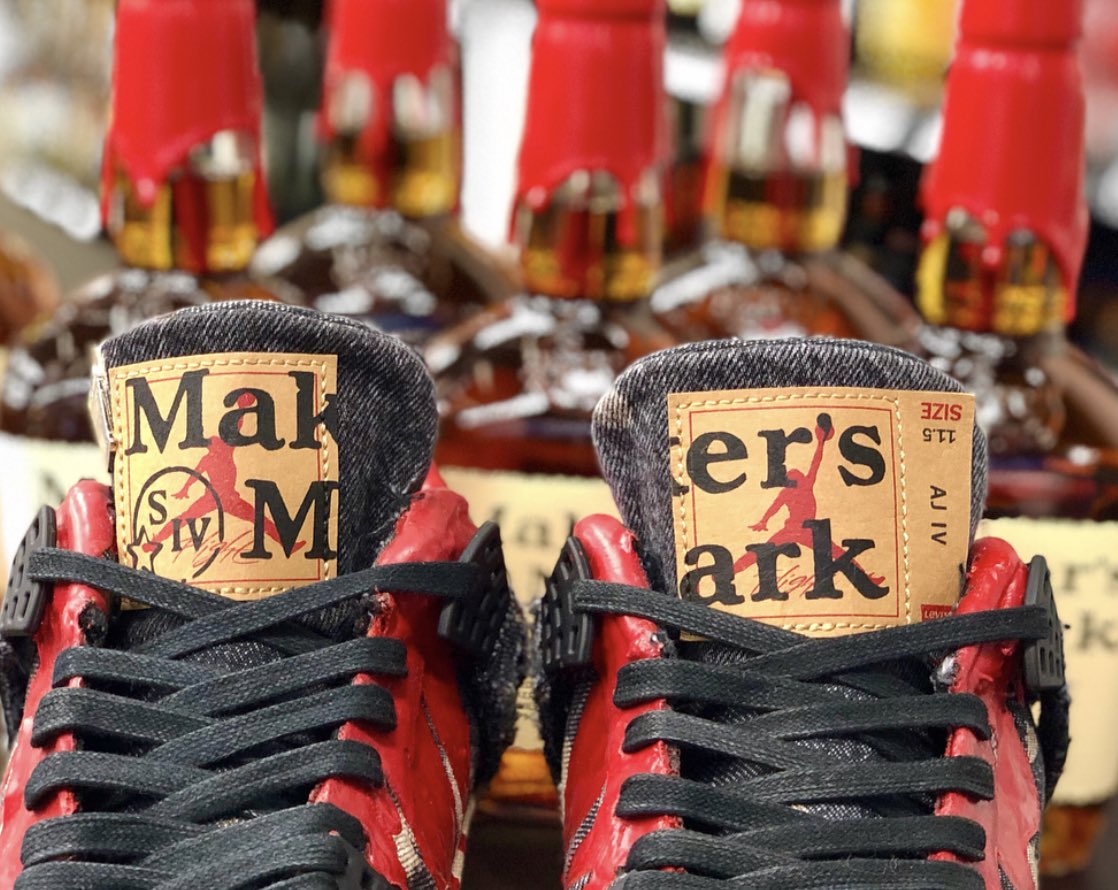 The super-talented Billy Hobbs of True Blue Customs fame is getting some attention online (both good and bad) for his customization of the Levi's Denim Jordan 4 shoe. It's common practice among sneakerheads to paint up and customize the retro shoe, and Hobbs stuck to his Kentucky roots with a Maker's Mark-inspired look that earned a tweet from ESPN's Darren Rovell.
The 1 of 1 custom Air Jordan Bourbons from @truebluecustoms pic.twitter.com/lNzLIGaN6D

— Darren Rovell (@darrenrovell) July 8, 2018
Responses to Rovell's tweet show mixed reviews, but anyone familiar with bourbon and the Bluegrass know and appreciate the artwork.
I love it, although I don't know if I could find an outfit in my closet to wear with them. The shoes are probably more of a collector's item for the office than something I would wear on my daily Kroger run.
Today's NBA Summer League schedule:
Tuesday, July 10
4:00

San Antonio

Portland (Archie Goodwin, Kyle Wiltjer)

NBATV

4:30

Utah

Miami (Bam Adebayo)

ESPNU

6:30

Sacramento (Wenyen Gabriel)

Memphis

ESPN2

8:30

LA Lakers

NY Knicks (Kevin Knox)

ESPN2
The tournament will begin tomorrow and run through Sunday.
Monday's Summer League recap:
Derek Willis (New Orleans) — Played only three minutes; did not attempt a shot
Dakari Johnson (Oklahoma City) — 10 pts, 2 reb, 1 tech in 22 minutes as starter
Hamidou Diallo (Oklahoma City) — Played in the game but NBA.com left him off the box score completely
Marquis Teague (Toronto) — DNP
Alex Poythress (Indiana) — 7 pts, 4 rebs in 18 minutes as starter
Marcus Lee (Cleveland) — 6 pts, 6 rebs in 21 minutes as starter
Aaron Harrison (Washington) — 4 pts, 3 reb, 10 min
Malik Monk (Charlotte) — DNP, injured
Shai Gilgeous-Alexander (Los Angeles) — 25 pts, 5 reb, 4 ast in 28 minutes as starter
Isaiah Briscoe (Orlando) — 2 reb in 3 minutes as a starter; left with shin injury
The World Cup picks back up this afternoon.
France and Belgium will meet in the first of two World Cup semifinal games later today. It will air on Fox (the regular one) at 2 p.m. and the winner will likely be the favorite in Sunday's final. It's going to be a good one.
If it seems like I'm in a bad mood today, forgive me — I'm missing Jimmy Buffett at Riverbend.
Today is one of my favorite days of the year and it's killing me to not be there. If anyone sends me a picture via any form of social media, you will be blocked.
GOAT Debate Update:
LeBron James wore a Kobe Bryant shirt to sign his contract with the Lakers.
I'm not a LeBron hater by any means, but I can't imagine M.J. doing this.
I saw American Animals over the weekend and it's awesome.
I need you to trust me on this: Stop whatever you're doing and find a way to see American Animals as soon as possible. You won't be disappointed. The film about the 2004 Transylvania book heist jumps between interviews with the real culprits and the actors portraying them in a very unique perspective of one of Kentucky's most famous crimes. I was excited to see it only for the Lexington connection, but walked away very impressed by how well it was done. 10/10 recommend. Go see it if it's in your area. If you don't like it, I'll reimburse you for the ticket.
Send me your "Ask Anything Mailbox" questions.
Please keep sending your questions by e-mail to [email protected] or on Twitter to @DrewFranklinKSR. I'll run another edition of the mailbox later this week.
Have a blessed day, friends.