Today On KSR: Branham, Summer League, Free Agency and More
It could be a big day for the Kentucky football program as Kalil Branham, the four-star wide receiver out of Columbus, Ohio, is all set to announce his decision later today. Branham plans to tell the world his plans at 5 p.m. and the most popular prediction is Kentucky.
If he does pick the Cats, Branham will become the 12th commit in UK's class and its fourth four-star talent.
The Salt Lake City and Sacramento summer leagues begin today.
NBA summer league action kicks off today with three former Wildcats competing across the two leagues going on in Salt Lake City and Sacramento. Keldon Johnson will be in Salt Lake City's three-day, four-team event; Tyler Herro and Wenyen Gabriel will be in Sacramento's three-day, four-team event, called the California Classic.
Today's schedule:
Monday, July 1
San Antonio Spurs (K. Johnson) vs. Cleveland Cavaliers, 6 pm ET, NBA TV
Miami Heat (T. Herro) vs. Los Angeles Lakers, 9 pm ET, NBA TV
Memphis Grizzlies vs. Utah Jazz, 9 pm ET, ESPN2
Golden State Warriors vs. Sacramento Kings (W. Gabriel), 11 pm ET, NBA TV
The Salt Lake City and Sacramento leagues will continue through Wednesday. The 30-team Las Vegas summer league will begin on Friday.
NBA summer free agency is wild.
The huge shakeup around the NBA began on Sunday with the opening of free agency and it made for a crazy first few hours of following the league's newswire. Superstars like Kevin Durant, Kyrie Irving and Kemba Walker announced moves to new organizations, with Durant and Irving teaming up in Brooklyn and Walker taking Irving's place in Boston. The most notable UK-related acquisition is Julius Randle's new three-year deal with the New York Knicks worth $63 million, which will pair him up with another former Wildcat, Kevin Knox, in the Knicks' rebuild.
A few other former Wildcats still need to find new contracts, including DeMarcus Cousins, Rajon Rondo, Darius Miller and Nerlens Noel.
Jamal Murray signed a massive extension in Denver.
You didn't think I forgot about Jamal Murray, did you? The 22-year-old got a max deal in Denver, signing a five-year, $170 million max contract extension to stay with the Nuggets. Murray was one of the main pieces in Denver's second-place finish in the Western Conference and he was rewarded for his career season, in which he averaged 18.2 points per game.
He is now the highest-paid Canadian athlete in the history of Canada.
John Calipari was out recruiting on Sunday.
Coach Cal was at a high school tournament in Philadelphia to check out two recruits from Roselle Catholic: Cliff Omoruyi, a four-star center; and four-star shooting guard Niels Lane. Roselle Catholic has been good to Calipari in the past; he signed both Isaiah Briscoe and Kahlil Whitney out of the New Jersey powerhouse program. Omoruyi already holds an offer from UK, according to Adam Zagoria.
While in Philadelphia, Cal made an appearance at the BIG3 event to hang out with LL Cool J and Ice Cube:
TOMORROW: UK Basketball Trivia at KSBar and Grille.
We're one day away from a special UK basketball-themed trivia night at KSBar and Grille, hosted by Matt Jones. Questions will be about the Pitino era and beyond, and there will be a very nice prize for the winner.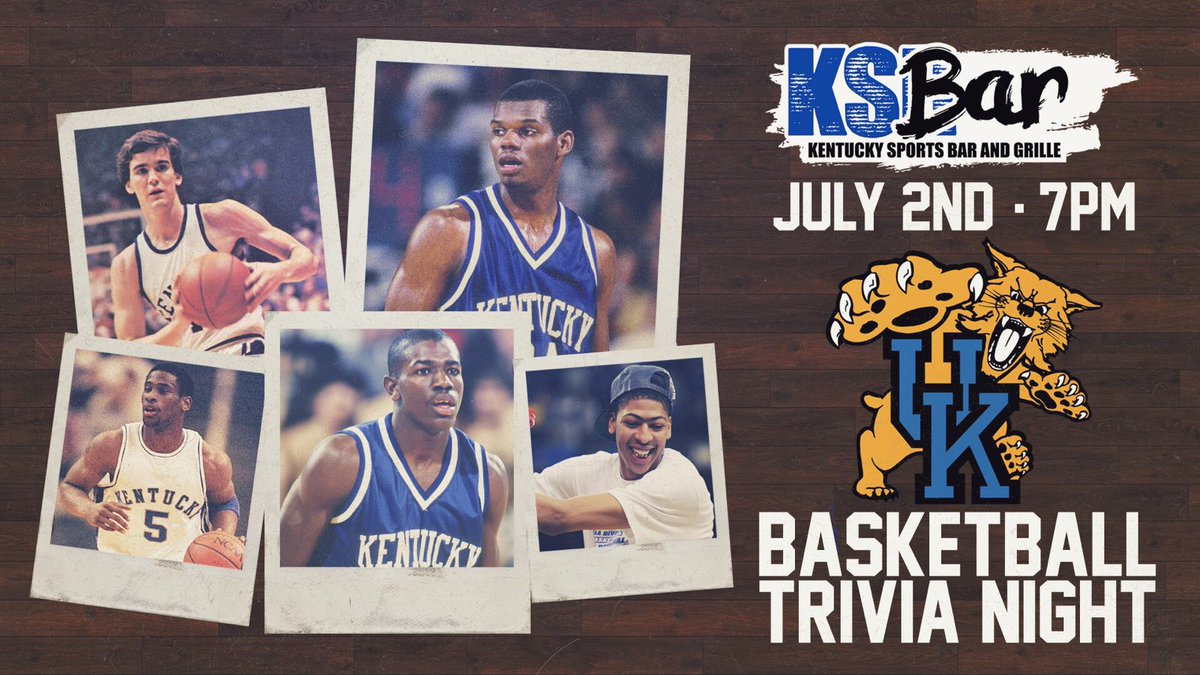 We are expecting a HUGE crowd, so arrive early to secure a spot.
Keep Jared Lorenzen in your prayers.
Unfortunately I do not have an update on Jared's status, so as far as I know, he is still fighting for his life in the hospital. This is still so surreal to me as he was hosting KSR not even a month ago, but sadly his health took a turn for the worse and now he needs your prayers. Hopefully he will overcome this and use it as fuel to continue his weight loss journey, which had been going so well the last time we talked. I can't even wrap my head around any other outcome in this situation.