Today on KSR: Bobby Petrino is Back
When Rick Pitino was fired from the University of Louisville, the Italian Stallion could not stay out of the media spotlight. It took a little longer for Bobby Petrino to crawl out from his hole into the public eye.
For the first time since Petrino's "motorcycle accident" at Arkansas, the disgraced coach returned to the state for a speaking engagement at the Little Rock Touchdown Club. The Razorbacks have not been the same since Petrino left the program in ruins. Instead of angered by his departure, they were just happy to reminisce on better days.
A video introduction and standing ovation for Bobby Petrino here at the @LRTouchdownClub. @THV11 #WPS pic.twitter.com/Q4XQQxvaJf

— Dorian Craft (@doriancraft) September 9, 2019
The football robot even got emotional during his appearance. Razorback fans ate up every bit of it.
Here is Bobby Petrino's teary moment at the @LRTouchdownClub… "I wanted to be able to come here and apologize to everybody…. and truly tell you how sorry I am for the way it ended." pic.twitter.com/rw3cyvlbJG

— Kyle Deckelbaum (@KATVKyle) September 9, 2019
Give Chad Morris another year of bad football and you'll start hearing the rumors of another Petrino return. Bobby 2.0: Arkansas Edition is going to be a beautiful disaster.
Coach Stoops Talks Chalk
Kentucky's head coach took the podium Monday morning to talk about his team before they take on the Florida Gators Saturday night. It was the first step in the healing process to help Terry Wilson, the team and the BBN move on to the next week.
"He's going to be missed. We appreciate him. I do anticipate a full recovery from that," Stoops said of Wilson. "But the good news is Sawyer's been through this. Sawyer's played a lot. He's had to step in. He stepped in this past week and played very good. So we're excited about him and we're confident in him."
Terry Wilson Opens Up
Kentucky's quarterback spoke publicly for the first time since his season-ended injury on last night's Mark Stoops Show. Even though he's in a crappy situation, he did not sound too downtrodden over the phone. Wilson is confident Sawyer Smith has what it takes to lead the team for the rest of the season.
"He's ready."@TerryTouchdown3 called into the @UK_HealthCare Mark Stoops Show tonight to talk about @smittyyy22.

The full show will be available on podcast later. Subscribe here: https://t.co/6i5Hm6GGxR pic.twitter.com/m6BttJWLrd

— UK Sports Network (@UKSportsNetwork) September 9, 2019
Back to Practice
After the Wildcats go to work, Kentucky's offense will meet with the media. We'll hear how Wilson's teammates plan to honor their quarterback around dinnertime.
A New KSR Football Podcast
After digging through some film, I teamed up with Drew Franklin, Charles Walker and AAF legend Austin MacGininnis to break down the play of Sawyer Smith. Chuck and Austin shared some insight on what it's like to deal with a midseason quarterback change. We also explain why the Cats are going to extend the winning streak vs. the Gators to two. Subscribe on iTunes to listen to an incredible hour of audio.
Alabama is Big Mad
The SEC took its sweet time to announce game times for week four of the college football season. Finally around 4 p.m. they announced the Cats would kickoff in Starkville at 4 p.m. ET. It's perfect for UK fans who want to make the road trip or for those at home who would love to make plans for Saturday night. Fans of the Crimson Tide were not as happy about their noon kickoff vs. Southern Miss. How mad? The AD had to issue a statement.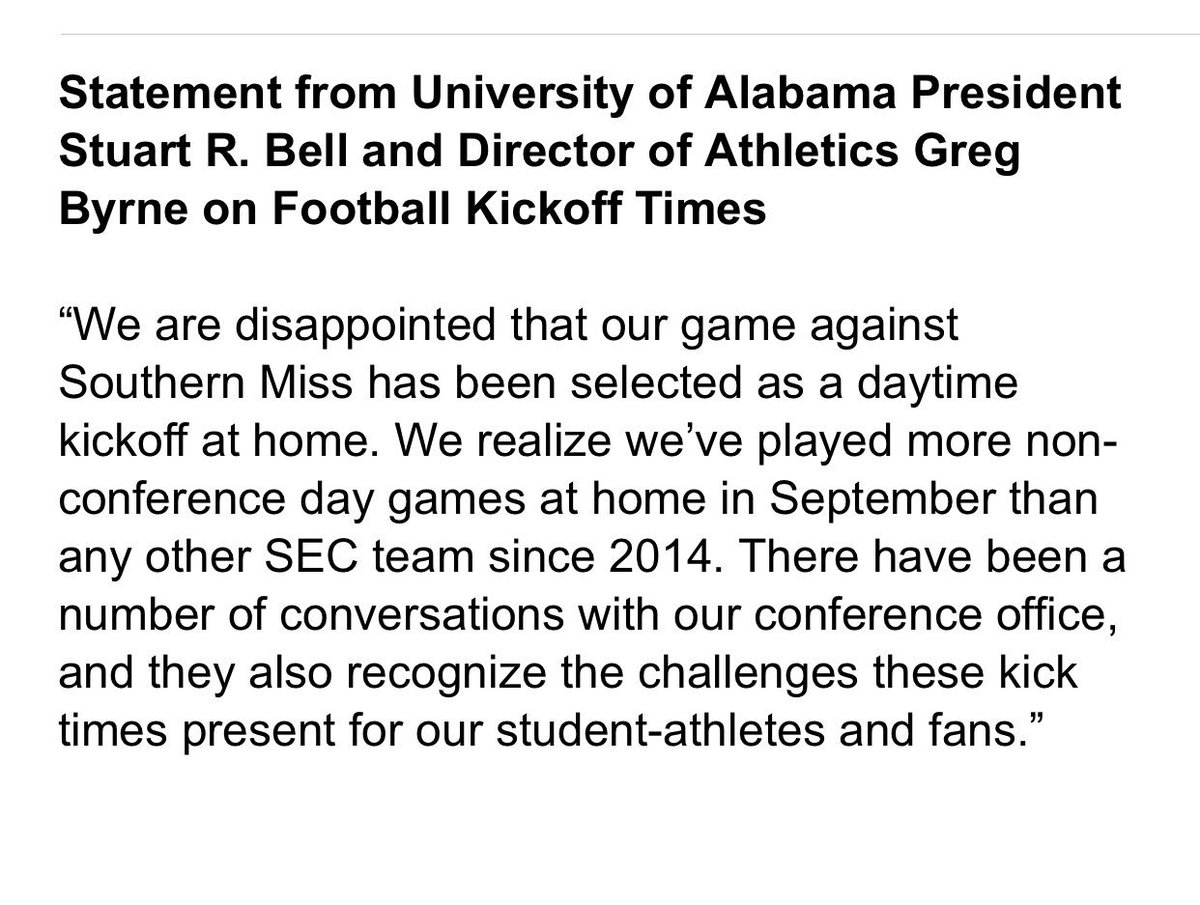 You don't have to search far to find entitlement in Tuscaloosa.
A Special E:60
To mark the 40th anniversary of the four-letter network, tonight ESPN is profiling its beginnings with a very special E:60 at 7 p.m. that has a Kentucky connection. ESPN has records of almost every single broadcast, except the first one between The Kentucky Bourbons and the Milwaukee Schlitz.
[mobile_ad]