Today on KSR: All Hallows Eve, Eve, Eve It's the day before the day before Halloween. This year it's worth preparing early because things are extra spooky in 2020.
Hurricane remnants have made their way into the Commonwealth, flooding some areas with more than two inches of rain. Once the nasty weather parts, we'll see something rare Saturday night, a blue moon. Not the beer or the blue moon on Kentucky; this blue moon is the second full moon occurrence in a month. The last time it happened on Halloween: 1944.
A Saturday Halloween coincides with college football. The last time Kentucky played on Halloween the Wildcats were blown out in a blackout by Tennessee. Will history repeat itself, or will the blue moon of Kentucky curse the fifth-ranked Bulldogs?
QB Announcement
Kentucky's Saturday could be even scarier if Joey Gatewood struggles in his first career start. Tonight we should find out if No. 2 will be named starting quarterback when Mark Stoops meets with the media around 5 pm ET. As much as the UK coaching staff played the cat and mouse game with QB injuries a year ago, I'm confident we will receive some clarity today.
Thursday Night Football
Teddy Bridge-over-troubled-Water and the Carolina Panthers will host the Atlanta Falcons in an NFC South divisional matchup tonight at 8:20 pm ET on Fox. The Falcons have found creative ways to blow huge leads and lose games in 2020. Those hi-jinx were made for Thursday Night Football. You can watch the disaster unfold at KSBar and Grille while enjoying spectacular drink specials.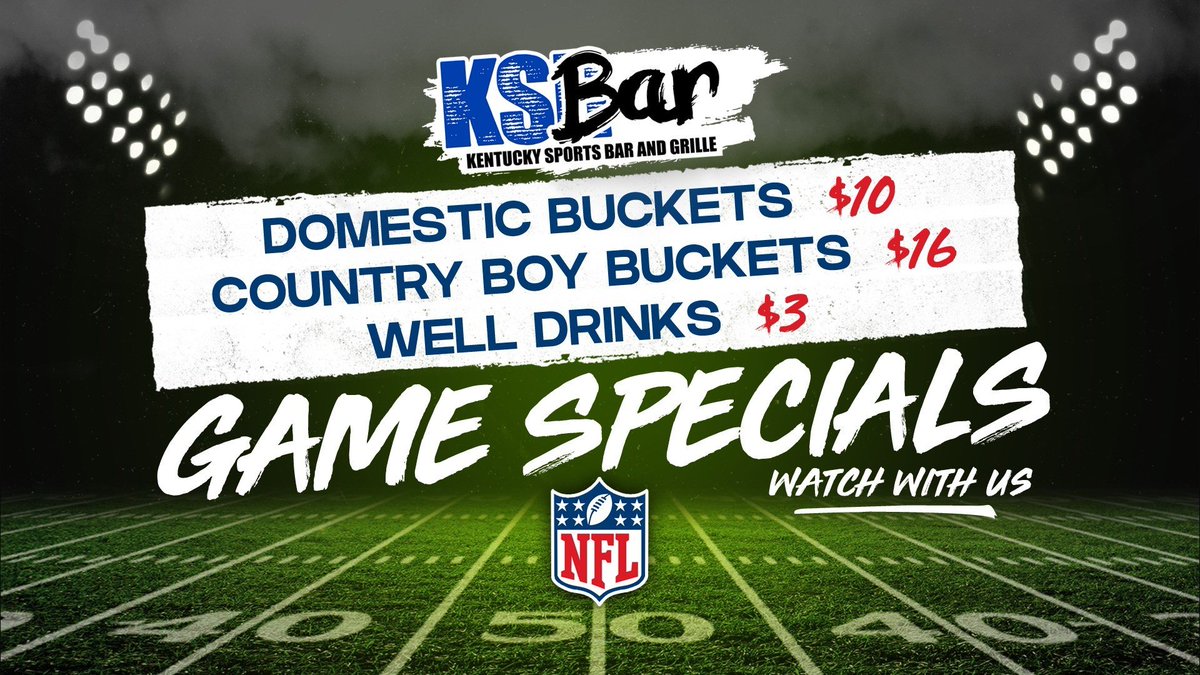 Reserve your table at KSBar and Grille now for breakfast before Kentucky hosts Georgia by calling 859-554-6081.
Football Podcasts
You're being awarded Free Money a day earlier than normal. Hear what games Matt, Drew and Jay in Lyndon like before Freddie Maggard breaks down how the Wildcats match up with Georgia on the Depth Chart Podcast.
Get to Know Olivier Sarr
Kentucky's talented French center spoke with local media for the first time on Wednesday. Sarr shared with us that he models his game after Anthony Davis, he previously had an offer to play professional soccer and how he reacted when he found out that he would be eligible to play for the Wildcats this season.
"I was in treatment that day and I got a phone call from him and I picked it up and as soon as I saw it on my phone and he said, 'Come to my office.' I literally ran upstairs and I came in and he was smiling and I already knew it. He told me and I hugged him. We hugged each other. I didn't really pick him up, but almost."
Our former colleague Maggie Davis asked Sarr's teammates reacted when they heard the news.
All of us in the BBN were excited when Olivier Sarr and Jacob Toppin were ruled eligible… But what about their teammates?!

Check out these precious reactions ??? pic.twitter.com/8tPshuhGYj

— BBN Tonight (@BBNTonight) October 29, 2020
Tyrese Maxey on TV
The unusual timing of the NBA draft is forcing prospects to get creative to display their talents to NBA front offices. Klutch Sports obtained TV time at 8 pm ET on ESPN2 to show off their top prospects, including Georgia's Anthony Edwards and Tyrese Maxey.
Missouri Revenge
The third-ranked UK volleyball team avenged the footballers by defeating No. 9 Missouri in four sets (25-23, 33-35, 25-20, 25-18). Unlike Stoops' squad, Craig Skinner's team was ready to roll in Columbia. Avery Skinner and Alli Stumler each recorded 21 kills in the victory. The two teams will run it back tonight at 9 pm ET on ESPNU.
Happy Anniversary, Ali!
On this date 60 years ago Cassius Clay won his first professional fight, defeating Tunney Hunsaker in 6 rounds. The start of an iconic career, celebrate the occasion by reliving Ali's greatest moments.
Who up, Owen County?
The KSR County Spotlight is traveling up I-71 to Elk Creek. I only hope we hear Ryan Lemond yell, "This is Sparta!"