Today on KSR: Adam Schefter Lost a Scoop to a Liquor Store Employee The story that rocked the sports world on Monday all started with one Tweet from a liquor store employee. Adam Schefter got out-scooped.
Patrick Mahomes signed a contract extension worth a half gazillion dollars that will keep him in Kansas City until the turn of the century (or something like that). Typically, sports news of such significance would come in the form of either a basketball Woj Bomb or a football report from Schefty. This time, it came from a local Kansas City liquor store employee.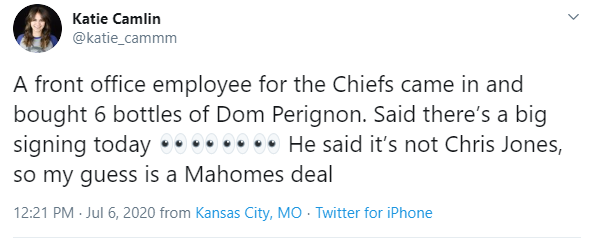 It took the ESPN NFL Insider more than two hours to report the scoop Ms. Camlin shared that shook the NFL world. It's good to see the little guy (or girl) win one.
While ESPN and every other sports show discusses and debates the Chiefs' move to sign Mahomes through 2031, there are other sports stories shaking things up across the Big Blue Nation, like…
50% Capacity at Kroger Field and Rupp Arena
Two sources have informed KSR that Mitch Barnhart has been contacting donors to discuss scenarios for the upcoming seasons, with the primary plan calling for 50% capacity at football and basketball games. That would put approximately 10,000 fans at Rupp Arena and 30,000 fans at Kroger Field for home games.
If masks are required to be worn by athletes for the show to go on, helmet manufacturer Schutt has made it possible. The Splash Shield has been tested by semi-pro football players who did not report any difficulty breathing and said the shield did not fog up while playing, injecting some more optimism that football can be played this fall.
Basketball Coming Sooner than Expected?
The NCAA's top-ranking basketball official, Dan Gavitt, said a proposal to start the 2020-21 college basketball two weeks early has been submitted to conference officials across the country. By starting the season in late-October, schools would have more scheduling flexibility if COVID-19 shutters campuses and forces games to be canceled in the middle of winter. Will it happen? There's plenty of time for officials to figure out what the college basketball season will look like, but if the proposal is approved, you could see your Kentucky Wildcats playing nearby teams that usually aren't on the schedule (I'm looking at you Murray State and Bellarmine).
Mask Wearing is En Vogue
If Anthony Davis can wear a mask, you can too.
Louisville Ironman Event's Future is Uncertain
The 70.3-mile ultimate test of strength and endurance was officially canceled yesterday. That should not come as a surprise. What is a surprise is that the tenth annual Ironman Louisville event was not rescheduled and event organizers said it will not return in 2021. Endurance athletes may have to look elsewhere in the future to test their limits.
One More Day till Keeneland
The unprecedented summer meet begins Wednesday. Don't Geek.
Ballin!
Few things are more rewarding than watching a 45-second viral video, only to receive a better-than-expected payout at its conclusion. Just when you think this young sharpshooter's moves can't get any better, they keep getting better.
Boy he'll be at the end of the bench for the rest of the season pic.twitter.com/6ptL9DU1y0

— HotBoy Gustavo (@_Monta_) July 5, 2020