Today on KSR: A Thursday Night Football Mess I hope the Packers brought some brooms to Santa Clara because it's a mess. The Green Bay Packers vs. the San Francisco 49ers is one of the best Thursday Night Football matchups of the season. Coronavirus has made it silly.
Despite a positive COVID-19 test on Wednesday that shut down the 49ers's facility, the NFL still plans on playing the game tonight at 8:20 pm ET. They'll play a Packers team that might only have one running back, a guy named Tyler Ervin. Feature-back Aaron Jones is still considered questionable with a lingering calf injury. Rookie A.J. Dillon tested positive for COVID-19 and contact tracing has removed Jamaal Williams from the lineup. Aaron Rodgers has his hands full tonight.
If the show goes on, the best place to catch all of the action is at KSBar and Grille where you can enjoy $10 domestic buckets, $16 Country Boy buckets and $3 wells all night.
Big Noon Kickoff is Out
Thursday Night Football isn't the only big change made this weekend because of COVID-19. The entire Fox Sports Big Noon Kickoff crew — Urban Meyer, Matt Leinart, Reggie Bush, Brady Quinn and host Rob Stone — will be sidelined by coronavirus this Saturday as the Pac-12 opens their season. The New York Post reports that in their place Terry Bradshaw, Howie Long, Emmanuel Acho and Charissa Thompson will hold down the fort. Things could get wild with Terry talking ball. Speaking of Terry's…
Terry Wilson returns to Practice
The Kentucky quarterback practiced for the first time since he suffered a wrist in jury at Missouri. Mark Stoops did not say if Wilson will once again be taking snaps under center or if they will stick with Joey Gatewood. He did speak at length about what the offense is doing this bye week to make improvements in the passing game.
A Start Date for UK Basketball
We are now officially less than three weeks away from the start of the 2020-21 Kentucky basketball season. Sources tell KSR the Wildcats will open the season Wednesday, Nov. 25 in Lexington against Morehead State. It's not a complete schedule, but it's at least a start date.
MACtion lives up to the hype
After fasting from MACtion for almost an entire year, America received a heavy dose Wednesday night. Every single team was in action. The tone was set for insanity on the opening kickoff of the 2020 MAC football season.
On their first play of the season, Akron went for an onside kick that was called back due to a flag.

Welcome back, MACtion ? pic.twitter.com/GOtFKLaM5U

— ESPN College Football (@ESPNCFB) November 4, 2020
Players were trying to leap over players that were much larger and kickers were banking in field goals.
The bank is open during #MACtion pic.twitter.com/CpJvQNz6pO

— MWC Fan Account (@nocontextcfb) November 5, 2020
5'9" receiver tries the hurdle, defender gets a face full of crotch (r @darrenelwood) pic.twitter.com/XiY0plpdYe

— CJ Fogler #BlackLivesMatter (@cjzero) November 5, 2020
The hi-jinx weren't just on the field. Central Michigan and Ohio went to halftime early because the lights went out at the stadium. Once the second quarter ended, they immediately kicked off to start the second half. Of course, Ohio returned it to the house for a touchdown.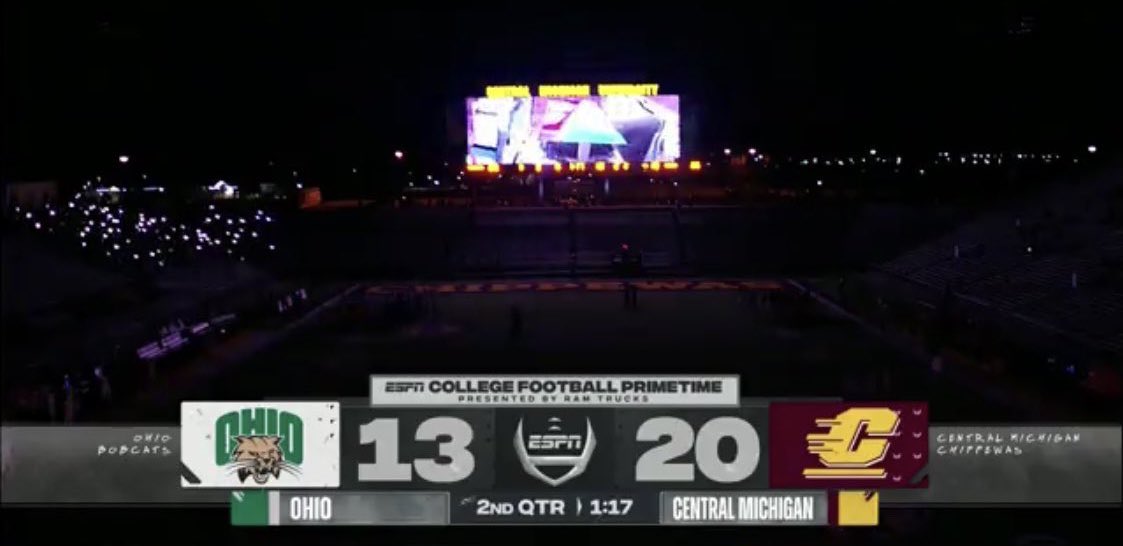 Ohio got a stop in the fourth quarter to set up a potential game-winning drive before they were stopped just short of the red zone. Ball State had a chance to march down the field and take the lead against the MAC's defending champs, until the Cardinals threw a bad interception, effectively throwing the game away.
This. Is. #MACtion!!! pic.twitter.com/khLKj8pZ1l

— CBS Sports Network (@CBSSportsNet) November 5, 2020
The MACtion was incredible. Foreseeing such a spectacular sight, Adam Luckett and I recorded a new episode of 11 Personnel during the insanity. Drink up the bye week takes by subscribing now.
It's not the only football podcast available that will keep your UK football juices flowing this week. You can check out the KSR Football Podcast before Freddie Maggard and I record a new edition of the Depth Chart Podcast later today.
Start Handicapping the Breeders' Cup Now
Programs are now available online for FREE. One quick scan and HOLY CRAP there are some great horses racing at Keeneland this weekend, even on the undercard. If you watch the action at KSBar, $500 is on the line in every single race. Start handicapping the races now to get rich this weekend.