Today on KSR: A Hot Start to July Monday was a good day for the Kentucky football program. How good? This statement should put things in perspective: UK landed a pair of four-star prospects that were previously committed to Michigan and Miami. What a time to be alive.
Kalil Branham was the first to roll the dice, announcing his decision to commit to UK Monday evening. The versatile athlete is set to play in the slot at the University of Kentucky. Many saw his commitment coming from a mile away. The same could not be said about the Cats' late night Yahtzee.
For the second time in this recruiting calendar year, UK received a commitment from a defensive lineman ranked in the the Top 100. Up until last week, Samuel Anaele was committed to Miami. Instead of playing for his hometown team, the No. 96 player in the 2020 class has decided to play for the Wildcats. Anaele immediately became one of the highest-ranked players to commit to Kentucky in the last decade.
Is it a coincidence each player met Josh Allen during trips to Lexington? I think not.
Now with 13 players, Kentucky's 2020 class is ranked No. 20 in America. Not too shabby.
UK Football Tickets On Sale
If you are not one of the 30.000+ fans that purchased UK football season tickets, today individual game tickets hit the market. Get on over to Ticketmaster and reserve your tickets now. Don't miss your chance to be at The Kroge when the Cats take on Florida in week three.
Bring on the Brits
Team USA is in the Women's World Cup Semifinal. Today they'll take on England at 3:00 p.m. ET on Fox. If you want to get rowdy for the game, join the American Outlaws at KSBar. Trust me, you won't regret it.
After you watch the Americans kick Great Britain's imperial ass, hang around for Kentucky basketball trivia at 7:00 p.m. ET. Remember, only six people to a team and no cell phones allowed. Don't worry, Matt will only be quizzing your UK basketball knowledge from 1990-present.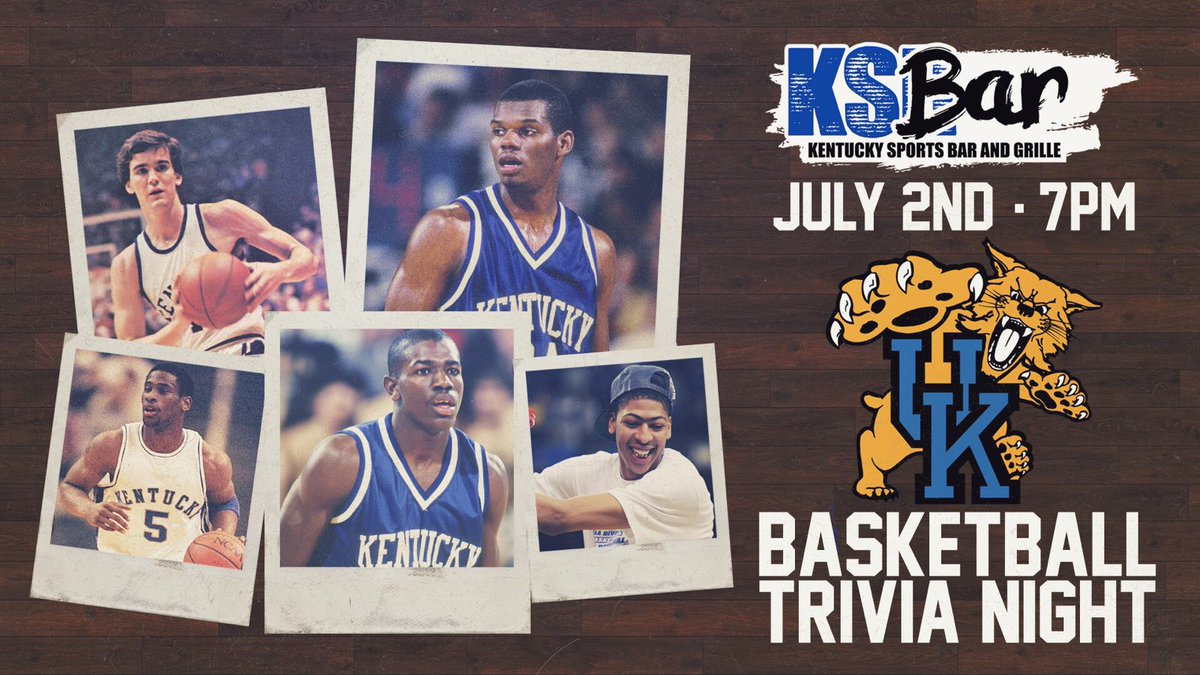 More NBA Summer League
Tyler Herro came out blazing in his NBA Summer League debut. The former Wildcat knocked down five threes to drop a game-high 18 points in the Heat's win over the Lakers. Tonight he'll be back in action at 11:00 p.m. ET against Wenyen Gabriel's Kings. Keldon Johnson will get things rolling with the Spurs at 7:00 p.m. on NBATV.
Where's Kawhi going?
NBA Twitter kept hitting refresh last night, impatiently waiting to discover Kawhi Leonard's destination, the Lakers, Clippers or Raptors. The NBA Finals MVP's decision will likely impact DeMarcus Cousins' future. Rex Chapman and the fine folks at NBATV discussed a few landing spots for Boogie and debated whether or not a reunion with Anthony Davis in LA is possible.
You guys asked so we're answering!
First up, what are the options for Boogie Cousins??#FreeAgentFever pic.twitter.com/GZbOXgLUsf

— NBA TV (@NBATV) July 1, 2019
That's a best case scenario for Cousins. Adrian Wojnarowski is not so optimistic about Cousins' prospects on the free agency market.
Is there a market for DeMarcus Cousins?
Here's @wojespn pic.twitter.com/g1c3wD7H2q

— Stanford Steve (@StanfordSteve82) July 2, 2019
A Big Ass Intern
Freddie Maggard is no longer with the team, but his work is still benefitting the players. UK profiled Blake Best's summer internship with Big Ass Fans, the first step the long snapper is taking to find a foothold in his future career.
Senior long snapper @_blakebest graduated in December with degrees in both economics and finance. He is currently working on a master's degree in finance with hopes becoming a CFO of a major company. This summer, he's getting a head start by interning at @bigassfans!#4for40 pic.twitter.com/vPvQwavyC1

— Kentucky Football (@UKFootball) July 1, 2019
Weird Al was in Louisville
America's favorite accordion-playing parody singer attended the Louisville Bats game. Although I don't know which Bats game was more exciting, Weird Al's appearance…
…or the giant pyramid of empty $2 beers.
It's $2 Beer Night at the @LouisvilleBats lol pic.twitter.com/L3JwkcISI1

— Al Snow (@TheRealAlSnow) June 28, 2019
Kentucky Sports Radio with Matt Jones and Drew Franklin begins in one hour. Don't miss it.
[mobile_ad]