Today On KSR: A Happy Monday after beating Tennessee in Knoxville
Back-to-back Monday mornings after a UK Basketball win? This is only the second time all year we've been happy on consecutive Monday mornings. Maybe things are returning to normalcy after all.
Some links to relive the fun from UK's 70-55 victory over Tennessee in Knoxville, a third straight win for Coach Cal's surging Cats:
— Watch the Tape: Three in a Row
— Stunning beatdown in Knoxville
— WATCH: Kentucky celebrates win over Tennessee, serenades Olivier Sarr
— Calipari after Tennessee win: "We were at our best"
— WATCH: John Calipari, Keion Brooks, Davion Mintz after the win
— An All-Positive Recap of Kentucky's Win in Knoxville
And now more news and headlines to get your week going. Happy Monday, everyone.
When will Kentucky play a basketball game again?
Today's events have been thrown off because tomorrow night's game against Texas A&M was canceled due to A&M's ongoing COVID problems. There is no scheduled Monday press conference and no word on when the Cats will play another game. As things stand now it will be Saturday against Florida.
However, over the weekend KSR told you UK is considering a non-conference game this week, but we have not heard the most recent progress on adding a game. Calipari said Saturday, "Yeah (we could add new games), but the gauntlet that these kids have just been through, I'm not sure we don't take a couple days and catch our breath. Then try to play both A&M and South Carolina both that last week where we get three games. Play at Mississippi, then two home games before our conference tournament. That's what I'd like to do. These kids need a breath, come on. They've been through a gauntlet."
Whatever happens, there won't be a game tomorrow night against Texas A&M like your poster schedule says.
This is a great photo from UK photographer Elliot Hess.
Coach Cal has some hops back there.
The official Twitter accounts of Kentucky Men's Basketball and Tennessee Men's Basketball are having a fun back-and-forth.
The Vols sent this one after the win in Rupp Arena:
Once is an accident.
Twice is a coincidence.
Three times is a habit. pic.twitter.com/inWByz72tA

— Tennessee Basketball (@Vol_Hoops) February 7, 2021
The Cats responded with this one on Saturday:
Once is an accident.
Twice is a coincidence.
157 is a habit. pic.twitter.com/9CUvMyG3Ba

— Kentucky Basketball (@KentuckyMBB) February 20, 2021
More:
Kentucky and Tennessee Have Declared Twitter War (and UK is Winning)
Speaking of Twitter…
The Chris Mack video is great for college basketball's greatest rivalry.
Chris Mack's video, let's talk about it for a moment since it got a lot of attention over the weekend. KSR obtained a video of Chris Mack's celebration following his win over John Calipari and Kentucky back in December. The video was sent in anonymously and I then put the video on my Twitter account because my Twitter account is a place for trolling Louisville and has been for over a decade. I'm a Kentucky fan who runs a Kentucky fan website. I do not like Louisville. I love the UK-Louisville rivalry. It's the best in sports, in my opinion. Of course I'm hitting send on a video of Louisville's coach looking like a dork while shouting about John Calipari. If it were a video of John Calipari screaming about Chris Mack, it would be on the Louisville websites. That's how rivalries and fan sites work.
The video is funny and it's great for the rivalry fodder. Kentucky fans aren't "mad." We're laughing and we'll laugh again when it's played next December. Anyone trying to make a bigger deal out of the video needs to turn on some Toto. Mack was celebrating a big win and made the rookie move to record it. Once it landed in KSR's lap, a new log was thrown into the rivalry's fire to keep it going.
As for the timing of the video, I was playing Super Nintendo and watching Hamilton at the time I received and released it, so I wish I could say it was a choreographed drop with UofL's big loss at UNC, but it wasn't. The video was being passed around in text messages and was picking up steam, so I paused Super Mario World to share it on Twitter because, again, it's hilarious. I did not see or know about Louisville's million point loss Saturday night. I don't watch Louisville with my free time and never have.
So there ya go. The backstory on how Mack's video came to light. The man wins one game in the rivalry—in a pandemic against UK's worst team in years (at that time)—and he breaks into Jimmy Hart mode for a wrestling promo with a former UofL football player. Now they're saying it was meant for Kenny Payne.
Moving on…
Kentucky Women's Basketball dropped one at No. 2 South Carolina.
South Carolina is really good and UK was reminded of that fact when the 17th-ranked Cats left Columbia with a 21-point loss on Sunday. Rhyne Howard was held to 12 points (early foul trouble played a role) and Carolina controlled the glass with 18 second-chance points off offensive rebounds.
The numbers from the defeat:
Mitch Barnhart went swimming.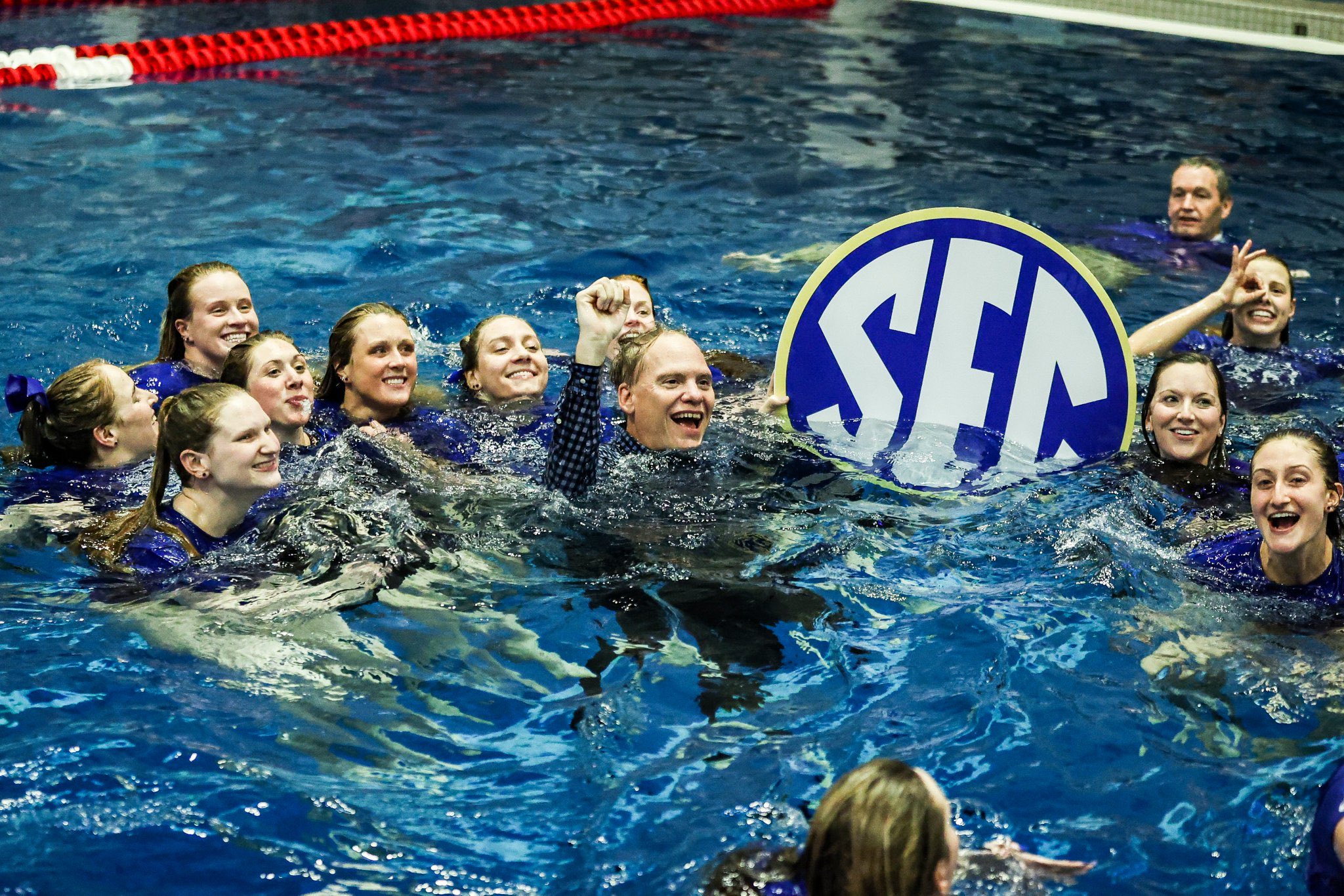 That's UK's athletic director treading water in the top right of the pool photo following UK's first ever SEC Women's Swimming & Diving championship. The Wildcats broke five school records with 12 podium finishes in the victory, then went for a swim.
Happy Birthday, Rajon Rondo.
Tune in to KSR the radio show in one hour.
Matt Jones, Ryan Lemond and Shannon The Dude will take you through UK's win in Knoxville and everything else happening around Big Blue Nation.
It's coming up from 10 a.m. to noon.