Thursday's Top 10: Kevin Durant murdered LeBron James last night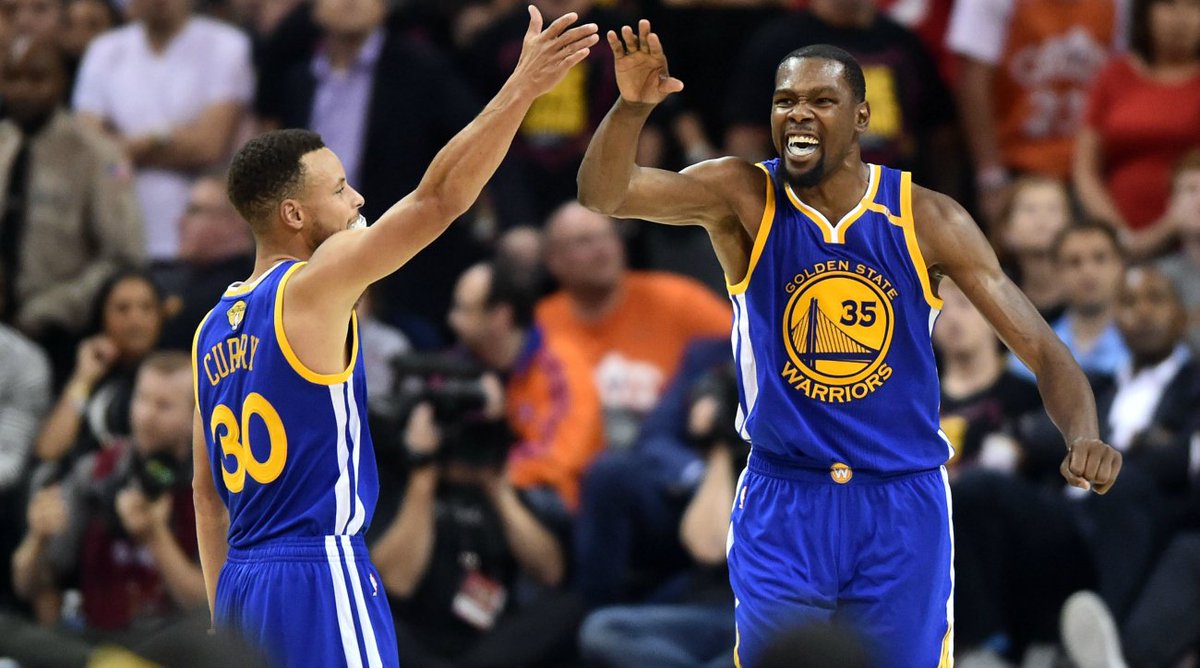 It looked as if LeBron James had willed his team to a win in last night's Game 3 in Cleveland.
And then Kevin Durant happened.
Led by James' 39 points, 11 assists and nine rebounds, the Cavs held a four-point lead with over a minute to go. The lead had been intact for over 13 minutes of action and it seemed as if it was LeBron's night to keep his team in the series.
And then Kevin Durant happened.
Durant made a 15-footer to trim the lead to two, then after a missed Cavs three-point attempt, Durant grabbed the rebound, strolled up the court, and hit the dagger from long range in LeBron's eye. Ball game. The Warriors closed out on an 11-0 run in the final three minutes and stole Game 3.
Series over. Durant is your MVP.
1. I kind of feel bad for LeBron James.
I had a substantial amount of my hard-earned money on the Warriors last night, so I slept very comfortably after they made the late comeback to win and cover. But even after the nice payday, I still felt bad for LeBron James because that one was pulled out from underneath him. Cleveland had that game won and LeBron could've been the hero who kept the Cavs' hopes alive against the evil empire; But instead, Kevin Durant caught LeBron on his heels and buried him on his own floor. I think that Durant v. James debate is a little closer than many will admit right now.
2. Today is the first day of classes for the new Wildcats.
Thursday marks the beginning of the eight-week session of summer school, which marks the beginning of college for guys like Kevin Knox, Jarred Vanderbilt, P.J. Washington, Shai Gilgeous-Alexander and Jemarl Baker, as well as several of Mark Stoops' new freshmen on the football team. I also frequented the summer session when I was in school, but only because I didn't do so hot in the spring and fall semesters, not because I was a student-athlete. Big difference there. Good luck to them though.
3. Are you ready for the forensic audit of the UofL Foundation?
It comes out today and it could be juicy. Back in April, one of UofL's lawyer's predicted it could lead to legal action against "officers and directors or former board members" of the foundation, while acting UofL president Greg Postel hopes it will close the door on the past so everyone can move forward. Everyone interested in the whole thing, get your popcorn ready. It's set to come out later this afternoon.
4. Cam Johnson wrote a letter calling out Pitt for blocking his immediate eligibility.
Big shout-out to former UK target Cam Johnson for calling out his old school and fighting the good fight for immediate playing time at North Carolina.
Here's how the letter it ends:
Besides incorrectly attempting to block me, there are other reasons Pitt should have immediately granted my full release. During my last season at Pitt, Coach Dixon left to become the head coach at TCU, Coach Stallings left Vanderbilt to come to Pitt, we had one director of athletics leave and another (Heather Lyke) come to Pitt, and just in the last week the associate AD at Pitt who presented the case against me in my hearing has left to join another school.

All five of these individuals left their jobs under contract and all had the freedom to move as they pleased. As a student-athlete, who is not a paid employee of the school, and a graduate, shouldn't I be granted the same freedom of movement?

Further, there is precedent in the ACC, for men's basketball and football players to play at two different ACC schools in consecutive seasons, following their graduate transfers.

I started this process believing that having graduated from Pitt, I should have instantly been granted an unconditional release. I feel that should be available to any student-athlete who earns their degree. Unfortunately, Pitt has continued to try and block my wish to attend North Carolina. Now that I have learned that their attempt to make me sit a year before competing at an ACC school is against NCAA rules, I see no reason why the faculty committee, or anybody associated with Pitt, should be able to reverse a ruling they already made. Quite simply, I should be immediately eligible at North Carolina.

Sincerely,

Cameron Johnson
Read the whole thing here.
5. Bam Adebayo to work out for the Miami Heat.
Miami has only one pick in the upcoming draft, at No. 14. It's unlikely Adebayo's stock rises high enough to go in the lottery, but that's why he is attending all of these workouts. He worked out for the Pistons and the Pacers earlier this week.
6. CBSSports.com's new mock draft has Malik Monk falling to No. 10.
Reid Forgrave tried to show off in his latest mock update by throwing in a trade that would send Malik Monk to the Pistons at No. 10 in the draft. In my very biased and very unprofessional opinion, there's no way in hell Monk falls to No. 10. But what do I know?
7. Take one look at this guy running in the 1,500 meter final for Ole Miss and you'll think you went back in time.
Photos via Darren Rovell
Wow, what a look.
8. Fred Hoiberg rumors swirling up at Ohio State.
If you're to believe the internets, Hoiberg is the favorite to fill the new vacancy left open by Thad Matta as the Buckeyes' head basketball coach. However, Hoiberg said, "I'm coach of the Bulls and have no intention of leaving."
9. Vote for UK's Evan White for the Golden Spike Award.
You can do so by clicking here and submitting your vote.
Beat Louisville.
10. KSR is in Bardstown for today's show.
Stop by Conway Heaton to catch Matt, Ryan and maybe Shannon at today's live remote broadcast of KSR.