Thursday's Top 10: Drake, All-Stars, Tiger and Federer
We are all over the place in this Thursday edition of the morning Top 10…
1. Drake is on the new Cal Cast.
It is Thursday and that means a new Cal Cast will hit podcast shelves at some point today. In this week's edition, John Calipari sits down with his good friend Drake for a chat about UK and OVO. Mrs. Tyler will give you the best of that show once it is released.
2. Be on the lookout for more comments from John Calipari this morning.
We will also hear from John Calipari today on the SEC teleconference. Calipari is set to call in to the weekly coaches' teleconference around 10:35 am to preview the Kansas game and whatever else may come up. We will have the quotes from that here on KSR, too.
3. Mychal Mulder to miss at least another week with mysterious illness.
Big news out of the Calipari call-in show last night: Cal announced that Kentucky will be without Mychal Mulder for the Kansas game and then some. Cal said he met with Mulder on Wednesday and he doesn't expect his senior guard back for another 10 days. At best he returns for the team's trip to Gainesville on Saturday, February 4.
4. Things You Wouldn't Believe Five Years Ago: ESPN is sending a reporter to Kentucky for National Signing Day.
WHAT?!
ESPN is sending its cameras to 16 different schools, including nine of the top 10 in ESPN's rankings, on National Signing Day next week, and believe it or not, Kentucky is on that list. The network's Matt Stinchcomb will be in attendance in Lexington to report from the scene as Mark Stoops and his staff finalize the Cats' Class of 2017. Coverage will be on ESPNU.
5. I'm a big fan of Andy Kennedy's suit last night.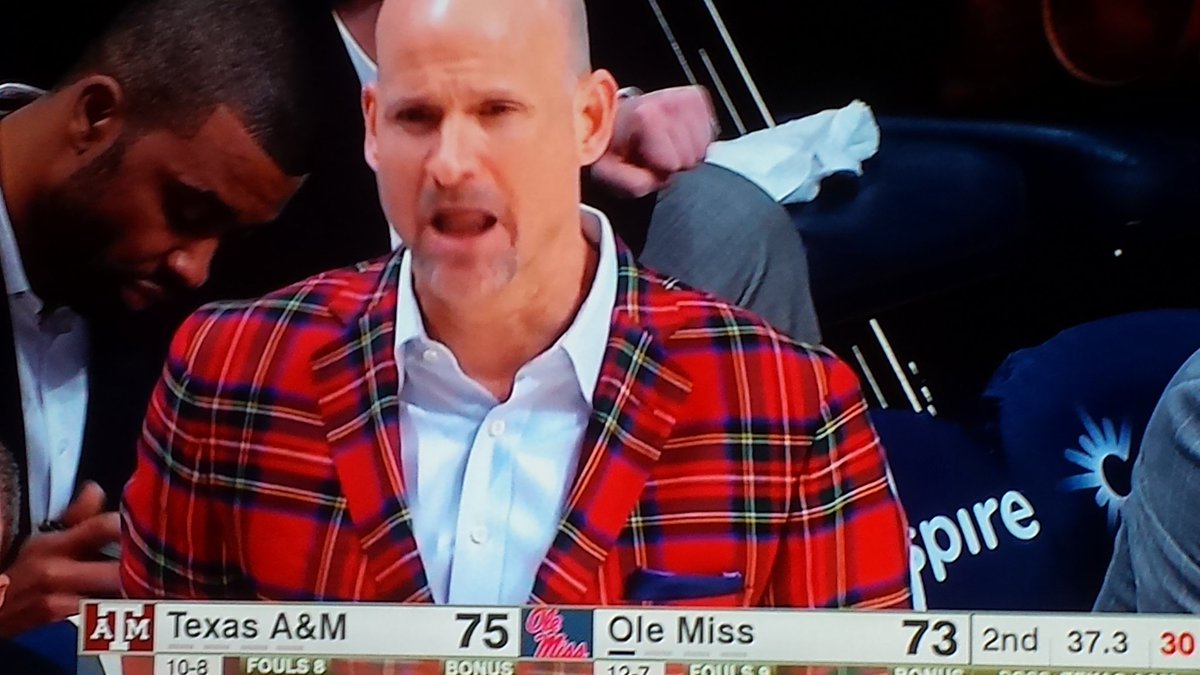 My only problem with that suit is, if you're going to wear it, you have to win. And Ole Miss did not win against Texas A&M in Oxford last night.
6. Willie Cauley-Stein helped force overtime in Cleveland.
Willie Cauley-Stein rises for the SLAM in @SacramentoKings OT victory! pic.twitter.com/HYJ8cseFQi

— NBA (@NBA) January 26, 2017
The Kings went on to win the game and on Twitter:
This one's for the Land… pic.twitter.com/GiJ2wSEoOZ

— Sacramento Kings (@SacramentoKings) January 26, 2017
7. I'm going to watch DeMarcus Cousins versus the Pacers in Indianapolis tomorrow night.
I hope blue gets in with me tomorrow night in Indianapolis when the Pacers host my Sacramento Kings. It is my second attempt to watch Boogie play after I flew across the country to watch him a couple of years ago, only to read he picked up a one-game suspension when I landed in Sacramento. (That was a trip.) We're pregaming at St. Elmo for shrimp cocktail and then Tin Roof across the street from the arena. Let's go.
8. NBA All-Star rosters will be released today.
Hopefully Boogie is among the reserves when the NBA All-Star rosters are announced today. We've known the starters for about a week now, but the final spots on the East and West teams will be released later today. There will be three frontcourt players, two guards and two "wild cards" added to each team. Cousins and Wall are in the running.
9. We could have a Federer-Nadal Australian Open final!!!!!
Roger Federer beat Stan Wawrinka while you were sleeping last night to move on to the finals of the Australian Open. Now he sits back and waits to find out if he will get Rafael Nadal or Grigor Dimitrov, who will play tonight in the tournament's other semifinal.
GIVE US FEDERER-NADAL PART 35!!!!
10. Tiger Woods returns today.
Golf fans, it's the day we've been waiting for! Tiger Woods returns to PGA action today! Tiger is back after 17 months away, the longest absence of his career. He is scheduled to tee off today at 1:40 p.m. ET on the first hole of the South Course at Torrey Pines Golf Course in the first round of the Farmers Insurance Open.