Thursday's Top 10: Cousins and Towns went to work on the floor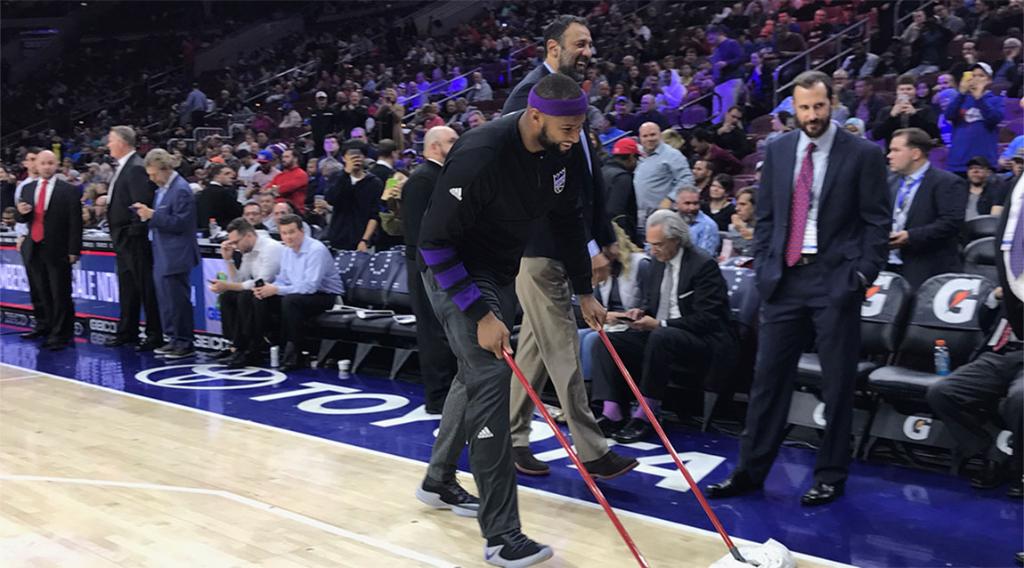 Some of your favorite former Wildcats had big nights in the NBA on Wednesday, highlighted by Karl-Anthony Towns monstrous double-double and Andrew Harrison in his debut as the Memphis Grizzlies' starting point guard. Plus the UK football coaching staff was on the move, De'Aaron Fox got some good news, and we have a lot more coming for you today.
Let's put it all together in a nice and easy-to-read numbered format to start your Thursday…
1. DeMarcus Cousins helped mop up the floor in Philadelphia.
Last night's game between the Kings and Sixers was called off due to a wet floor, but not for a lack of effort from DeMarcus Cousins. Cousins did his part in trying to mop up the Wells Fargo Center floor, which hosted an NHL game the night before and couldn't lose the moisture from the ice surface below:
Sixers—Kings is delayed due to a wet floor, so DeMarcus Cousins is helping mop pic.twitter.com/ehVJoQFiHW

— Kenny Ducey (@KennyDucey) December 1, 2016
I saw one funny meme that read, "When you a janitor 'til 7:00 but got a game at 7:30."
2. Karl-Anthony Towns went off last night.
Towns scored 47 points and grabbed 18 rebounds in a losing effort to the Knicks last night. He is only the second player in the NBA to have a 45-point, 15-rebound performance this season; the other is Anthony Davis, who also attended Kentucky, as you know.
More fun facts: Only three players have been younger than Towns and gone for 40 and 15 in an NBA game. There names are Kevin Durant, Shaquille O'Neal and Anthony Davis.
3. Andrew Harrison given an opportunity in Memphis, made the most of said opportunity.
With Mike Conley out indefinitely, Andrew Harrison was given the keys to the Memphis ship and he did not disappoint. Harrison got the start over rookie Wade Baldwin IV and played 35 minutes in the game with a career-high 21 points on 7-of-12 shooting, including four-for-five from outside. He threw in a team-high four assists for good measure.
4. De'Aaron Fox got to keep his triple-double!
The official statement from Bill Coteron, vice president and general manager for the Atlantis Showcase:
"We certainly appreciate the attention to the issue regarding the stats for De'Aaron Fox," Coteran said. "After careful consideration, we have determined that no changes to the initial box score will be made. Due to the fast-paced nature of the game, we felt the credit applied in-game was valid.

"We regret that this was brought into question and certainly hope it doesn't take away from his outstanding MVP performance."
All is right in the world. (Sorry, Chris Mills.)
5. UK staff checked on some of their 2017 commits.
Coach Stoops and Eddie Gran paid an in-home visit to Cedrick Dort, a three-star cornerback out of Palm Beach Gardens, Florida.
Dreams Do Come True🙏🏾 …Great time tonight with @UKCoachStoops and @CoachGran 🗣🔷#BBN pic.twitter.com/FYtZKuTdtc

— Ced.D5️⃣ (@CedrickDjr) December 1, 2016
Dort already committed to Kentucky back in early August, so Stoops and Gran were stopping by to check in and make sure things are still a go.
Meanwhile, Vince Marrow and Steve Clinkscale were in Ohio to check in on another UK commit, Tyrell Ajian.
6. Shai Alexander to play on national TV tonight.
Don't forget to turn your television sets to ESPN2 around 9 pm tonight to see one of John Calipari's next Wildcats. Shai Alexander and his Hamilton Heights Christian Academy will take on Memphis East in a clash between two of the best high school teams in the land.
The No. 43 overall player in the 2017, Alexander signed with Kentucky on November 20.
7. Wildcat Liquor in Lexington put the Ls down.
Well done.
8. UK Hoops hosts No. 12 Oklahoma in Memorial Coliseum tonight.
The women's SEC/Big 12 Challenge rolls into Lexington tonight when your 17th-ranked Wildcats host No. 12 Oklahoma in Memorial Coliseum.
Single-game tickets for all Kentucky home games are available through the UK Ticket Office and through Ticketmaster. Single-game tickets are $9 for reserved seating (all ages), $8 for general admission seating (adults) and $5 for general admission seating (youth 6-18/seniors 65+). General admission seating is free for ages five and under.
The game will be broadcast live on the SEC Network.
9. Will today be the day Kentucky's bowl game leaks out?
There are rumblings that the Cats are heading to the TaxSlayer Bowl on New Year's Eve, but there are still some rumblings in Arkansas that the Razorbacks may end up there. Whatever the case may be, we're getting very close to hearing something a little more official about Big Blue Nation's bowl destination, although not officially official until Sunday.
We'll pass along whatever we hear, whenever we hear it.
10. Mark Stoops will be a guest on KSR today.
You'll definitely want to tune in for that one.
Go Cats.