Thursday Top 10: L's Down From Morocco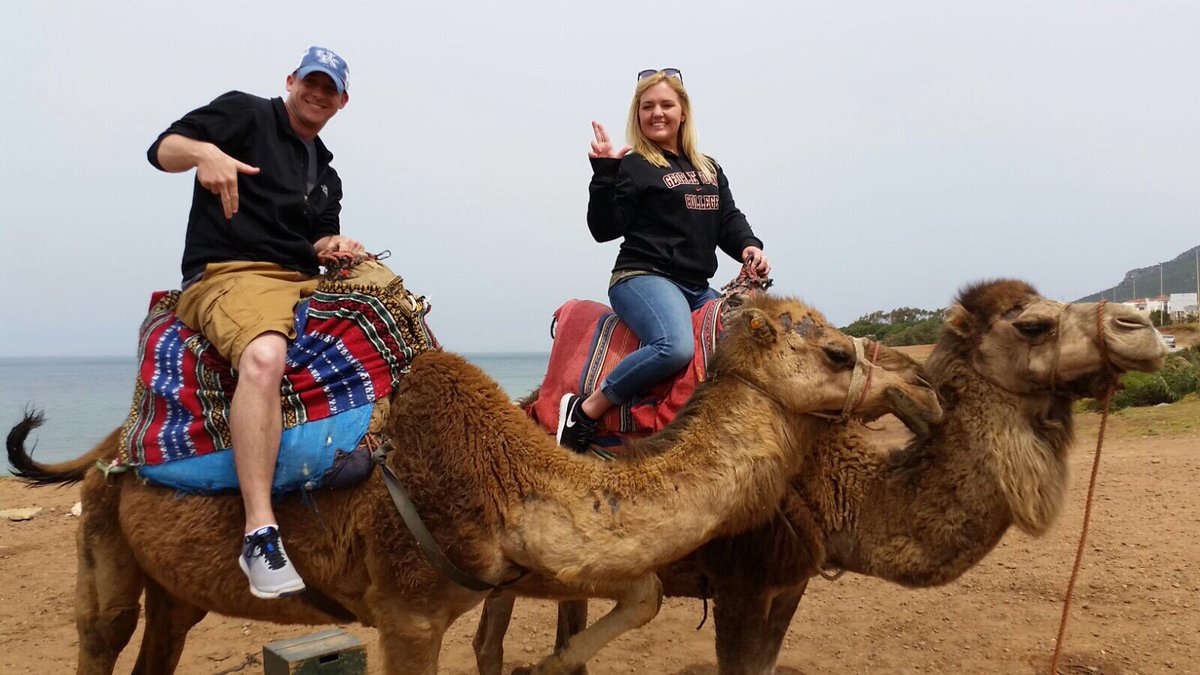 It's a busy day here at Kentucky-Sports-Radio-dot-com as I will try to run the website and talk on the radio at the same time. Wish me luck with that this morning and then put your L's down as we lead off Thursday's Top 10 with two Louisville haters on camels in Morocco. See, it's possible to hate Louisville all over the world.
Let's go.
1. You can forget the name Mark Smith.
Once Kentucky's season ended and John Calipari hit the recruiting trail, Mark Smith's name came into the picture as a potential replacement at one of the many backcourt spots left open by the mass exodus. Big Blue Nation had never heard of Smith until he popped up on the radar in the spring as a hot name in recruiting. Well now you can forget that name because Smith decided he will stay home and play for Illinois. He announced the news last night. Good luck to him in the Big Ten Confer– Zzzzzzzzzzzzzzz
2. Today is Day 2 on campus for Cam Johnson.
The grad transfer out of Pittsburgh touched down in Lexington yesterday for his official visit to UK and many people in the know have him on Commitment Watch. Kentucky is rumored to be the leader in Johnson's recruitment, and if Calipari tells him he is a priority over Kevin Knox while he is in town, he will likely jump at the opportunity to become a Wildcat before flying back home. So keep your eyes peeled for a potential commitment today, which would be outstanding news.
3. The ESPN layoffs are crazy.
Yesterday's house-cleaning of the World Wide Leader was shocking as several of its employees, many of whom you know and love, were let go after years of excellent work for the company. Some of the names I am sure you recognize: Andy Katz, Jay Crawford, Dana O'Neil, Eamonn Brennan, Brett McMurphy, and Ed Werder, plus many, many more.
The ESPN we once knew is no more.
4. Jay Bilas will be a guest on today's show.
One of the ESPN personalities who did keep his job, Jay Bilas, will come on KSR this morning to talk about his recent tweets and criticisms of Greg Sankey's role as the chairman of the NCAA Committee on Infractions. Bilas usually speaks the truth and we all stand behind his every word, but his latest opinion has many of us scratching our heads wondering what he means. He'll be on today to explain, so tune in.
5. Today is also Movie Madness on KSR.
Be sure to print out the bracket and follow along as we name our favorite movie from the field of 64 in this year's summer radio tournament. I predict Shannon The Dude and I will not agree on one single matchup.
6. Mrs. Tyler has a great piece of literature coming your way today.
Tyler has the day off to do something important — I think she is getting her hot air balloon pilot's license — but she did take the time to write a fantastic piece of work before she left that will go up later today. It's a look at the recruits John Calipari really wanted but did not get, and how their careers have been since shunning Kentucky for another school. I think you'll like it.
7. Blue Smith said he will commit to Kentucky if this gets 5,000 retweets.
Twitter, #bbn do your thing and get this man @bluesmith_ to UK 🔵⚪️ pic.twitter.com/TSF6CJnTrf

— Andrew Marrs (@andrewmarrs) April 27, 2017
Smith is the No. 29 player in the class and No. 1 athlete, according to Rivals. You know what to do, BBN.
8. 247Sports writer picked Mohamed Bamba to Texas yesterday.
Andrew Slater is one of the top pickers in 247's Crystal Ball and yesterday he picked Texas for Mohamed Bamba.
WHAT DOES HE KNOW
(Hopefully nothing.)
9. This elementary school class in Texas want Devin Booker to read to them.
I love their hashtag to get his attention: #DEVINreadsaBOOKERtwoinATX
I'm also glad that teacher is alive after trying to dunk off the stool at the end of the video. That could've gone very, very poorly.
10. Get those movie brackets out.
KSR Movie Madness is coming your way in one hour…