Thursday Night News and Views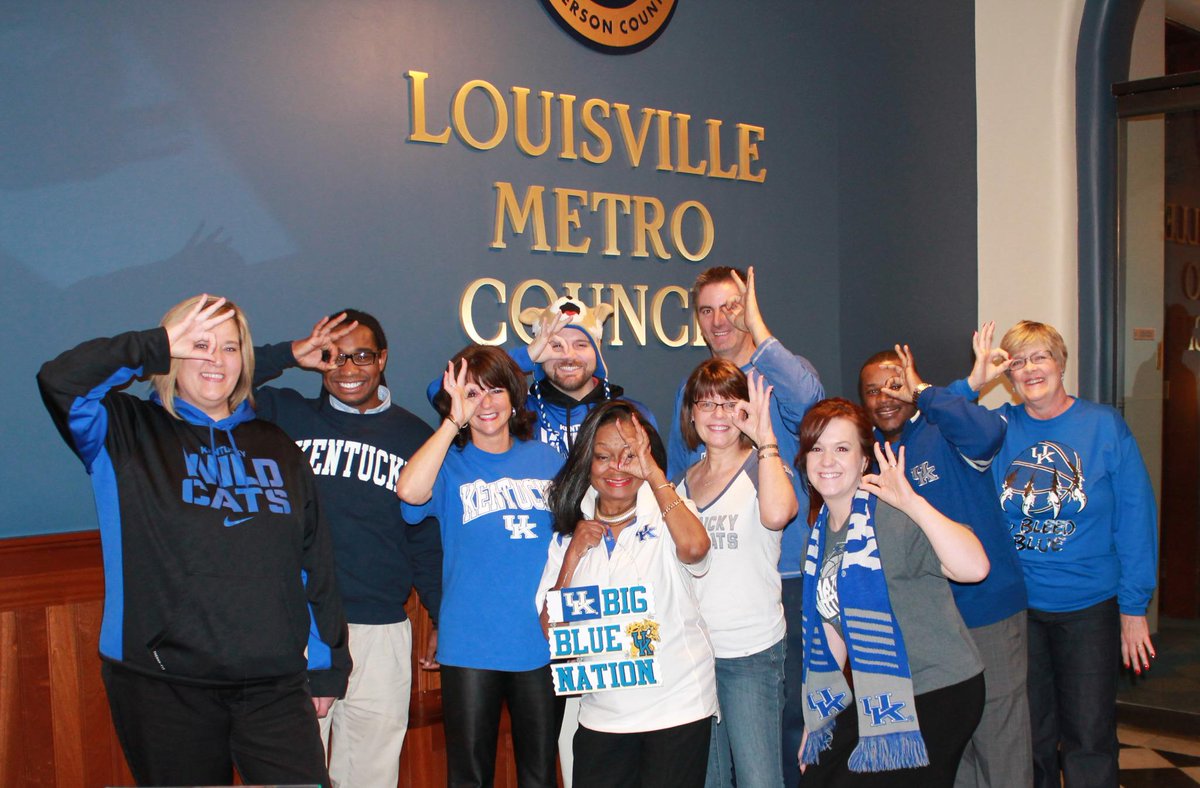 Shoutout to these fine folks for repping the Cats in the middle of enemy territory. Stay strong over the next week and a half, my friends.
After virtually no news all week, we've been slammed by an avalanche of it for the past 24 hours. Let's get rolling so I can go catch up on Serial.
Mark Stoops came on KSR and was excellent
Stoops spent an entire hour in studio with the guys in what may have been his best KSR appearance yet. Because the hire isn't official yet, Stoops wasn't allowed to call Shannon Dawson UK's new offensive coordinator just yet, but he did his best to describe him in an abstract manner. For instance, when Matt asked Stoops what he thought of West Virginia's offense (again, can't mention names), Stoops couldn't help but laugh. "I have great respect for that offense. Dana and their offensive coordinator and coaches, they do a great job. It's the style that's hard to defend," Stoops said, praising West Virginia's balanced attack. "I don't care if you emphasize pass, run, or whatever, you've gotta be able to do both. That's the bottom line. To succeed in the SEC, you've gotta have some balance."
Stoops says this hire will show he is all in on the Air Raid system
Hiring Dawson, a Mumme Air Raid disciple, is a clear sign that Stoops is sticking with the Air Raid, a philosophy some people questioned his loyalty to during the search for a new OC. "I wholeheartedly believe in that system," Stoops said. "I think you need to be a little bit different, a little unique here. I think the people like that. I think we need to win games. Ultimately, I'm here to win games."
It doesn't hurt that all of UK's players, coaches, and schemes are already Air Raid. "I didn't want to take a step back by bringing someone in and completely changing our style," Stoops said.
As of now, there will not be a Spring Game
The one bit of breaking news Stoops did share was that as of now, there will not be a Spring Game due to construction at Commonwealth Stadium. "We probably won't have a Spring Game this year," Stoops said, mentioning how Texas A&M didn't have one this past year because of construction at Kyle Field; however, the decision isn't final yet. "I don't know what we'll do, we'll see."
For a complete rundown of Stoops' appearance on KSR, scroll down to Drew's recap earlier, or listen below:
Stoops and his wife held a farewell dinner for UK's seniors I hope they took it easy on the plumbing this time.
Craig Naivar is leaving UK for Houston
The backwards hat wearing coach will take a position on the Houston coaching staff, leaving Mark Stoops to hire his third special teams coach in three seasons. Naivar told CatsPause.com that the job at Houston was "an opportunity I couldn't say no to," but he is confident that Stoops and company are about to turn the corner. "Mark has got a great thing going, this thing is about to go through the roof with the direction he's got recruiting wise," Naivar said.
Don't pass the Kleenex.
Switching gears to basketball…
Alex Poythress probably won't make the trip to Chicago
John Calipari had two media opportunities today, and during both, gave us an update on Alex Poythress. Cal said that Alex is "doing as well as can be expected," and is about ten days out from surgery (they have to wait for the swelling to go down before operating). Poythress will probably stay home instead of going to Chicago with the team, and Cal said he was in a "great frame of mind" about his recovery, which he can use to work on his jumper, motor, and other skills. Will Alex come back to school? Cal said he would love to have a senior Alex Poythress, but "if it's in his best interest to put his name in the draft, I would support it and help it along and do that. He's going to do what's right for him."
Tyler Ulis had a wrap around his right leg, but he's fine
After going down with leg cramps in the North Carolina game, it was a little alarming to see Tyler Ulis with a leg wrap during the media opp today, but don't freak out. It's no big thing. "Just precautionary," Tyler told reporters. "I'm trying to get warm before practice so I put a heat pack on before so I don't go out there tight."
Calipari said that Ulis suffers from a condition similar to tendonitis, and needs to focus on taking care of himself. "It's like when you go in an NBA locker room. Every one of them, I think 75 percent of the NBA has tendonitis so you can figure out how to play with it or don't play," Cal said.
Cal said Willie has "taken on a different persona"
When asked if this team could be one of the all-time greats, Calipari said his players must first fully commit to putting in the extra time like Willie Cauley-Stein has in the past month.
"What I really like is Willie has taken on a different persona. I sat him down about a month ago and said, 'Why don't you want to be the number one pick in the draft?' He asked me what I meant. 'Well it's obvious you don't want to be the number one pick. Why wouldn't you? You have this team around you. All you have to do is perform and improve and improve in a couple areas and you're on the page.' He said, 'I do want to.' Then do more. Come into practice longer. Come in here at night. Spend more time at this — the sport. He has been."
Calipari didn't ride on a plane until he was 20 years old
In news that won't surprise you, Calipari was kind of all over the place in his presser today, turning a question about whether or not he cheered for UCLA growing up into an anecdote about his childhood outside Pittsburgh. "UCLA, they were like faraway lands. I mean, I didn't even go on vacation until I was 19, and that was to Maryland. Maryland," Calipari repeated for emphasis. "We drove to the Maryland shore. I was not on an airplane until I was 20. So when you start talking UCLA, 'Where in the world? Is that in our country?'"
Yes. Yes, it is.
Derryck Thornton will visit on January 12 for the Missouri game
The 2016 point guard is looking at UK, Duke, Louisville, Arizona, UCLA, Michigan, and Miami. Pitino's after him pretty hard and is encouraging him to reclassify to 2015, which makes me hope he stays in 2016 and picks the Cats even more.
Thoughts out to Louisville's Dancing Guy
This was posted on social media today:
For serious. Get well soon.
KSR will be live from Chicago in the morning
Matt will do tomorrow's show live from the Windy City. I'm sitting this trip out, so please send me tons of pictures of you all having fun all over Chicago to make me feel jealous included.