Thursday Morning Rapid Fire for the UK Fans of the Day
Many people are saying it's too early to get in the holiday spirit.  I stand in solidarity with these fans who aren't afraid to have a holly, jolly time.  If you wanna listen to Christmas music, listen away.  Don't let the Scrooges steal your joy!
Coach Cal will Speak — The BBN wants to get past Tuesday night's beat down.  After discussing and dissecting the loss for a day, John Calipari will talk about it publicly with the media this afternoon around 2:15.  In an odd twist, they will not bring players to the media opp.
The NCAA and the FBI —  Calipari will address new evidence from an ESPN report in the college basketball corruption case.  The NCAA has received approval to investigate the FBI's findings.  The latest report names two Wildcats, Jarred Vanderbilt and Ashton Hagans, as a part of a Christian Dawkins plot to pay players monthly.  It's difficult to discern if there's much meat to the allegations, but one thing is certain; Dawkins had no shortage of schemes.
Stoops is Talking Too — We'll get about five to ten minutes with Mark this evening around 5:00.  At last week's Thursday session with Stoops, we learned Jordan Jones broke his hand.  I doubt there's any hand Earth-shattering news today.
Louisville City, Here We Go! — Can Louisville City repeat?  Standing in-between Louisville's soccer club and a second straight USL Cup is a legend, Didier Drogba.  The former Chelsea star now plays for Phoenix Rising.  If you didn't get tickets before Lynn Stadium sold out, you can watch all the action at 8:00 on ESPN2.
Hmmm — The bigger the bag, the more fill them with air.  This Reddit graphic is fascinating.  Now I have a hankering for Fritos.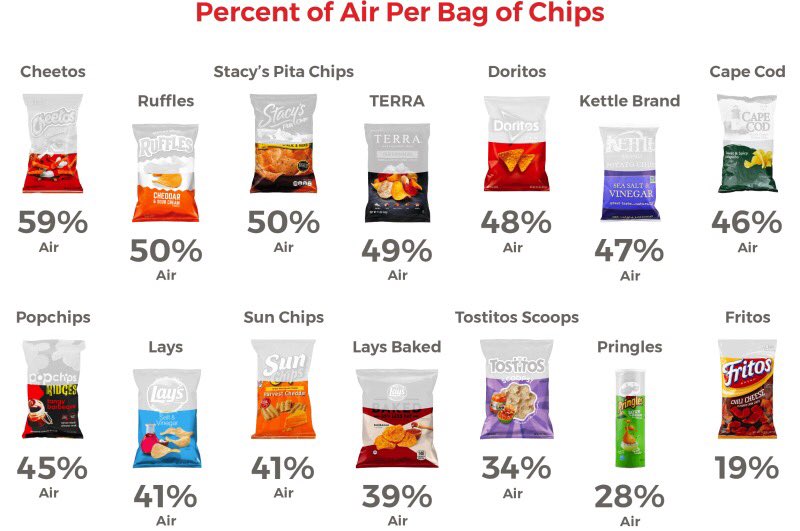 UK Hoops got a W — The Kentucky women's basketball team opened the season last night with 52-point victory.  Kentucky beat Alabama State 87-35 at Memorial Coliseum.  They return to action Sunday with a home game at 7:00 against Southern.
Thursday Night Football — It's the best TNF game of the year.  It might be the only time we get two playoff teams on a Thursday night.  Prepare for a night of high-scoring when the Steelers host the Panthers at 8:20 on Fox.
Thanks, KAT — This is the dunk the BBN needed after an awful Tuesday.
KAT taking some frustration out from the UK loss on JaVale McGee pic.twitter.com/uSyX2BqNAB

— Bobby Reagan (@BarstoolReags) November 8, 2018
[mobile_ad]