The US Open's Tuesday Morning Wakeup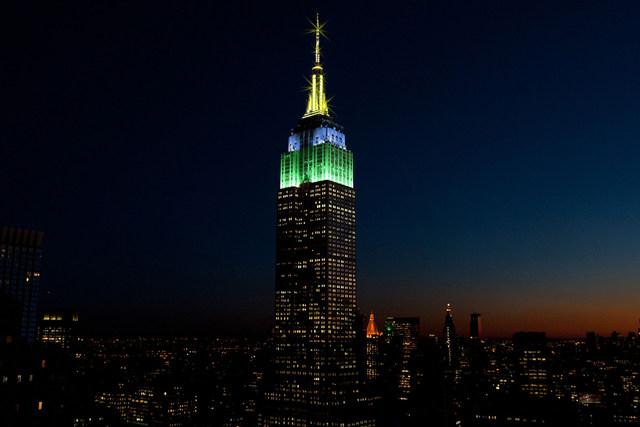 One of the best sporting events in America began last night in Flushing Meadows without KSR in attendance for the first time in a couple of years. I'm talking about the US Open, the fourth and final major in the tennis Grand Slam.
This year's tournament will run through September 13 and I will have eyes glued to the ESPN and Tennis Channel coverage as much as possible. Last night gave us Rafael Nadal closing out opening night and today we will get plenty more action throughout the day, headlined by Roger Federer this afternoon. Check that one out.
I am very excited to get to Commonwealth Stadium this weekend to kick off the 2015 football season, but a little piece of me misses being at the US Open this week and next. It's such a fun event to attend and, you know, New York City. I kind of love it there a little bit.
Now who's first to make fun of tennis in the comments section?
Tickets still available for Saturday's game and that is unacceptable.
If you don't take advantage of the new $25 ticket price for the season opener you are crazy. So get on over to Ticketmaster.com and use the promo code ALLIN to pick your $25 seat for Saturday's game. We don't want to hear any excuses. You want a good football team? Do your part. Sell out Commonwealth. Anything but a sellout will be an embarrassment for the grand opening of the new CWS. Get in there and enjoy it.
We will record the second KSR UK Football podcast tonight.
With better quality this time. Look for it on the website tomorrow afternoon.
Coaches can begin calling 2016 recruits today.
Andy Buh is excited:
Today is the day the NCAA allows us to call 2016 recruits and DM 2017 recruits! Huge day for all involved! #BBN #123 pic.twitter.com/10fUwnGTjt

— Andy Buh (@UKCoachBuh) September 1, 2015
They can slide in those DMs, too.
Check out these highlights of Kash Daniel in Frankfort.
Daniel had 16 tackles and a forced fumble at linebacker for Paintsville last Friday. He also played a little offense, rushing for 120 yards and throwing a 53-yard touchdown pass in the first half of his team's 36-0 victory.
Malik Monk to announce his five official visits tonight.
Maybe the best scorer in the 2016 class will go on his brother's radio show in Arkansas tonight to announce the five schools he plans to visit and when he will make those trips. Word on road is Monk plans to attend Big Blue Madness for his official to Kentucky, but we'll wait till he makes the announcement before adding him to that weekend's guest list.
Anyone watching Narcos on Netflix?
I'm going to start it tonight and I can't wait.
What happened to The U????
That's not the Miami we once knew. How sad.
KSR is coming up in an hour.
Tune in as the guys get ready for Saturday's game.