The Twists and Turns in the Michigan Man vs. Louisville Fan Altercation at the Yum! Center
When No. 4 Michigan played No. 1 Louisville in the Big Ten/ACC challenge, the most interesting thing that happened at the KFC Yum! Center wasn't on the hardwood.
While the Cards took care of business on the court, a Michigan fan was stirring it up in the aisle. A video of the incident surfaced on Facebook shortly after UofL beat the Wolverines by 15. Before you watch, prepare to hear many, many bad words.
Seen this on Facebook. Were any of y'all near this? Lol pic.twitter.com/FROg557LSD

— Joshua Daniel (@ThatJoshDude_) December 4, 2019
The Michigan Man's attire is objectively hilarious. The shirt really plays into pompous Michigan stereotypes. Also, what's the deal with the headband?
Many jokes poking fun at Michigan Man were made until another angle of the altercation was released, this time showing that he was in fact provoked by a Louisville fan who shoved him in the chest as he walked up the aisle. The Louisville fan oozed courage, immediately backing away as soon as he shoved Michigan Man.
@KySportsRadio Another view changes the dynamic pic.twitter.com/RVP2Jin4tp

— ghk4171 (@ghk4171) December 4, 2019
The videos provided plenty of ammunition for online bickering until Joey Craig provided some clarity. A reputable car dealer with more than a handful of lots around Kentuckiana, the entire event unfolded right in front of Craig.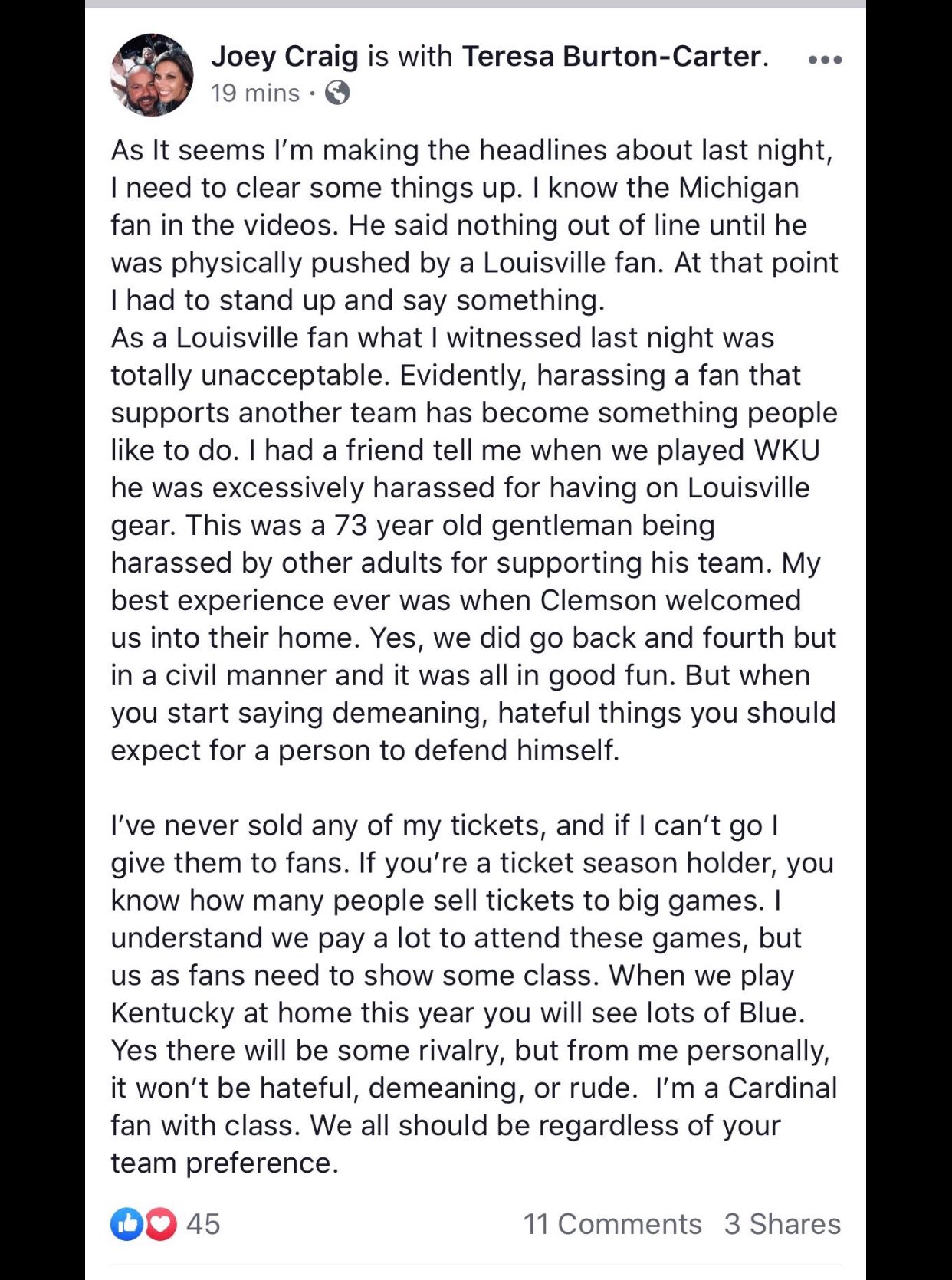 There are two lessons we can quickly learn from this story. First and foremost, don't be jerks to opposing fans. Friendly trash-talk can be fun but there's no reason to be nasty. Secondly, the next time you prepare to pick up your online torch and pitchfork, remember that there might be another side of the story.