The Ten Best Derby Week Traditions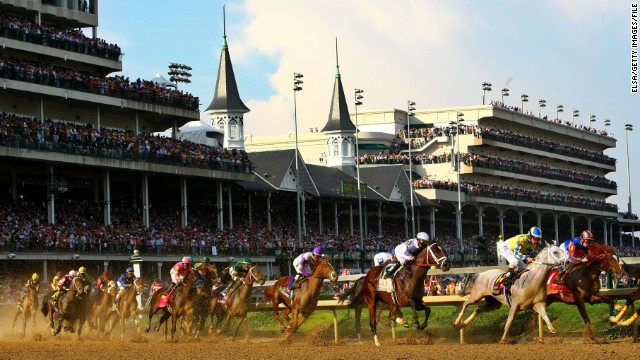 10. Unpredictable Weather
During Derby Week, the television at my house is turned to either TVG or the Weather Channel. My Dad memorizes the forecast better than the post positions, yet Mother Nature is always prepared to throw a curveball. In the middle of a sunny afternoon last year, it decided to pour during the National Anthem. There's only one solution: prepare for everything and remain indifferent when the weather decides to change its mind.
9. The Steamboat Race is Rigged
Apparently The Great Steamboat race used to be one of the Derby Festival's biggest draws. Now it's just something that appears on your local evening news. It all changed when it was discovered that the race was rigged. It shouldn't surprise anybody, but nothing gets Tony Vanetti more fired up than the phrase "Steamboat Race." Just send him a few Tweets and watch the outrage flow from his fingers.
8. Ohio Valley Wrestling at the Chow Wagon
Once I outgrew the free concerts on the Waterfront, I thought the Chow Wagon was no longer the place from me…until I ran into a wrestling ring. Unfortunately, the OVW's annual match on the Waterfront has already passed, but it's still one of the most interesting Derby events I've ever witnessed.
7. Celebrity Sightings
You don't have to watch Inside Edition to geek out when you spot a celebrity in Louisville. Something just looks out of place, which makes it even so remarkable. Dr. J is probably the best of the best, frequently seen in the paddock, never hesitant to speak with common folk. If your friend has a celebrity story, no matter how unbelievable it is, it's a story worth hearing.
There's also the "Infield Story." Much like the celebrity story, a handful of friends will start a story with "You'll never believe this!" The story will probably involve someone who is over-served, a fight, a half-naked person and the cops. Just like the celebrity story, believe it. This is one place where you do not have to subscribe to the mantra, "pics or it didn't happen."
6. A Ringer Wins a Lot of Money
I don't care if you've been handicapping the races for weeks, some rookie will blindly place a bet based on a horse's name or color and win more than you. Don't get jealous; help them enjoy the experience. If you're nice enough they'll buy you a $12 drink, even though they only won six bucks.
5. People-Watching
Arguably more entertaining than seeing the horses, from the infield hooligans to the dapper dudes in homemade hats, the people-watching during Derby Week is second to only the State Fair.
4. Sneaking in Booze
Purchasing all of your alcohol at the track will cost more than a ticket. If you don't have a good way to sneak in booze, just ask your parents. They're probably really good at it and have done it for years. Along with advice, they will have a good story or two about their greatest scheme. So far, the best of the best is the guys who buried a keg in the infield during the week and only needed to sneak in a tap on Derby day.
3. My Old Kentucky Home
There are a few people who hate on "My Old Kentucky Home" and I'm prepared to fight every single on of them.
2. Dawn at the Downs
There's a buzz in the crisp morning air at Churchill Downs. Few sights are more beautiful than seeing the sun rise over the Twin Spires. I can't pick a Derby horse until I've seen them trot around the track.
If you're lucky enough to get into the backside, you cannot miss the opportunity. It's not just because of the free Krispy Kremes. Rows of morning shows line the backside, but the real show is in the small elevated stages and bleachers. Bob Baffert is in his element as he puts on quite the show for the gathered crowd.
No visit to Dawn at the Downs is complete until you've enjoyed a breakfast at Wagner's Pharmacy. Seeing famous horse people dining is kind of cool, but my greatest Derby moment came while waiting in line. One person pulled out their harmonica to play "My Old Kentucky Home," a moment I'll cherish forever.
1. A Family Reunion
As you get older, it becomes more difficult to keep up with your friends from the past. It's probably my least favorite part about growing old, just behind my receding hairline. Yet every year at Derby I see my old friends at parties and tailgates. We may not have seen each other since the year before, but we have not missed a beat, picking up exactly where things left off. The bond we share at Derby is what makes it special and is why I'll make sure I never miss a Kentucky Derby.