The Marques Bolden Timeline of Events
It's almost over. It is almost over.
After months and months and months, reports and more reports, delayed announcements and drag-alongs, Marques Bolden is finally ready to announce his decision. The five-star big man is set to go public with his university of choice in a ceremony tomorrow afternoon from DeSoto, Texas.
But before he does, let's look back at that long ride that has been the recruitment of Bolden…
May 8, 2015: Shortly after Kansas gave him his first big-time offer, Kentucky extended a scholarship offer to Bolden. Louisville, Texas, Baylor and Nebraska were other schools on Bolden's offer sheet at that time.
June 4, 2015: A little under a month after the Kentucky offer, Duke offered a scholarship to Bolden.
June 18, 2015: Bolden said his recruitment is completely wide open. He announced plans to visit Oklahoma and Oklahoma State, as well as Duke.
July 30, 2015: Bolden set his official visit to Duke for September 18.
August 25, 2015: Bolden set his official visit to Kentucky for the following weekend. He would later move that date up a couple of days to September 2.
August 28, 2015: Bolden took a surprise unofficial visit to Duke. He was quoted as saying "Duke is standing out" after visiting campus.
August 31, 2015: Bolden cut his list to eight schools: Alabama, Baylor, Duke, Kansas, Kentucky, Oklahoma, TCU and Wake Forest.
September 2, 2015: Bolden took his official visit to Kentucky, the first of his five official visits. He told Evan Daniels, "That was my first time actually begin on Kentucky's campus. It's also great spending time with Coach Calipari, Kenny Payne and the guys out there, so I really had a good time."
September 12, 2015: Mike Krzyzewski and the Duke staff paid in-home visit Bolden in Texas.
September 17, 2015: John Calipari and Tony Barbee stopped by DeSoto High School to visit Bolden.
September 18, 2015: Bolden took his official visit to Duke. It was Bolden's second time in Durham in three weeks. He was hosted by his former AAU teammate, Duke's Matt Jones.
September 29, 2015: 247Sports' Jerry Meyer flipped his Crystal Ball pick from Kansas to Duke. Several reports had Bolden leaning toward Duke.
October 3, 2015: Bolden said he will likely decide in December or January. "Ideally I'd like to make a decision in January or December," he told MADE Hoops at the USA Basketball Junior National Minicamp. "That time period is best for me because I think I'll have everything figured out by then."
October 6, 2015: Bolden visited by John Calipari and Kenny Payne in Texas.
October 6, 2015: Bolden announced plans to visit Big Blue Madness and Duke's Countdown to Craziness on back-to-back nights.
October 14, 2015: Bolden canceled his plans to visit Big Blue Madness and Countdown to Craziness.
October 27, 2015: ESPN named Bolden as a player who could sign early. "He could also go until December or January," Jeff Borzello wrote.
November 9, 2015: Bolden's father said his son has "no plans" to sign with a school in the early period.
November 16, 2015: Jeff Borzello and ESPN Insiders picked Kansas for Bolden.
November 28, 2015: Bolden said he is in no rush to decide. From Rivals.com: "I'm not really trying to get it over with, but I have it down in my head to the schools that I'm really thinking about so I'm not really going through the eliminating process because I pretty much did that. I really don't try to put pressure on myself (to decide) or have somebody put that stress on me. I'm really trying to take it slow and day-by-day and not trying to think of me being a class changer."
November 30, 2015: Jeff Goodman predicted Kentucky for Bolden in response to a tweet.
My prediction? Kentucky. https://t.co/8Y2dn7XoxS

— Jeff Goodman (@GoodmanESPN) December 1, 2015
December 1, 2015: Bolden told Scout.com he is down to Kentucky, Duke, Kansas, TCU and Oklahoma. He said he plans to make a decision within one month.
December 11, 2015: Jerry Meyer said it is impossible to pin down a leader for Bolden, and that he wouldn't be suprised if a decision came before the end of the calendar year.
December 31, 2015: Jerry Meyer flipped his pick from Duke to Kentucky. Meyer told the Herald-Leader, "I've heard from a couple of sources that I trust that that's where he's likely going to end up." It was one of four consecutive picks for Kentucky in the Crystal Ball, but Kansas still held the lead at 48 percent of the vote.
January 17, 2016: Bolden named McDonald's All-American.
January 18, 2016: Kentucky took the lead in Bolden's Crystal Ball voting. Nine consecutive picks moved UK to 43 percent, ahead of Duke and Kansas at 29 percent each.
January 19, 2016: Duke staff made a trip to Texas to watch Bolden play. Mike Krzyzewski, Jeff Capel and Nate James sat courtside as Bolden went for 17 points, five rebounds and three blocks in a 35-point victory.
January 25, 2016: ESPN Insiders predicted Bolden to Kentucky. "Despite Kentucky's long list of frontcourt players, the Wildcats have some momentum," the story read.
February 1, 2016: Bolden cut Kansas from consideration, likely because of fellow center Udoka Azubuike's commitment to the Jayhawks. Bolden reportedly down to Duke, Kentucky, TCU and Oklahoma.
February 26, 2016: Rivals.com's Eric Bossi predicted Kentucky for Bolden.
February 29, 2016: Bolden told Scout.com he plans to announce within the next month. He said he doesn't want to go into the all-star games without having his mind made up.
March 22, 2016: Bolden said he plans to announce before his birthday on April 17. "I'm not going to wait that long," he told the Herald-Leader. "That's super late."
March 23, 2016: Harry Giles admitted he is confident Duke will land Bolden. Giles wrote on his USA Today blog, "I've definitely been hitting my man Marques telling him to come on to Duke with us. I need that! I feel pretty good about getting him. He's a smart guy and I hope he'll make that smart decision to come with us."
March 24, 2016: Calipari visited Bolden in Texas.
March 28, 2016: At the McDonald's All-American game, De'Aaron Fox joked he will break Bolden's kneecaps if Bolden goes to Duke. Fox also teased a Bolden commitment on SnapChat: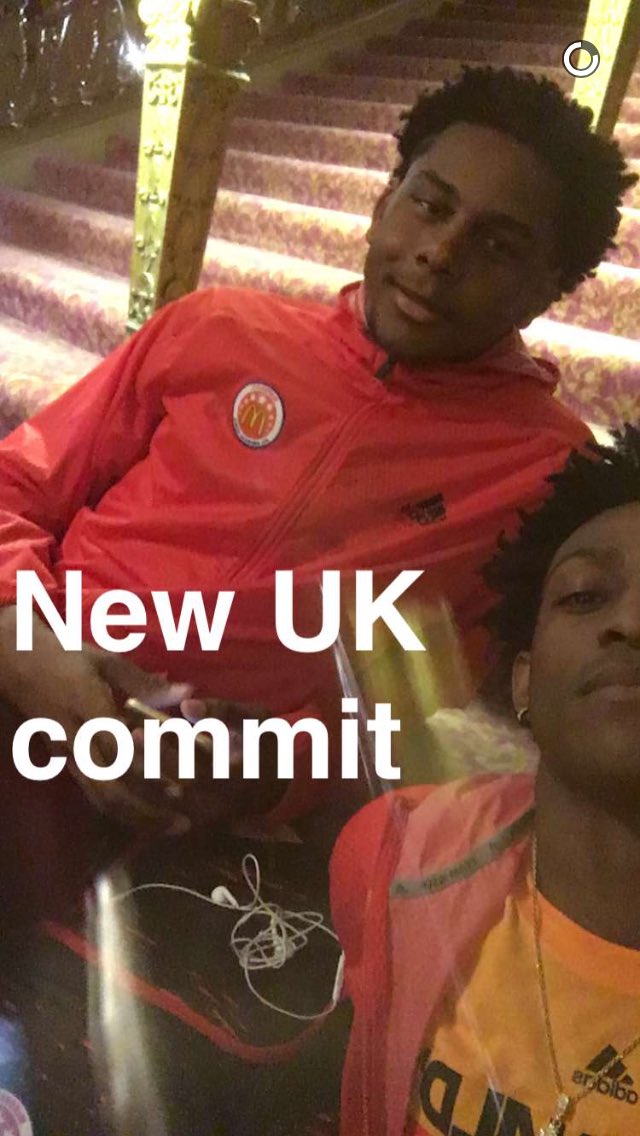 March 29, 2016: Duke overtook Kentucky in the Crystal Ball voting.
April 5, 2016: Gary Parrish wrote he expects Bolden to join Duke's 2016 recruiting class.
April 6, 2016: Jerry Meyer changed his pick to Duke, giving the Blue Devils 71 percent of the vote.
April 10, 2016: Four Duke coaches visited Bolden a week before Bolden's 18th birthday, what was once the deadline for his announcement. Duke believed to be in the driver's seat at this stage in the recruitment.
April 13, 2016: Bolden appeared on the ESPNU Signing Day Special in a taped interview from the Jordan Brand Classic. It was believed there was a chance Bolden would commit on the show; he did not, but said he is "very close."
April 13, 2016: At the Jordan Brand Classic, Bolden told USA Today, "I see myself fitting in perfectly with both teams. I try not to look at the other guys coming in. There's going to be competition everywhere. You're not going to be the only guy there. I know I'm going to get better wherever I go, but the way Kentucky develops their guys is unbelievable and then the way Duke guys come out and are so successful. They're both positives." He said it's a possibility he will announce Friday at the Jordan Brand Classic game.
April 15, 2016: Bolden told Rivals.com he wants to announce on April 17, his 18th birthday.
April 17, 2016: Bolden turned 18. No announcement.
April 18, 2016: Bolden's high school coach said he plans to meet with Bolden and set up an announcement by the end of the week. That announcement never came.
April 28, 2016: Duke commit Jayson Tatum said he is confident Duke will land Bolden.
April 29, 2016: De'Aaron Fox left an Instagram message to recruit Bolden to Kentucky:
April 29, 2016: Three Duke writers switched their picks from Duke to Kentucky.
April 30, 2016: Same three writers switched picks back to Duke.
April 30, 2016: In a brief interview at the BallIsLife All-American game, Bolden said, "Yeah, I'm definitely close. I'll make that decision real soon."
May 6, 2016: Scout.com called Bolden's recruitment a coin flip between Duke and Kentucky.
May 10, 2016: Duke writer said in interview with Duke blog that he believes UK has the inside track on Bolden.
May 11, 2016: Calipari indirectly told Bolden he is okay waiting as long as Bolden needs. Calipari was speaking to "a recruit" when he said it during his offseason press conference in Lexington: "If a kid wants to come and walk on our campus in September, I'm alright with that. I don't really care. The reason is to come here, you have to be sure this is what you want or you should not come here. This thing is on. This is not for funsies here. My thing is whatever happens, happens. However this stuff plays out for anybody, obviously, that's the extent of what I can say."
May 16, 2016: Bolden's school announced he will announce and sign on Tuesday.
Center Marques Bolden will sign at 9 a.m. May 17 at Chris Dyer Gym along with several DHS classmates!

— DeSoto ISD (@desotoisdengage) May 16, 2016
May 16, 2016: Bolden's school announced Bolden's ceremony has been moved for "family reasons." He will announce on Thursday, May 19.
Hold up – Bolden moving to Thursday for family reasons!
9 am tomorrow will be all other student-athletes!

— DeSoto ISD (@desotoisdengage) May 16, 2016
May 19, 2016: Marques Bolden announced his commitment to: ______________