The KSR Golf Scramble's Friday Morning Wakeup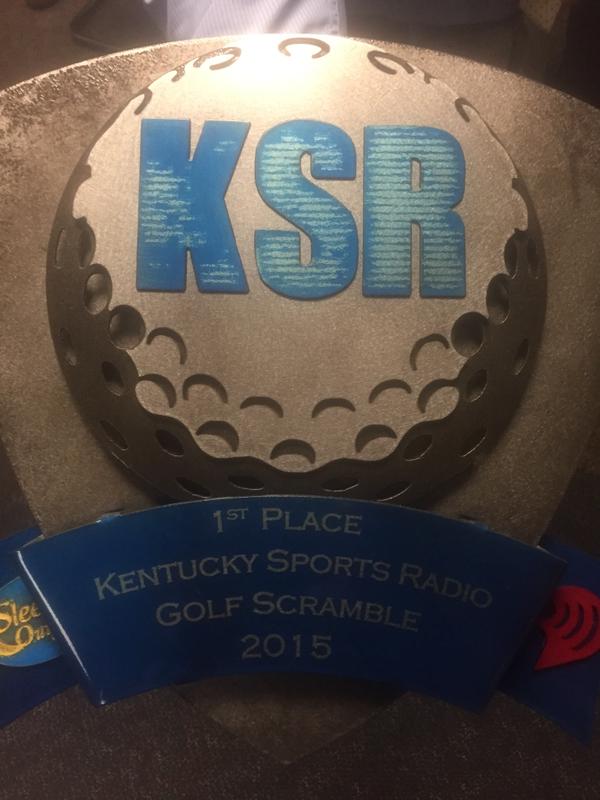 You smell that? I do. That's called a championship. I smell it well.
Today, four of the state's best golfers will stoop to amateur status to compete in the inaugural KSR golf scramble. I'm talking about my team, of course, made up of former KSR county blogger, Corey James; former KSR Bachelor blogger and current PGA caddy, Aaron Flener; my father, Franco; and me, carrying a putter so hot we might get a visit from Louisville Fire before the turn.
As for everyone else in the field, we're excited to have a fun group of Cats fans at the Polo Fields and I wish them all well in the race for second place. It's very nice of everyone to take off work and come out to a tournament they can't win. Good people. Hopefully they win some of the many prizes we have around the course. If nothing else, they'll meet Shannon The Dude and Ryan Lemond, and you can't put a prize on that.
But enough about the golf, let's talk about things you care about.
Did you enjoy the KSR UK Football podcast?
Apologies for the poor quality. Nick had the equipment for about an hour before we sat down to record, so he was learning how to use it on the fly. It will improve next week when we all get together to talk about UL-Lafayette and that home opener in the New Commonwealth Stadium. Tweet us any questions you may want answered and we'll get to them on the show. Looking forward to recording another one and getting this season kicked off. The talking has gone on way too long.
Kobi Simmons lands today.
One of the top guards in the 2016 recruiting class will take his official visit to Kentucky this weekend. There was a time when Simmons was pretty much a lock to UK; that optimism has dwindled just a little bit, but he's still high on the Cats.
The football team is getting ready for UL-Lafayette today.
We'll have interviews with Stoops, Dawson and various players from the scoring side of the ball a little later today. Check back in the early evening to hear what they have to say on the last Friday before things get really real next week.
Football is almost here!
Anthony Davis is huge.
Through diet/lifting, Anthony Davis added 12 pounds this summer, now up to 253: http://t.co/ine0G8FS0j pic.twitter.com/PgronLG9yf

— Jim Eichenhofer (@Jim_Eichenhofer) August 27, 2015
MVP.
I would like to thank former UK fullback Moncell Allen for shattering my phone last night.
I didn't know it was possible for a screen to break in so many places. Turtle, I'm not even mad. I'm impressed.
Bill Goldberg is going to be a guest on KSR.
File that one under Things I Never Thought I'd Say.
Goldberg – excuse me – Gold-Berg will be calling into the show some time this morning. We'll be out at the golf course for the entire show so it should make for a very bizarre interview.
I'll also be out there with my Phunkee Dunk segway and we're going to make Ryan try to ride it. I don't know how that will convert to radio, but we'll Periscope it, too.
Be sure to tune in. I'm off to the course…