The gorilla exhibit reopened at the Cincinnati Zoo this morning
Thankfully, I was out of the country when all of the gorilla news broke over Memorial Day Weekend, but the Cincinnati Zoo is back in the news today after the gorilla exhibit reopened this morning. If you were also out of country when it happened, the exhibit has been closed since May 28, when a 3-year-old boy climbed into the enclosure and the zoo staff killed 17-year-old silverback Harambe to protect the child. The videos of the incident went viral, with everyone and their grandmother weighing in on the issue on social media.
Zoo Director Thane Maynard told reporters this morning that, even though the old barrier had been safe for 38 years, the zoo added a 42-inch tall barrier with wood beams across the top and bottom of the exhibit with knotted rope netting: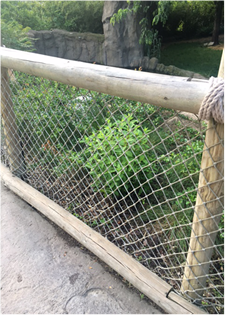 In similar news, an Ohio prosecutor announced yesterday that no charges will be brought against Michelle Gregg, the mother of the boy.
And that's all I'm going to say about that.