The Good, The Bad and The Ugly from This Week
The Good
– Enes became the third former Cat to sign a max deal, getting $70 million over the next four years with the Portland Trail Blazers to help replace Lamarcus Aldridge. That brings the unofficial total salaries of Calipari Cats up to a gazillion-and-a-half dollars. Don't let bitter UofL fans try to tell you he wasn't a Wildcat. #NeverForget the UnderKanter.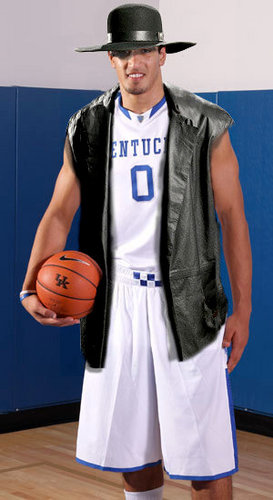 – NBA free agency has been entertaining with Wildcats making buku bucks, but the best of the best drama went down in Houston in The Battle for DeAndre Jordan. After verbally committing to play for Mark Cuban in Dallas, a contention of Clippers went to Jordan's home to convince him to stay in L.A. They essentially locked Jordan in, shutting out Dallas until DJ could re-sign with the Clips at midnight. Twitter was at its best: Blake Griffin with a picture of a chair wedging a door shut, Chris Broussard saying Mark Cuban was texting and driving around Dallas trying to figure out where Jordan lived, and all of the wonderful, wonderful photoshops.
– If you've never seen Jerry Seinfeld's "Comedians in Cars Getting Coffee," this week's episode is a good place to begin. The relatively short viral videos are practical, yet extremely entertaining interactions. This week Jerry hung out with The Late Show's new host, Stephen Colbert. I'm biased as a huge Colbert fan, but I believe after watching it you will be just as excited for the new Late Show as I am.
– Drake Jackson is currently crushing it at the most prestigious prep football camp, Nike's The Opening. Drake has been the centerpiece of the 2016 recruiting class, figuratively (by getting guys like Kash Daniel to follow suit) and literally (as the #1 center in the country). He has proven himself quickly, holding his own against Alabama's best, Raekwon Davis and Kendall Jones. They weren't pleased, picking fights with Jackson, but the smallest offensive lineman at the camp didn't back down. At one point, Drake lost his helmet but still finished the rep. 247's Steve Wiltfong listed his as one of the top Day One performers, "Drake Jackson, the Kentucky commit is Mr. Technician, perhaps and hopefully for him, the next Jeff Saturday."
– We wished Coach Stoops a Happy Birthday this week. I hope you noticed he shares his birthday with Tom Hanks, evidence Stoops is destined for greatness. I wonder if Stoops is more of a Gump, Woody, or Captain Phillips?
– Roger Federer played like a much younger man, defeating Brit Andy Murray in the Wimbledon Semifinals. Man I love it when the British lose at home.
The Bad
– Russ Smith spent his first two Summer League games calling Andrew Harrison "Aaron." I can't blame him. The only way I can tell them apart is that one breaks the hearts of fanbases and ended Russ' college career, the other had a beard for a few weeks. And I have twin sisters, I should be better at this.
– Whiskey Row went up in flames. After trying to renovate and revitalize the historic Louisville buildings for years, they were set ablaze during the reconstruction. Luckily the damage was not irretrievable. It conveniently occurred on the day Louisville was an international Snapchat "Story" alongside the Running of the Bulls and Tel Aviv, Jerusalem. It also was the perfect storm for WLKY to unleash their new HD Chopper they'd been teasing for months.
– Ryan's night in Pikeville. It must be something in the water. Whatever it was, Ryan Lemond was in rare fashion. All the evidence you need is in Thursday's podcast.
– Joe Theismann tried to defend his former team's nickname, but defending the Washington Redskins is difficult. The Fox News babbling was…..something.
– Serena Williams beat Maria Sharapova for the 45645698 17th time in a row. The semifinal loss extends Maria's drought against Serena to 11(!) years. If we think Louisville has it bad, Maria's got it bad, badder than Usher kind of bad.
The Ugly
Colonel Sanders has a delicious secret recipe, but KFC has taken things too far. They've decided to integrate pizza into their menus across the Pacific.
Would you rather have the Napoli Crispy Chicken Pizza?
Or The Chizza?
Either way, you're guaranteed to ingest (rather than digest, because I don't think you'll be able to keep it down) the worst from this week.