Team Pedicures' Thursday Morning Wakeup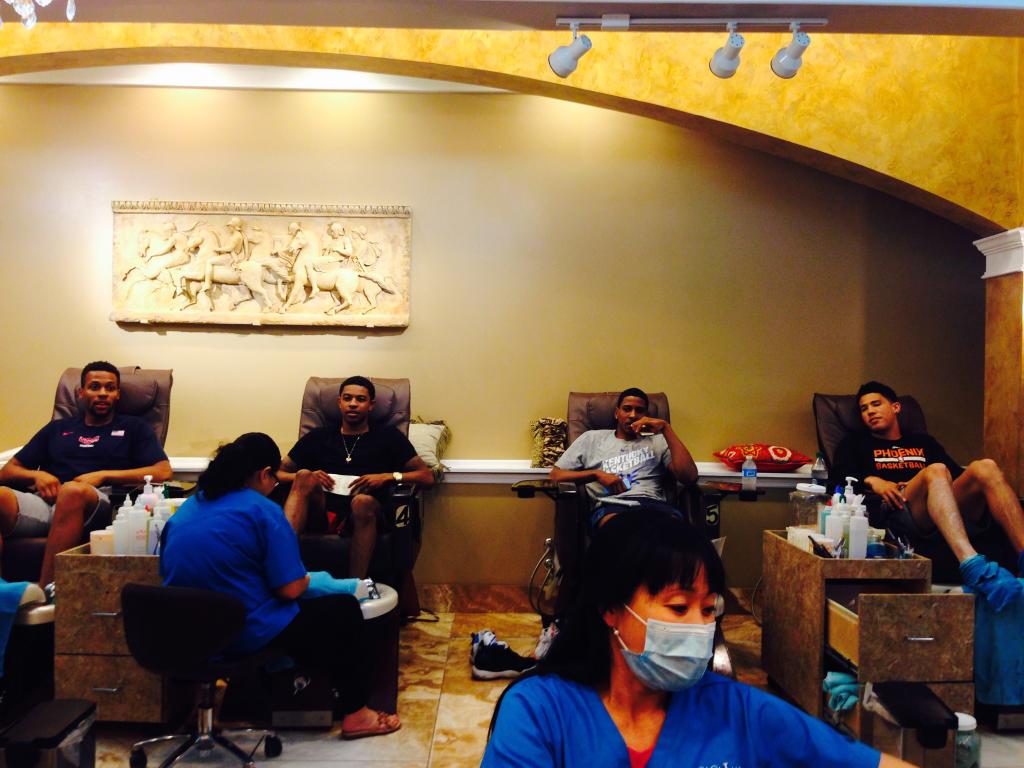 After tearing up the NBA Summer League for the Phoenix Suns, Devin Booker is back in Lexington to be with his bestest buddy Tyler Ulis and the new Wildcats on campus. Yesterday Booker took the boys out for what has become a team tradition: pedicures at Spa Nails. Check out this photo of Isaiah Briscoe, Ulis, Charles Matthews and Devin Booker getting their pedis together.
The left side of that photo is the meanest backcourt in college basketball and it's good to know they're taking care of their feet, too. I just wish these guys would call me next time they go. I love Spa Nails 1.
John Calipari is out recruiting again.
Cal was in Vegas last night to watch Thon Maker, Edrice Adebayo, and Dennis Smith in the Las Vegas Fab48 Tournament. His entrance was captured on SnapChat:
There's no telling where he'll turn up today and throughout the remainder of the final July evaluation period. We'll stay on top of it.
Bobby Bones talked about Matt, Ryan, and KSR on his show yesterday.
The popular country music radio show talked about Kentucky Sports Radio and how Matt has never heard of Bobby Bones. The brief clip is pretty entertaining. He said he enjoys the show.
Jamal Murray will play again tonight.
Murray will play his third game in as many days when he and Team Canada take on Mexico in the final game of the Pan Am's group stage. Murray scored 20 points in last night's win, after dropping 12 on 5-of-7 shooting in his international debut.
Tonight's game is scheduled for 6:00 pm and will be streamed online via WatchESPN. Enjoy these highlights from last night until then.
He's goooooooood.
Did you watch Mr. Robot last night?
I'm telling you, people. Get on it. I wouldn't steer you wrong.
Check out KY Wildcats TV's video from yesterday's tour.
43 days until kickoff!
Shout-out to UK Tennis alum Alejandro Gomez.
Gomez defeated Marcos Baghdadis in the ATP's Claro Open in his home nation of Colombia last night. The former Wildcat earned a spot in the main draw as a qualifier and then stunned the 45th-ranked player in the world to reach the second round. It's the first ever top-50 win for a Kentucky men's tennis player.
KSR is in Harlan today.
"No place like it," Matt tweeted last night. "Can't wait."
You know the drill… Stop by if you're in the area to hear the show and enter to win tickets from GuyOnTheCornerTickets.com.