Sunday Morning Links brought to you by an old familiar face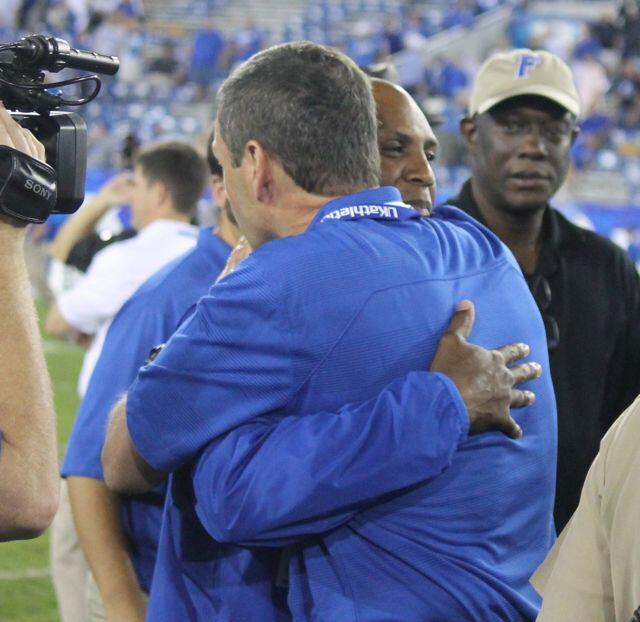 (h/t Jon Hale @JonKyForward)
Commonwealth Stadium was given reason to believe in all of the upset talk early. The first quarter played out in dramatic fashion, leaving the Cats all tied up at 7 with the Gators. Slowly but surely, the wheels began to fall off as Florida methodically marched down the field time and time again, while also breaking just enough fairly big plays (a couple of 17 yarders early) to extend the lead to two touchdowns before halftime. Losing by 17 to Florida, a team Kentucky hasn't beaten in 26 years, and has often times been blown out by, isn't the worst result in the world by any means. We've got a long season ahead, and once again, there were some positives to take away from the game. Here are some links to get your Sunday morning started…
—- Kentucky took some chances last night against the Gators, even utilizing (and trying to utilize even more) some trickery in order to throw off the stingy Gator defense. Mark Story of the Herald Leader says that although fun, "no amount of trickery will help Kentucky grow up faster."
—- John Clay of the Herald Leader equated last night to a dose or reality, calling Florida's second and third stringers still better than some of Kentucky's starters. The level and depth of talent that Florida has, allowing them to perform at a high level despite a load of injuries, is what Kentucky should eventually strive to have.
—- One of the glimmering pieces of hope all week was that Florida's back-up quarterback, Tyler Murphy, would falter in his first SEC start on the road. The Kentucky crowd tried to rattle Murphy early, but he just kept making plays and playing within himself, following Florida's game plan to a tee. Murphy ended the night 15-18 in an extremely efficient performance. 
—- Lost in the hype of the game was the fact that Kentucky basketball released a statement on a minor injury suffered by Willie Cauley-Stein. Cauley-Stein is expected to miss 10-14 days as the hand injury heals. 
—- Yesterday, Paul Finebaum threw out one of the best lines I've heard in a long time during College Gameday. Finebaum equated Lane Kiffin to Miley Cyrus saying, "Lane Kiffin is the Miley Cyrus of college football. He's got no talent, but we can't take our eyes off him." This morning, Lane Kiffin was relieved of his duties as the coach of USC.