Stone Brewing responds to Sawstone Brewing trademark battle
The trademark battle between Stone Brewing and Sawstone Brewing continues.
On Tuesday, Stone Brewing co-founder Greg Koch responded to accusations that his company, a large regional brewery out of Escondido, California, was "going after" Sawstone Brewing, a microbrewery in Morehead, Ky., by turning the tables with claims that Sawstone's owners had launched an online harassment and smear campaign against them.
After speaking with owners at Sawstone Brewing, that is simply not the case.
The trademark battle between the two breweries first began on March 10, 2020, when Stone Brewing filed a "Petition for Cancellation" against Sawstone Brewing.
According to the United States Patent and Trade Mark Office a petition to cancel is defined as:
A petition to cancel a registration of a mark, stating the grounds relied upon, may, upon payment of the prescribed fee, be filed as follows by any person who believes that he is or will be damaged, including as a result of a likelihood of confusion of dilution by blurring or dilution by tarnishment under section 43(c), by the registration of a mark on the principal register established by this Act, or under the Act of March 3, 1881, or the Act of February 20, 1905:
The petition to cancel was for the word mark "Stone." The grounds for cancellation included: "priority and likelihood of confusion" and "dilution by blurring."
Stone Brewing is the owner of STONE and the following other trademarks:
STONE BREWING
STONE BREWING CO. NORTH COUNTY SAN DIEGO
STONE CITRUSY WIT
STONE DELICIOUS IPA
STONE RIPPER
STONE SOUR FEST
Sawstone filed an application to register SAWSTONE BREWING CO on July 30, 2018. And it was officially registered on November 12, 2019.
The word "Sawstone" comes from the brewery's building (The Cozy Building) that was built in 1915. It is one of two historical limestone buildings left in the country built from "sawed stone" or limestone, and the only in Kentucky according to a local historian.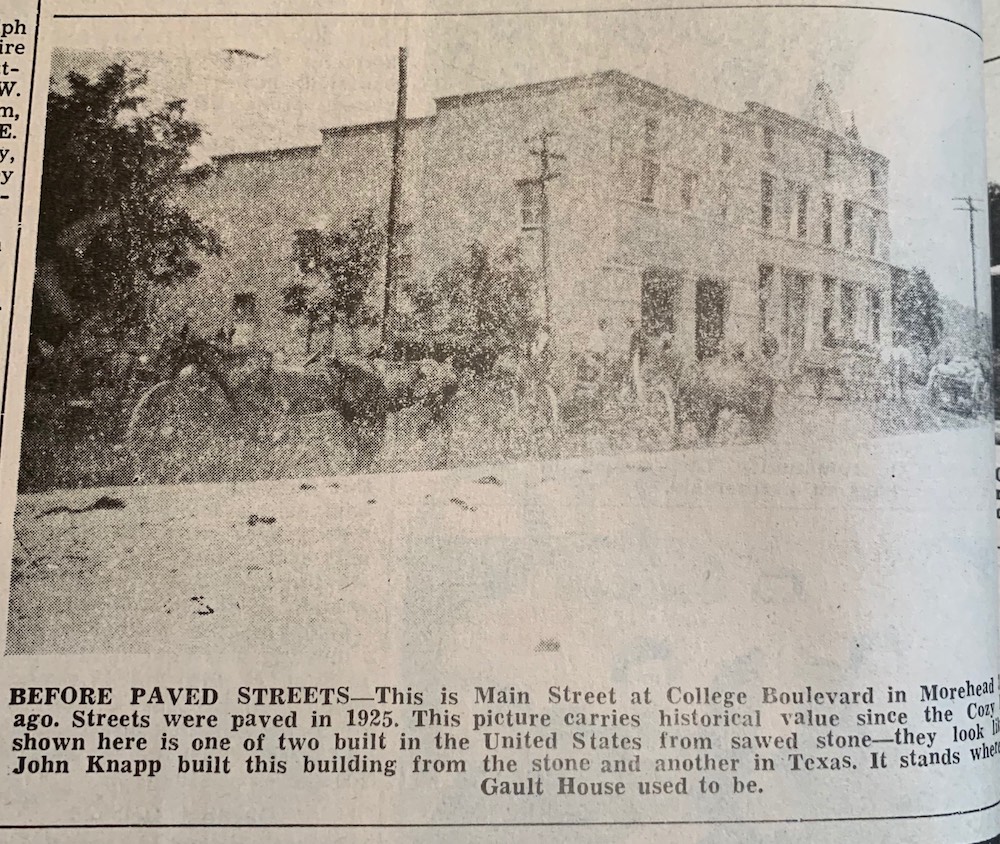 Koch's response to the trademark battle was posted on his blog on Stone's website. In the blog post, he explains why his company is taking legal actions to protect the STONE brand and why they felt it was necessary to send the Petition for Cancellation. You can read the blog and form your own opinions about it.
I do want to point out the part of Koch's blog that I felt was uncalled for: the accusations that Sawstone was behind the online harassment and smear campaign.
In his blog post, he states:
Then, Bam. Out of the clear blue, we became the subject of a vicious online harassment and smear campaign — one that was so far removed from the facts of what had actually happened that it even falsely accused us of having sent more than a hundred cease and desist letters this year.
Koch is correct. Stone Brewing has not sent more than a hundred C&Ds; however, Stone currently has 89 open trademark proceedings in the Trademark Trial and Appeal Board Inquiry System. To see all of those proceeding, click HERE.
Koch continues:
This campaign also included cyber- and cell phone stalking and harassment, complete with personal threats to me and employees, fraudulent reviews of our locations on well-known review sites (enough to trigger their algorithms that identify cyber attacks) and wildly false claims about Stone.

It's OK, I can take it, but far more disturbing and reprehensible has been the phone and online attacks against some of our individual team members who have nothing to do with this and, like me, didn't even know about the issue previously.

Local Pioneers' devotees riled up by lies bombarded individual Stone employees with repeated, profanity-laced calls, voicemails, texts, and social media messages. One employee was subjected to repeated calls at 3am and 4am on his personal cell phone from anonymous Kentucky phone numbers threatening to "get" him. Local Pioneers' fans have exulted that they are "spreading [Stone employee's] name like wildfire" and are "hoping [their] reputation goes up in smoke."

Talk about bullying.
(When Koch mentions Local Pioneers, he is referencing Sawstone Brewing. Local Pioneers is the name of their LCC. It was the name the three owners chose before they even purchased the brewery's building.)
After speaking to the people at Sawstone last week, they became aware of the harassment and the negative behavior from a small few of their supporters. The Morehead brewery quickly put out a statement condemning that behavior. In the same Facebook post, Sawstone cleared up the confusion whether or not a Cease and Desist was sent.
Koch continued:
As if that wasn't enough, Local Pioneers and/or their supporters have also threatened to ramp up this harassment campaign unless we walk away from our rightful trademark defense.

I'll let you decide the ethics of their wildly false accusations. But it didn't stop there. Using their David vs. Goliath narrative, they even went so far as to set up a Go Fund Me account to 'defend themselves' from the big meanies at Stone. We've also heard they launched an online merchandise store to capitalize on the dispute.
If there is one thing we have learned from social media, you can't control what people say on its many platforms. To blame Sawstone for a few rogue "supporters" is uncalled for. To say the people at Sawstone are behind the harassment and threats is just false.
To mention Sawstone's GoFundMe and online store was also uncalled for.
To defend its trademark, Sawstone's attorney fees could cost up to tens of thousands of dollars, finances that Sawstone — or any microbrewery for that matter — does not have, especially during a global pandemic when breweries in Kentucky had to close their taprooms for a couple of months.
One way a lot of people supported their local breweries over quarantine was purchasing merchandise. This was a way people could support breweries while they were shut down. Many breweries across the country have set up online stores just to sell shirts, stickers, hats, etc. to help supplement some income. So in order to survive a trademark battle with Stone, the ninth largest craft brewery in America, a GoFundMe and online store are reasonable options to be able to continue to brew beer.
So by now, you might be wondering why Sawstone hasn't just changed their name to comply with Stone's cancellation request. Obviously that is the easier route to go financially.
Stone's first attorney said they would only consider a settlement proposal if Sawstone limited their "product line and geographical market" distribution. Then the California brewery came back and said they would only consider a settlement proposal if Sawstone completely surrendered their trademark.
Let me remind you that Sawstone is a 3bbl brewhouse in Morehead, Kentucky, a population of around 7,000. The only place you can get Sawstone beer right now is in their taproom. You can't even go to the Buffalo Wild Wings down the street in Morehead and get a Sawstone Kentucky Common.
Sawstone was adamant that they would agree to never emphasize the word "Stone" apart from the word "Sawstone," which to me is a fair and understandable agreement.
Sawstone co-owner Blake Nickell told KSR that he never planned for this story to gain the attention it has.
First off I want to preface with stating that we never expected this thing to go viral or become as big as it already has. We are a small brewery in a small town known as Morehead, KY and we love it here.

We wanted to bring this to everyone's attention because the brewing industry is very unique and we love being a part of it. It is an industry full of support that seems to take priority over competition. We are the only brewery in town, but we are well aware that on a state and national level, there is a great deal of support for each and everyone in the industry. I don't know if we would even be where we are at right now if it weren't for that support. At the end of the day, the one thing we all really want to do is just make good beer and share it with others who are just as passionate as us.

We hope that we can reach some sort of agreement with Stone Brewing.
I hope for the sake of both Stone and Sawstone that both parties can come to an agreement, and soon. The craft beer industry is about helping and supporting each other. Whether it's hundreds of breweries across the country joining in on the Black is Beautiful initiative. Or brewing a beer to support the suffering hospitality industry due to COVID-19. Or offering to hire displaced workers after a tornado. The craft beer is about community and bringing people together. That's why I love this industry. And that's why I work in this industry.
You can read Greg Koch's entire blog post HERE.