Steve Kerr's Friday News and Views
Steve Kerr was the talk of the NBA Thursday afternoon after taking the Golden State job over an offer to become the head coach of the New York Knicks. Some are surprised by his decision, but it was an easy one, really. Simply put, Golden State is good and the Knicks aren't. Yes, Phil Jackson is running the New York office now but the Knicks have no money and zero draft picks this summer. The Warriors, on the other hand, are a playoff team with the pieces to be good for a while. "Hey, Steph Curry, just dribble around and shoot it." Easy decision.
So tonight we salute Steve Kerr and his sweet new gig, his first head coaching job, by giving him the Friday News and Views honors. But it just wouldn't be right if we didn't dedicate a small portion of his shout-out to that unforgettable shot he hit in the 1997 NBA Finals. You remember it: Jordan had the ball with a chance to win the game, he gave it up to Kerr, everyone groaned, and Kerr knocked it down to win the 'ship.
During Kerr's speech at the championship parade in Chicago, he said Jordan told Phil Jackson he didn't feel comfortable in late game situations. Kerr jokingly said, "I thought to myself, well, I gotta bail Michael out again."
If that's not enough to make you like Steve Kerr, remember, he once called Anthony Davis the next LeBron James. Now you're sold. Let's do this News and Views thing…
*****
The combine measurements are in!
The league pulled out the measuring tape on Thursday and sized the boys up. Randle's wingspan wasn't as bad as the haters made it out to be all season. Young had some nice numbers, too.
Julius Randle
Height w/o shoes: 6'7.75″
Height with shoes: 6'9″
Weight: 250 lbs.
Wingspan: 7'0
Standing Reach: 8'9.5″
James Young
Height w/o shoes: 6'5.25″
Height with shoes: 6'6.75″
Weight: 213 lbs.
Wingspan: 7'0
Standing Reach: 8'8″
Young is going to earn some extra money off his measurements.
Cheese and rice, Andrew Wiggins' vertical is incredible.
If this NBA thing doesn't pan out, he has a future in changing light bulbs.
Randle interviewed with Utah, Cleveland, Philadelphia, Boston and Orlando.
None of this really matters to us until we see the draft order. Commissioner Silver will open the envelopes on Tuesday of next week at the NBA Draft Lottery. Then we'll start getting some serious projections.
Please no Utah.
John Wall's season is over.
The last remaining Wildcat in the NBA playoffs was sent home Thursday night on his own floor at the hands of the Indiana Pacers. Wall scored 12 points on 5-of-16 shooting with nine assists and five rebounds in the Game 6 loss.
The Wizards should hold their heads high, though, considering they were so close to reaching the conference finals. Can't be all that upset about a young team losing in the East semis. The future is very bright in Washington.
Lexington Center chairman sent Eli Capilouto a letter asking for public support of the Rupp Arena project.
Capilouto has until May 23 to respond to Brent Rice's letter pushing for public support from the university. Meanwhile, spending has halted as they've almost spent all of the $5.5 million designated for design, and times are getting desperate. The uncertainty of the project is costing Lexington tourism a lot of money right now and things won't get better until everyone is on board or the project is scrapped.
Read more details in Thursday's report from the Herald-Leader.
Former West Virginia star insinuated Alabama offered him a Corvette; Nick Saban said, "Kiss my ass."
Alabama running back Derrick Henry recently Instagrammed a photo of his new car, a brand new Dodge Challenger with all the fixins'…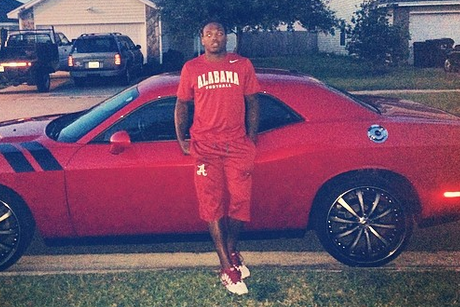 Henry has been catching a lot of heat for flaunting his new toy, as he should considering he is a full-time student with no job. But things got really interesting when former West Virginia quarterback Pat White commented about the photo on his Facebook page, saying, "Stop pretending like you didn't know the crimson tide has been doing this for years. Still glad I turned down a Corvette to become a mountaineer."
Nick Saban was asked about White's accusations Thursday night, to which he said, "I didn't even know that happened. Is that the best thing we can talk about? Kiss my ass."
I don't have a lot of room to talk, honestly. I accepted free room and board and free home-cooked meals from Mom to attend Madisonville Community College out of high school. It's no Corvette or Dodge Challenger but she makes a mean white chicken chili.
We're No. 104!!!
USA Today ranked all of the teams in college football and your University of Kentucky Wildcats came in at No 104. That means the author sees only 14 teams that are worse than the Cats entering the 2014 season.
However, he did have some nice things to say about the future:
In total, foundational pieces have been added at nearly every position. But UK's best draw is the process itself: Stoops and this staff have changed the program's course of direction. The Wildcats are making noise off the field. Next, the program needs to translate this success to between the white lines. Good days are ahead. But this team is not quite ready to move out of the cellar in the East Division [USA Today]
Rome wasn't built in a day. And Rome wasn't built after three season of Joker Phillips, either. Patience, my friends.
I'll leave you with this supercut video from the Idaho GOP primary debate.
If I could vote in Idaho, I'd have a hard time deciding between the two bearded guys. You should look up the entire debate if you have the time.
Go Cats, everybody.