"Sports probably depend on people's willingness to wear masks"
Want sports this fall? Wear a mask. That's the message Kentucky Governor Andy Beshear delivered during his press conference today as coronavirus case numbers continue to surge nationwide.
"It's pretty clear. All the experts agree. If we get a critical mass of people wearing masks, we continue to social distance and we remember it, we can get pretty close to our old normal. In fact, I think Dr. Gupta even said this morning that sports probably depend on people's willingness to wear masks…We had one of the cable news doctors on today saying we could potentially have fans in the stands in major sports if we can get that critical mass wearing masks. That seems like a pretty good deal, I think, to most people that are out there."
Kentucky's statewide mask mandate began on Friday evening and, contrary to what social media may suggest, a new poll shows that an overwhelming majority of residents support it. Seventy-three percent of the 601 likely general election voters polled said they support requiring people to wear a mask in indoor places such as grocery stores, schools, retail stores, and certain outdoor places, such as mass gatherings, with only 23% opposed.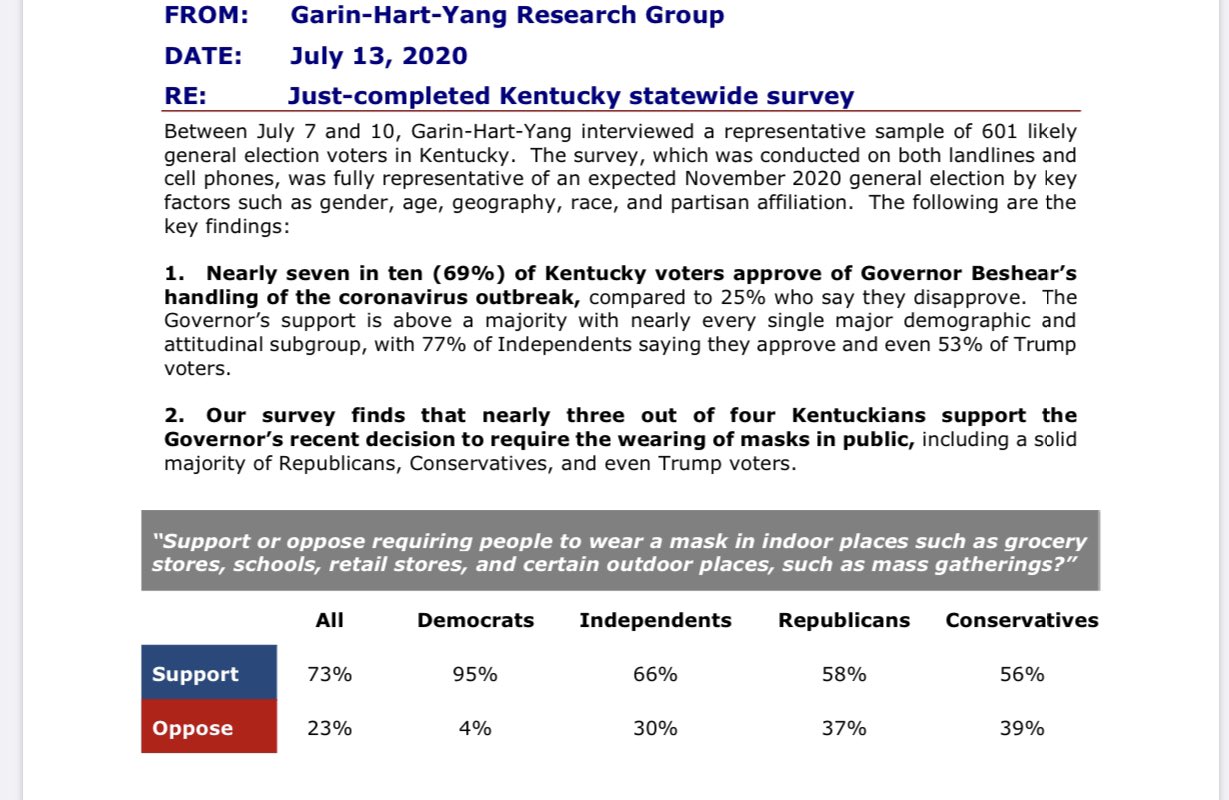 Beshear also showed a clip of U.S. Surgeon General Jerome Adams saying Americans can turn the tide in the fight against the virus in as little as two to three weeks if everyone wears a mask and continues to social distance.
"We can turn this thing around in two to three weeks if we can get a critical mass of people wearing face coverings, practicing at least six feet of social distancing, doing the things that we know are effective. It's important for the American people to understand that when we're talking about the fall, we have the capability to turn this around very quickly if people do the right thing."
ICYMI: @Surgeon_General @JeromeAdamsMD told @margbrennan on @FaceTheNation #coronavirus can be "turned around in 2-3 weeks if everyone does their part" like #maskup and participate in #socialdistancing https://t.co/Ta65izn7Vg

WATCH — pic.twitter.com/jX5tzfoDCJ pic.twitter.com/TSvXyWhuHb

— Face The Nation (@FaceTheNation) July 13, 2020
CDC Director Dr. Robert Redfield echoed those remarks during a press briefing this afternoon (albeit with a longer time frame).
"If everyone could wear a face covering over the next 6 weeks we could drive this (coronavirus) into the ground," CDC director Dr. Robert Redfield just told reporters.

— Katie Peralta (@katieperalta) July 13, 2020
Save lives, save jobs, save schools, save sports. Wear a mask.