Spectre's Thursday Morning Wakeup
Yesterday I coughed up the $12.50 to see the new James Bond movie, because when you've seen the first 25 Bond movies, you're kind of obligated to watch the 26th. This one is called Spectre and it is likely Daniel Craig's last run as the British spy on the big screen.
The movie was good, not great, like most other Bond films. It does have one of my favorite actors, Christopher Waltz, reintroducing the Bond supervillain, Ernst Stavro Blofeld. So there's that. Waltz is awesome in everything he's done.
It also has a ton of action and many more henchmen who can't accurately fire a weapon, my favorite part of all Bond movies. I mean, seriously, where do the villains hire these guys? Not once has any of them connected on a shot in now 53 years of trying to snipe Bond. Thousands of henchmen over the years, all useless.
Anyway, go see it if you get a chance. Or don't. It's up to you. Life will go on for each of us, whether you do or don't go.
De'Aaron Fox expected to pick Kentucky today.
Unless something goes terribly, terribly wrong, John Calipari will land his next great point guard later today when De'Aaron Fox announces his decision at 6 pm on ESPNU. Fox became a priority for Kentucky over the summer and it didn't take long for the Cats to climb to the top of his list. UK has been the presumed favorite for months, and that is still the case as we await Fox's decision later today.
Again, that is 6 pm on ESPNU. You're going to want to watch that one.
Wenyen Gabriel signed his Letter of Intent yesterday.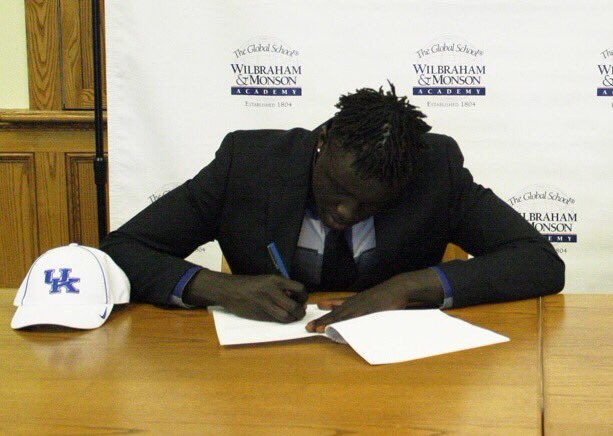 Gabriel became the first member of John Calipari's 2016 recruiting class to sign and submit his paperwork to UK. Sacha Killeya-Jones and Tai Wynyard, who will enroll in the spring, will soon follow.
DeMarcus Cousins hit four three-pointers in a game, again.
For the second time in five games, DeMarcus Cousins hit four three-pointers in a game last night in the win over the Pistons. Cousins went 4-for-5 from downtown, his same line from the season opener against the Clippers. He had never hit more than one three-ball in a game through the first five years of his career.
Kosta Koufous wanted some love from Boogie during the Kings' win…
Koufus would settle for a self-high-five.
Coach Stoops will be available after practice today.
As per usual, we will get one last update from Mark Stoops after Thursday's practice before the team shuts it down until game day. Stoops will talk to the media some time this evening; a full report will soon follow here on KSR.
Hopefully he hints at the messy QB situation. Unlikely, though.
Yesterday's practice was physical.
Defensive coordinator D.J. Eliot said practices continue to stay physical this year, unlike around this time last year. He said physical practices keep the team on edge and playing fast.
"You go against each other and then you go against fastballs and more physical blockers, more physical defensive linemen, more physical run plays. To keep them on edge and keep those techniques sharp."
Jason Hatcher expected to be fully available for Vanderbilt.
I've pretty much given up on Hatcher, personally. Hope he plays well but expectations of him being a solid contributor and leader on defense are long gone, at least for this guy.
Steph Curry isn't human.
Are you serious?
ARE YOU SERIOUS?
UK fans going to Nashville this weekend, I have good news…
I reached out to the good people at Tin Roof Nashville and convinced them to show the UK basketball game Saturday night with sound. They will carry it at the Demonbreun location (not the one on Broadway) and they are excited to host Big Blue Nation for the evening. Remember, that game is not televised, so Tin Roof is likely the only spot in town that will have it. So head that way after Kentucky beats Vanderbilt in football and have a good time watching UK basketball with fellow Cats fans.