Sleep Outfitters' Thursday Recruiting Roundup Save big for one more week with these deals from our friends at Sleep Outfitters! Twin sets as low as $199. Sealey Pillowtops with gel foam for $499 plus a FREE HDTV! The offer is almost up, so hurry!
*****
Here's what's happening in the recruiting world today…
Keion Wakefield considered UK before picking Louisville today.
According to Steve Jones over at the Courier-Journal, Wakefield closely considered the University of Kentucky, that is, until he saw all of Mark Stoops' wide receiver commits. That logjam was one of the factors that made Louisville the final choice today.
Wakefield is the younger brother of Keron Wakefield, a walk-on cornerback at UK last season. Keron is still a student at UK, but was seen wearing a UofL hat after baby brother's announcement earlier today.
Tate Leavitt ranked No. 8 overall in Rivals.com's new JUCO rankings.
UK's new offensive lineman is ranked fourth at his position and eighth overall in the class.
Kayaune Ross, another Kentucky commit, is the ninth-ranked JUCO wide receiver and the No. 58 player nationally.
Brad Calipari is trying to make his own name.
Over at Bleacher Report, there's a lengthy piece about Brad Calipari and how he is working hard to get out from underneath his dad's shadow. Brad has his eyes set on playing college basketball, but only if it's earned, not handed to him. He also hopes to play overseas one day.
The younger Calipari will be a senior at MacDuffie School in Granby, Massachusetts next year. He is playing for the Kentucky Travelers on the EYBL circuit this summer, when he's not playing pickup with current and former Wildcats in the Joe Craft Center.
Give it a read here.
John Calipari is in Las Vegas.
He posed for a picture with Ray Allen and Allen's awesome shirt this morning.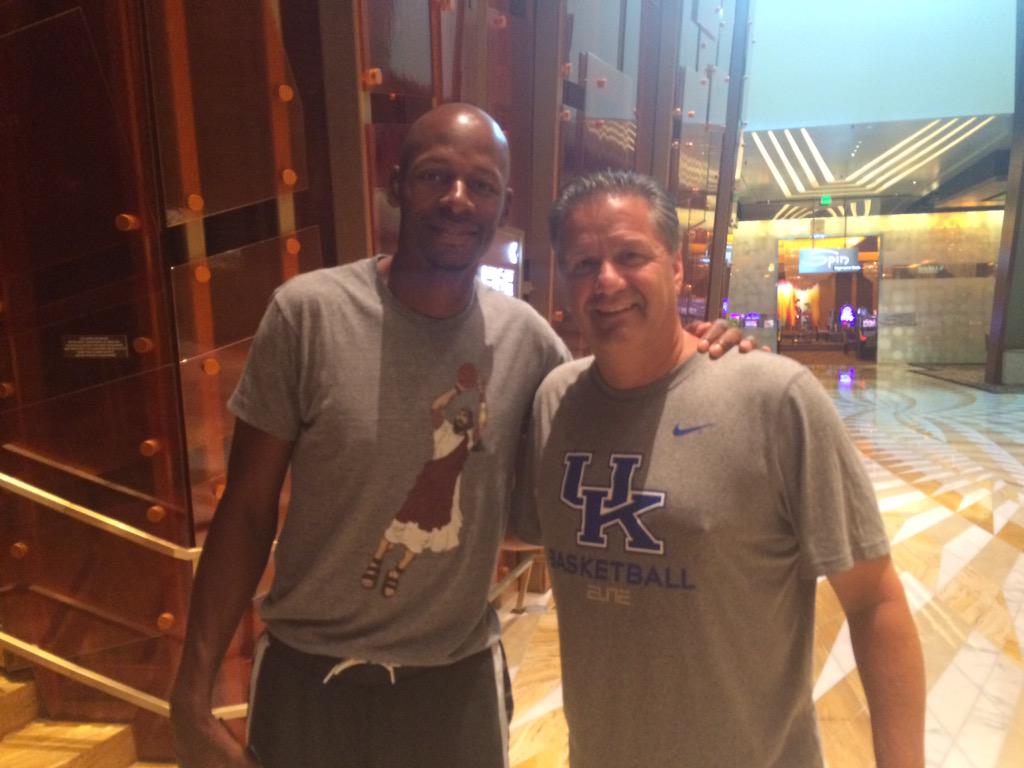 Last night, he and Kenny Payne watched several of his top targets in Las Vegas, where there are four AAU events this week. Among the many players he saw: Kobi Simmons, Malik Monk, Dennis Smith Jr., Thon Maker and Edrice Adebayo.
Class of 2017's Mohamed Bamba finds UK appealing.
Bamba is a long, athletic big man in the 2017 class, which explains why Kentucky has his attention. He's seen the success of Karl-Anthony Towns, Willie Cauley-Stein and other great UK bigs, and thinks he could be next.
"What's appealing is the guys who went to Kentucky that are sort of like me," Bamba told ZagsBlog. "The stretch four, a 6-11 shot-blocker. What's appealing is how those guys can have a really effective year and go right to the league."
Bamba is the second-ranked power forward in the 2017 class, the sixth-ranked player overall.
Now go buy a mattress.