Sleep Outfitters' Thursday Recruiting Roundup Save big for at least one more week with these deals from our friends at Sleep Outfitters! Twin sets as low as $199. Sealey Pillowtops with gel foam for $499 plus a FREE HDTV! The offer is almost up, so hurry!
*****
It's Thursday afternoon, which means it's time to sell mattresses and talk recruiting. You ready? I'm ready.
UK is checking in on Wenyen Gabriel
Calipari is in Springfield, Massachusetts for the Hall of Fame festivities, but you know what's only a 26-minute drive away from the Hall of Fame? Wilbraham, Massachusetts, where Wenyen Gabriel lives. According to ZagsBlog, the UK staff will check in with the five-star power forward today prior to his official visit on September 25. How's that for impressive scheduling? "Hey Wenyen, we'll be there soon. Cal has to get his Hall of Fame blazer first."
Cal visited Miles Bridges and Malik Monk yesterday
The recruiting dead period is over, and John Calipari celebrated by visiting the rumored package deal of Miles Bridges and Malik Monk. Monk also saw Arkansas, the other rumored frontrunner, yesterday, and will host Oregon tomorrow. Bridges will take his official visit to Michigan State, his other rumored frontrunner, this weekend.
Here's a recent mixtape to remind you how much we want Monk:
He also saw 2017 5-star shooting guard Hamidou Diallo
Chris Fisher is reporting that Cal also stopped by Putnam Science Academy in Connecticut to see 2017 5-star shooting guard Hamidou Diallo (no relation to Cheick Diallo). The 6'4″ 170 lbs. Diallo is considered the third best shooting guard and the 11th overall prospect in the 2017 class, and has early offers from UConn, Kansas, St. John's, Indiana, Louisville, Maryland, and others. He made a name for himself during the NBAP Top 100 camp this summer. Keep an eye on him as the recruiting period goes on.
Meanwhile, Rawle Alkins hung out with Slice Rohrssen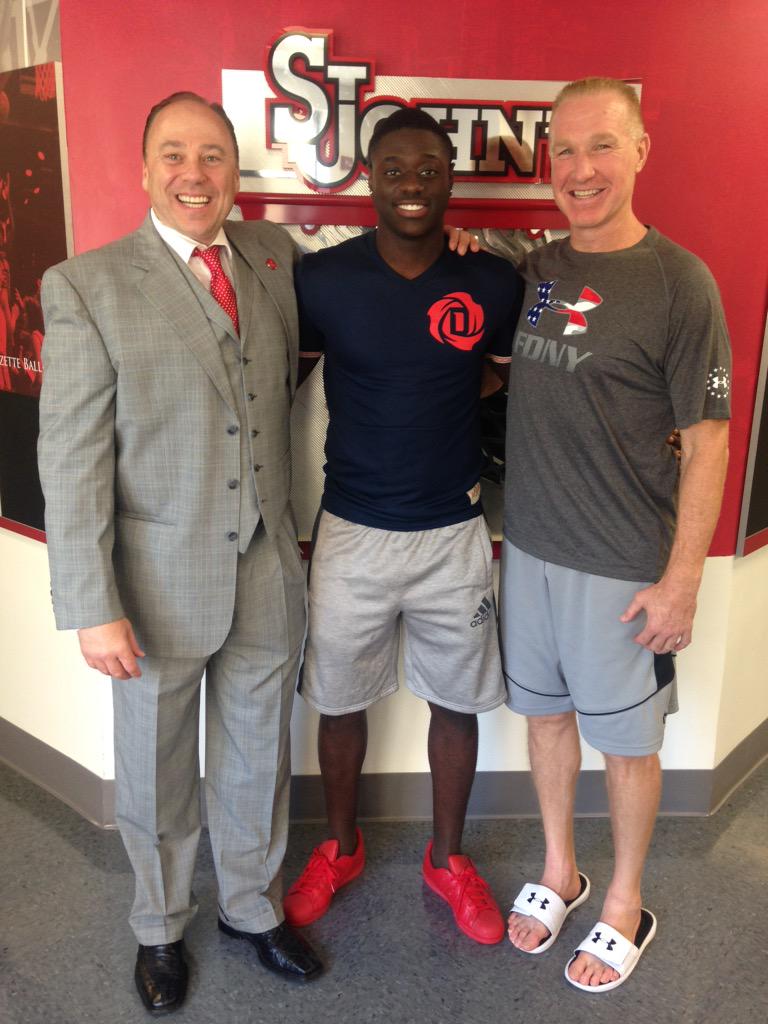 Which just makes me miss Slice Rohrssen. Also, put on some real shoes, Chris Mullin. Next to Slice, you look like a hobo.
NC State's Mark Gottfried took a helicopter to see Bam Adebayo and Dennis Smith, Jr.
Both have offers from Kentucky. NC State's Mark Gottfried pulled a Mark Stoops and took a helicopter to check in on them:
Great view as I head out recruiting #chopper #gopack pic.twitter.com/aRVqLSGuM4

— Mark Gottfried (@Mark_Gottfried) September 9, 2015
Dennis Smith, Jr. is recovering from ACL surgery and is still walking with a crutch:
Mark Gottfried, Orlando Early fly in to see Dennis Smith Jr. https://t.co/5tImJgTX6b

— Bret Strelow (@bretstrelow) September 9, 2015
It looks like Kash Daniel and Tobias Gilliam enjoyed themselves Saturday
Both 2016 UK commits uploaded pics from the game:
Stoops Era 🔵⚫️ pic.twitter.com/zNCHQP77vj

— Cash7⃣ (@Tob7as_) September 7, 2015
Meanwhile, fellow commit Kayune Ross couldn't make the game, but had this message to share with the haters:
Don't ask me why don't I go to other schools , have some respect for my decision because it ain't changing I got history to make happen UK

— Kayaune Ross (@bigross3) September 10, 2015
Seems like a good note to end on, right?