Sleep Outfitters' Friday Recruiting Roundup Save big with these deals from our friends at Sleep Outfitters! Twin sets as low as $199. Sealey Pillowtops with gel foam for $499 plus a FREE HDTV! The offer is almost up, so hurry!
*********
It's been a busy week, but that's not stopping us from bringing you all the latest recruiting news and mattress deals from our friends at Sleep Outfitters. Let's get to it!
More talk that the 2016 class may be Calipari's best
Since Malik Monk made it official with the Cats on Wednesday, recruiting pundits everywhere have been talking about how Kentucky's 2016 class could be Calipari's best, which is saying a lot for a man who's brought in #1 class after #1 class. 247 Sports' Jerry Meyer agreed that this group has the potential to be the best ever:
"I think regardless of the rankings, this class has a chance to be one of the best ever," Meyer said. "It has great athleticism, great diversity. You could play all five together."

"You have all five positions covered and they're all highly-skilled, complementary pieces," Meyer said. "Adebayo is a physically dominating player, Killeya-Jones is more finesse and Gabriel is a combination of both. With a backcourt of Fox and Monk, it's hard to imagine a better duo."
From one epic backcourt to another? Yes please.
After signing with the Cats, Bam had quite the night
Bam "Let me say that again…BAM" Adebayo signed with UK on Tuesday and had quite the senior season debut that night, putting up 22 points, 17 rebounds, 3 assists, 3 steals and 2 blocks. After watching that highlight reel, I feel as sassy as this guy wagging his finger:
Meanwhile, Sacha Killeya-Jones "lived up to the hype"
The future UK power forward played in the Phenom Hoop Report National Showcase over the weekend, and according to Slam's Rodger Bohn, he "lived up to the hype":
The most highly touted player playing in the event (Harry Giles is out with a torn ACL), Sacha Killeya-Jones lived up to the hype by doing a number of things that you just don't see out of your average guy standing 6-foot-10. He drilled three pointers, made plays from the high post, and used his length to hold down the paint as a shot-blocker. Though he tends to settle for his J a bit, Killeya-Jones is a guy who has consistently improved throughout his career and should not stop in Lexington.
Man, this class just gets more and more fun.
On the football side, 2017 commit Walker Wood got some nice mail this week
Good to see UK's still doing the cool poster puzzle mailers, even if that "Kentucky resurgence" line hurts a little bit right now.
Jedrick Wills ranked #85 overall player in latest 2017 ESPN 300 rankings
Speaking of Wood, his Lafayette teammate Jedrick Wills got some big news this week. The 6'5″ 315 lbs. offensive tackle is now considered the 11th best offensive tackle and 85th overall player in the latest ESPN 300. He's the only Kentuckian on the list. Wills has offers from Alabama, Florida State, Notre Dame, Ohio State — AKA all the big names — but Kentucky's still considered the favorite.
Word on the street is Wills came very close to committing when Walker Wood did back in October, but decided to wait. Hopefully Wood and fellow teammate and UK commit Landon Young will keep him on board despite the recent slide.
I mean, look at how big this kid is: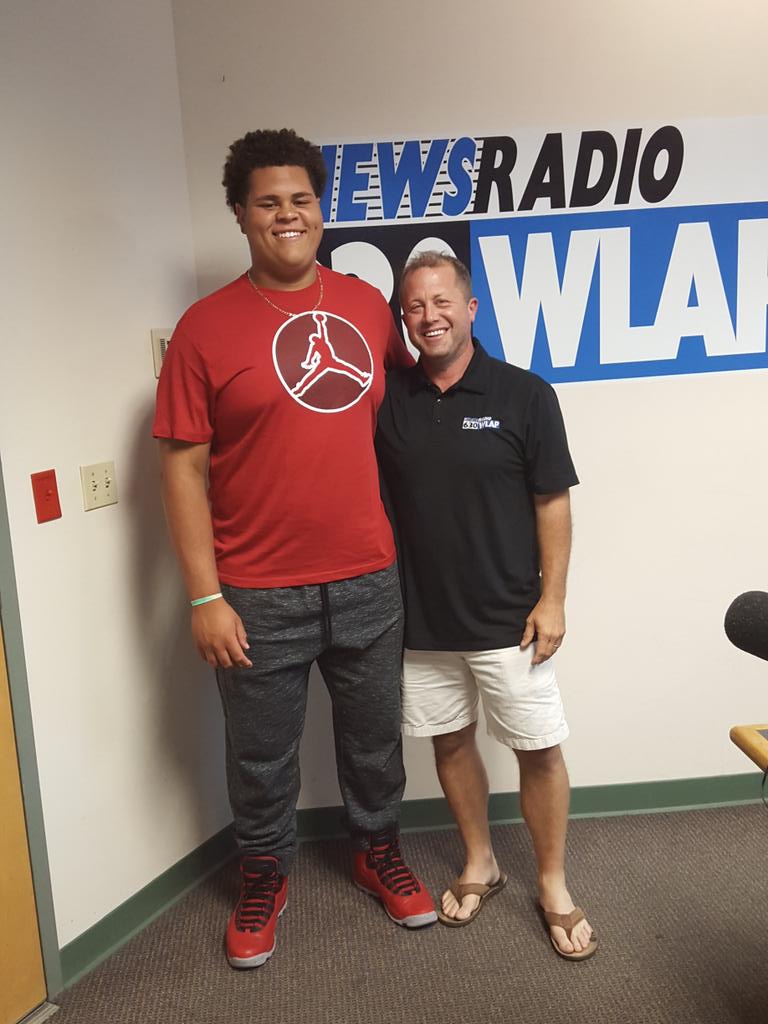 Can we get five of him for the offensive line, please?