Shagari Alleyne's Tuesday News and Views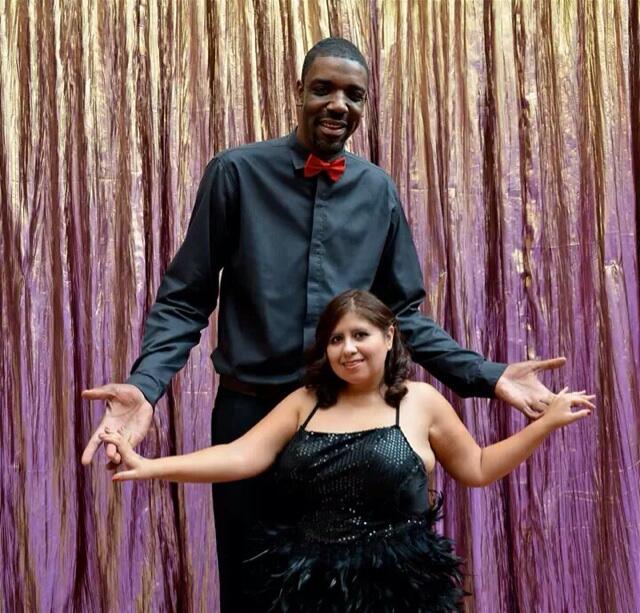 Happy 30th birthday to Shagari Alleyne, the former Kentucky Wildcat who is now a professional dancer, believe it or not. At 7'3″, Shagari is the tallest player to ever play for Kentucky, and after three years in Lexington (and several upper deckers), the big guy transferred to Manhattan College. In 2008, he was invited to join the Harlem Globetrotters under the nickname "Skyscraper," and hilariously took part in a segment for The Today Show:
The butt bump pass was a particular favorite of mine. Make the big 3-0 count, Shagari.
Now, on to some news and views from a busy Monday in Kentucky sports…
The new 40 minutes of hell
I'll be honest: I'm worried about Tuesday night's game. Arkansas almost beat Florida last Saturday and is better than their 0-2 conference record suggests. At home, they're downright dangerous, which is why Vegas only has the Cats as a 1-point favorite in Bud Walton Arena. I would also argue this is the Cats' first real road test since North Carolina, considering that half (or more) of the crowd in Nashville was wearing blue. Bud Walton is notoriously loud, and combined with Arkansas' fast-paced style, it could be a long night in Fayetteville. The Razorbacks lead the SEC and rank 15th in the nation in scoring, and also lead the SEC in assists, scoring margin, field goal percentage, assist/turnover ratio, and turnover margin.
In remarks to the media on Monday, John Calipari agreed that Mike Anderson's team is playing a style very similar to Nolan Richardson's infamous "40 minutes of hell":
"They're playing that way; they're playing that way. Offensively, motion into driving and attacking, a few pick-and-rolls, get it up quick, get a shot off quick, go rebound it. Defensively, denying, switching, being active, trapping. They're doing a good job of that. They shoot the ball well. They shoot it from the 3, they shoot the 2s well and they shoot free throws at 70 percent; so it's not a game you can go down there and throw a bunch of clunkers up because you're going to have a problem."
When asked about the matchup with the Razorbacks, Cal said "if you're timid in any way, they'll over run you." No more slow starts. More Mortal Kombat finishes.
Cal hit his team in the mouth on Sunday
Just because the Cats got a win on the road Saturday doesn't mean Cal was satisfied. On Monday, he told reporters that he "hit [his players] in the mouth" with some cold hard truth about their performance on Sunday:
"I just told them the truth. I just told them the truth. I just said, want me to sit here and BS you, or want me to tell you the truth? It wasn't just one guy, it was like everybody. And then we were going to practice an hour because we traveled back and practice went an hour and a half because of them. I told them, part of our issue is the focus we have at times on the court, we just lose the — you have to have a sense of urgency and a sense of purpose on each possession and we don't always do."
Apparently the players were stunned by Cal's come-to-Jesus chat.
Mike Anderson sees Cal's McDonald's All-Americans, raises him some Burger King All-Americans
Mike Anderson is in his third year at Arkansas, and has had his share of ups and downs in Fayetteville. He had plenty of nice things to say about the Cats on Monday, calling them the most talented team Cal has ever had, and one of the best in the country. Anderson said Julius Randle is playing better than anyone in the SEC right now, and will force the Razorbacks to focus on a half-court defense to contain him. When asked how he felt about going up against Kentucky's seven McDonald's All-Americans, Anderson quipped: "There's Burger King All-Americans that are pretty damn good, too."
If there were Taco Bell All-Americans, Drew Franklin would be the MVP.
Kentucky climbs to #13 in the AP poll; #12 in the Coaches' Poll
After winning their first two SEC games last week, the Cats climbed one spot to #13 in the AP poll and four spots to #12 in the Coaches' Poll. The top three is the same in both polls: 1) Arizona; 2) Syracuse; 3) Wisconsin.
The coaching carousel continues to turn
So far this offseason, two UK assistants have been rumored candidates for jobs at other schools: secondary coach Derrick Ansley at Georgia and defensive line coach Jimmy Brumbaugh at Alabama. On Monday, it was reported that Bo Davis will be Alabama's new d-line coach, a big relief for the BBN. Ansley's future remains uncertain, and if he leaves, it will be a big blow to the Cats' recruiting staff. Meanwhile, Joker Phillips is a finalist for the offensive coordinator job at Texas, and if he gets it, it will fulfill the pact between Phillips and Strong to hire each other once they became head coaches. Best of luck to Joker, who could really use some greener pastures with Will Muschamp's future at Florida on shaky ground swamp.
Someone named a racehorse after John Calipari
Cal was in a tweeting mood on Sunday, and posted this picture of a racehorse named "Calipari's Kitten" with the caption: "I see someone named a horse after me. I'm just glad no one has named a mule after me yet." After the Cats brought home #8 in 2012, something tells me we'll start seeing a lot of Calipari, Anthony Davis, and MKG themed colts and fillies hitting the track in 2015.
Go vote for your NBA Cats to be All-Stars
NBA All-Star voting continues, and there's still time for you to cast your vote for your favorite Cat to make the squads. After the latest round of voting, John Wall and Rajon Rondo are 4th and 6th in the Eastern Backcourt vote totals and Anthony Davis and DeMarcus Cousins are 7th and 11th in the Western Frontcourt totals. Cousins was named the Western Conference Player of the Week on Monday, and Kings owner Vivek Ranadive made a YouTube video asking the people of India to vote for him:
GO VOTE! You can vote once a day until the 20th.
Namaste, KSR readers. See you in the morning.