Saturday Evening Football Recruiting Notes for the KSR Dog of the Day
Meet Blue. This sweet pup found a new home the day Kentucky defeated Florida in The Swamp. What a great game. After rewatching once today, I might just have to go and watch it again later tonight. I have some exciting recruiting news to share, but first, how freaking cute is this?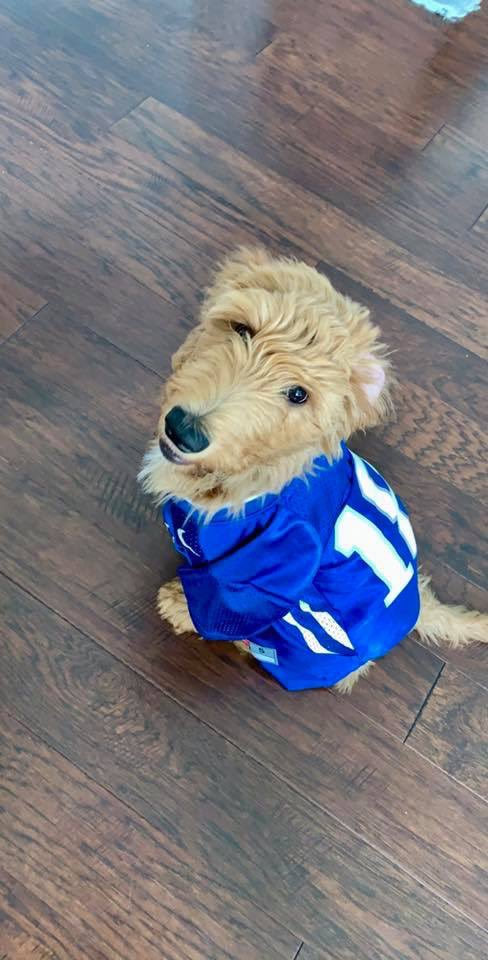 UK Hosts Alabama Commit
Earlier this week UK made a significant impression on a Florida commit during a visit to Lexington. How do you one-up that? Show an Alabama commitment a good time.
De'Rickey Wright unofficially visited UK during last week's camps. A four-star prospect, 247 ranks Wright as the No. 25 outside linebacker in America. Hailing from Gadsden, Alabama, Wright's name is on a long list of incredibly talented players brought to UK for unofficial visits by Jon Sumrall.
Had an amazing time @UKFootball!! Thank you @CoachJonSumrall for inviting us!! pic.twitter.com/WZlPpYXea7

— De'Rickey Wright (@d__wright14) June 15, 2019
Good Company
The Cats are finalists for one of the best linebackers in the South. Another Jon Sumrall recruit, Desmond Tisdol is the eighth-ranked inside linebacker and No. 133 overall player in America, according to 247 Sports. The Rochelle, Georgia native announced Friday he'll choose between UK, Florida, Auburn, South Carolina and Georgia Tech.
The Ramblin' Wreck has raised quite a bit of heck on the recruiting trail since Geoff Collins became the head coach. With 15 commitments, the Yellow Jackets have the No. 15 class in America. He's not the only new head coach making some noise on the recruiting front.
Louisville is Making Moves
Scott Satterfield is taking every commitment he can get. Scott's Tots are now rolling 13 deep after the Cards picked up ten players since May 30. Now considered a Top 25 recruiting class by 247 Sports, the reaction from Louisville fans is cute. Just let them be excited. That ranking will drop dramatically, and well behind Kentucky, once the bigger fish make their decisions. Besides, they could use some positive football news. We all know it will be impossible to find this fall.
The Frederick Douglass Crew is on the Road
A few weeks after visiting Clemson, Frederick Douglass' two talented rising juniors made a trip to the Buckeye State. Offensive guard Jager Burton and wide receiver Dekel Crowdus camped at Ohio State. The first and second-ranked 2021 prospects in the state of Kentucky, Burton had a scholarship offer prior to the camp. Crowdus picked one up on his way out of town.
Quarterbacks are on the Hot Seat
If Tim Tebow can win an NFL Playoff game, this robot can get to a Super Bowl.
Here's the world's first robotic quarterback in action at a @Colts training session. #robot #robotics #Colts pic.twitter.com/b998lmYn1f

— Robot&AIWorld (@RobotAndAIWorld) June 13, 2019
[mobile_ad]