RIP Olympic Jaguar's Wednesday Morning Wakeup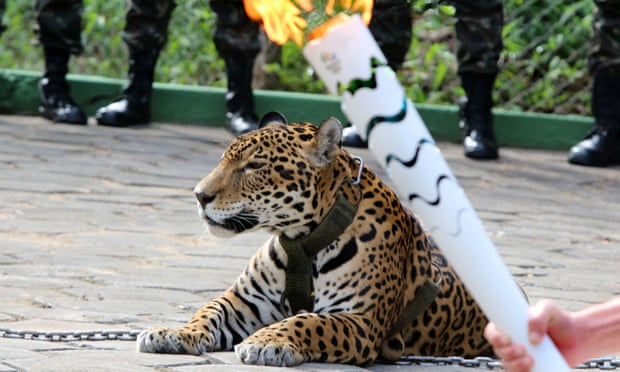 We'll lead off with some sad news from Rio, where the Olympics can't seem to do anything right.
A jaguar that was part of an Olympic torch ceremony had to be shot and killed when it escaped its handlers. Members of the military and special veterinarians attempted to recapture the animal, but it had to be put down with a single shot after lunging at one of the Brazilian soldiers.  The jaguar, named Juma, had been hit with a tranquilizer dart before the attempted attack.
The use of Juma at the torch ceremony was illegal, according to reports.
Rest in peace, Juma.
John Calipari had a lot to say yesterday.
Coach Cal spent 40 minutes talking about the NBA draft and Kentucky's four NBA prospects during a special teleconference Tuesday morning. I won't beat the dead horse any more than we already have here on the site, but if you scroll down just a bit, you'll find plenty from the call.
If you're too lazy for that, here are five quick takeaways:
He loves the idea of Tyler Ulis going to the Spurs at No. 29
He believes Jamal Murray will lead all rookies in scoring
Alex Poythress could hear his name called as early as late first-round
He's responsible for Skal Labissiere's late development in college
Jamal Murray wants to be a Minnesota Timberwolf
Jamal Murray signed with adidas.
Murray joins Brandon Knight as the only other Wildcat currently in the adidas family. It's a rather surprising move, considering: 1) Kentucky almost always sends guys to Nike; 2) Murray was considering Oregon for college; and 3) he played for the CIA Bounce in the Nike EYBL.
Blessed to be a part of this great family #teamadidas @adidasHoops pic.twitter.com/y4KQ8BW8rU

— Jamal Murray (@BeMore27) June 21, 2016
My guess is it came with a pretty decent payday.
Top 2019 prospect visited campus yesterday.
Kentucky hosted Charles Bassey, the top-ranked power forward in the sophomore class, on an unofficial visit yesterday. That's a name we'll be hearing a lot of, on down the road. He could end up being the No. 1 overall player in that class.
Coach Cal plans to "beat down" Stephen A. Smith on tomorrow's First Take.
ATTN #BBN: @UKCoachCalipari spending half of Draft Day in Bristol, joined by @KarlTowns for 2 hrs on @MikeAndMike pic.twitter.com/MsTYwYTV9Z

— David Scott (@ESPNprDScott) June 21, 2016
Here's what Cal said about his Thursday appearances in Bristol:
"Well, one, I'm going to be up there and they asked me to come in with Karl(-Anthony) Towns. I wouldn't have done it if it was by myself. So I said, 'Karl, do you want to do this?' He said, 'Yeah, let's go have some fun.' So I said, OK, we'll do the 'Mike & Mike' and they're supposed to bounce me around, I don't know exactly how much I'll do. But any chance I can to brag about my kids, and they give me that opportunity, oh I'm bragging about my guys, now."
And here's his schedule for the day:
– Mike & Mike (8 am to 10 am)
– First Take (10 am)
– SportsCenter (11 am)
– His & Hers (12 pm)
– Highly Questionable (4:30 pm)
The practice fields arrived at the new football facility.
Well look what rolled into town this morning…
The practice fields have arrived and they're ready for installment. It won't be long before the football program is using its brand new facility in fall camp.
Billy Gillispie may have to vacate every game he coached last season.
G's Ranger College was ruled to have used an ineligible player in the 2015-16 season, which means the program will have to toss out every game that player appeared in. Unfortunately for Ranger, the player in question played in all 38 games. If Ranger's appeal is denied, it will have to toss out 31 wins and its best finish in the 90-year history of the program.
That's not good.
The Sklar Brothers are on KSR today.
And me! But tune in for them because they're funny. I'm just there so I don't get fined.