Remembering Wallace "Wah Wah" Jones

By now you've heard about the passing of Wallace "Wah Wah" Jones, the most accomplished athlete in the history of athletics at the University of Kentucky. Earlier today, UK athletic director Mitch Barnhart issued a statement, saying, "The word 'legend' is used frequently in our society but it is truly fitting when considering Wah Wah Jones. Wah Wah holds a legendary place in the athletic history of our state."
Barnhart is exactly right, too. Wah Wah Jones is a true legend, and tonight we'll explore his accomplishments on the court, on the field, and in life in general. The man did it all…
*****
He was born in Harlan, Kentucky.
Born in 1926, Wallace was one of Hugh and Fay Jones' five children, along with Dukie, Evelyn, Hugh, Jr. and Jacqueline. The Joneses owned Hugh Jones Cafe, a popular restaurant in Harlan, located on Main Street next door to where BB&T Bank is today.
He went by "Wah Wah" early, because his younger sister couldn't pronounce his name.
His baby sister Jackie could only say 'Wah Wah' when trying to pronounce 'Wallace,' thus the nickname was born. It stuck with him since childhood.
He played for Adolph Rupp and Bear Bryant.
Kentucky football made its first bowl appearance in 1947, Jones' junior season and Bryant's second year as coach. Jones followed that up with the NCAA basketball championship that season, the first of Rupp's four.
He was the last surviving member of the "Fabulous Five."
Oscar Combs tweeted, "With Wah's passing, the end of UK's Fabulous Five era is now in the history books."
The Fabulous Five, consisting of Ralph Beard, Alex Groza, Cliff Barker, Kenny Rollins and Jones, won 36 of 39 games in 1947-48, including the national championship.
He is the only Wildcat with a retired number in basketball and football.
That is a feat that will never be duplicated.
He also played baseball.
When he wasn't playing basketball and football for Kentucky, he also pitched for the baseball team, lettering three years on the diamond.
And he was on the track team.
Why stop with basketball, football and baseball? Shot put was another of Jones' athletic gifts.
He was a member of Phi Delta Theta fraternity.
Phi Delt was kicked off campus earlier this year until Fall 2016 for behavior Wah Wah would not approve of.
He had a summer job at Keeneland.
He worked in horse sales during what little free time he had away from sports.
He almost signed with the University of Tennessee.
From an interview for Wildcat Memories:
Were it not for the man who went on to become my father-inlaw–Alva Ball of Middlesboro, Kentucky (I married his daughter, Edna)–I might have ended up playing basketball for the University of Tennessee instead of for UK. In the summer of 1945 Mr. Ball overheard that I was considering signing with Tennessee. I don't know who he called at UK, but the next day a driver arrived in Harlan to transport me to Lexington to meet with Coach Adolph Rupp. After meeting with him I decided to sign at UK.
Thank you, Alva Ball. You're a great American.
He won a gold medal in the 1948 Olympics.
Jones, Coach Rupp and the other members of the Fabulous Five brought home the gold from London in 1948. Another Wildcat won basketball gold in London, 64 years later…
He was selected eighth overall in the 1949 NBA Draft.
He fell to the Washington Capitols at No. 8, six spots behind Alex Groza, a fellow Wildcat and second overall pick that year. Ralph Beard came off the board four picks later.
He played three seasons for the Indianapolis Olympians.
Washington dealt him to Indianapolis after the draft where he averaged 10.2 points and 5.1 rebounds per contest in three seasons.
He was a seventh-round choice by the Chicago Bears in the 1949 NFL Draft.
The NFL was an option, too.
He was invited to try out for the Boston Braves.
As was Major League Baseball.
He was a 5-handicap golfer.
There were very few things he couldn't do in sports, if any.
He published a Lexington TV guide.

The "Wah Wah Jones Publication" was delivered to every house in Lexington with an antenna, back when televisions weren't so common. Jones went on to sell the subscription to TV Guide.
He was elected sheriff of Fayette County.
He served from 1954 through 1958. "I was the first Republican sheriff in this county since the Civil War – and the last one," he told the Courier-Journal in 2003.
He was a Republican nominee for Kentucky's 6th Congressional District.
He lost to John Watts, a veteran Congressman, in Jones' only run for the U.S. House of Representatives in 1956.
He started Blue Grass Tours.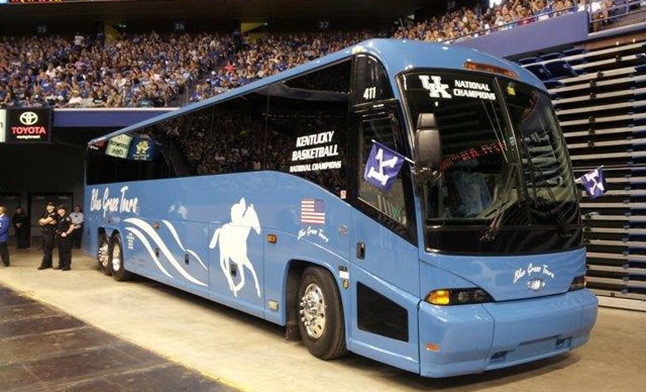 Lexington's oldest horse farm tour company (with the blue buses we've all seen) began in 1978 under Jones, its founder. Today, Blue Grass is the official charter of the Kentucky basketball team. The Cats use a custom-made $700,000 sleeper coach, designed specifically for John Calipari and his team. The bus' horn plays the UK fight song.
Watch his introduction at Big Blue Madness in 2012.