Red Lightning's Wednesday News and Views
Florida State won the BCS National Championship, yeah, yeah, yeah. Jameis Winston, sure, whatever. Heisman and national champion? Cool story bro. But Red Lightning? Red Lightning's my guy. Red Lightning is the real story. He's the real winner.
If you don't already know Red Lightning, you probably saw him in the title game last night without realizing you saw him.
He was the guy running behind Jameis Winston: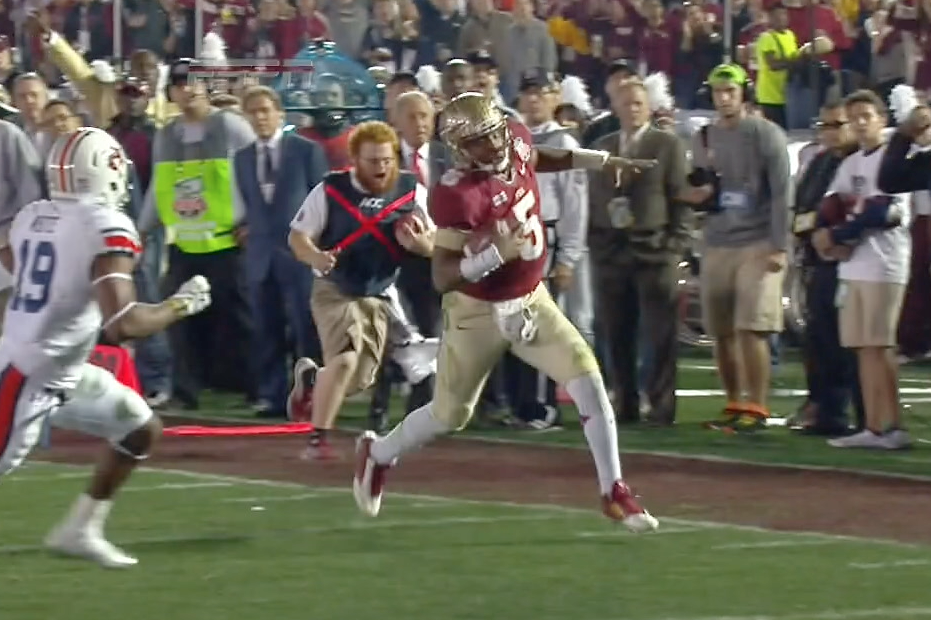 He was the guy helping Jameis Winston up:
He was the guy who was really frustrated early in the game:
He's Frankie Grizzle-Malgrat and he is Florida State football's equipment manager during the week and ballboy on gamedays. He's also the guy who owned Twitter and the internet during one of the best games in BCS history.
So move over, Katherine Webb. It's the chubby redhead's spotlight now.
Let's do this News and Views thing real quick then go back to wishing we were Red Lightning.
The Cats return to Rupp Arena tomorrow night.
With only two games over the last 19 days to three games in the next seven, Kentucky basketball is back and ready to open conference play. Calipari warned us on Tuesday the Cats may be a little rusty after the long break, but he's excited to see the steps they made during that time, beginning with Wednesday night's game against Mississippi State.
Andrew and Aaron Harrison said the team really came together by spending every waking moment with each other over the break, and that helped them improve offensively and defensively. Aaron said the cohesion helped the most on the defensive end because that's where they really need to talk to each other and play as a team.
Andrew sees a stronger bond with his teammates off the court. "We all liked each other before, but now I think we're all closer. We all talk and laugh like we didn't do before. I think that's very helpful," he said.
Calipari has seen it with all of his teams and this group is no different. They all know each other better coming out of Camp Cal and only time will tell if that makes a difference on the basketball court.
Kentucky is a 21.5 point favorite over Mississippi State.
These teams tend to play each other close; the underdog covered the spread in seven of the last nine meetings.
Take that however you would like to take that. Gamble responsibly.
Calipari is still preaching, "Think pass with the ball, think shoot without it."
Soon we will add this to the Calipari drinking game/BINGO board. He reminded us of his new message during Tuesday's pre-Mississippi State media opportunity, elaborating on the new mentality he is trying to instill in his players. He compared it to a wide receiver running routes without the ball, "running blind," which is what he tells his players to do.
"Don't jog like; well I don't think I'm getting this one," he tells them. "And the big guy, run blind, fly and maybe you get the ball, maybe you don't. That's what we're trying, those are just ways of getting them to think different than they've thought."
Aaron Harrison said it's helping the players to be better prepared to score. He said he had never heard it before but it makes a lot of sense.
Brother Andrew said, "It's weird, but we definitely understand where he's coming from and what he means by it, just being ready and try to move to the open spot when you don't have the ball."
Booker, Lyles, Towns and Ulis named McDonald's All-American nominees.
Kentucky basketball signees Devin Booker, Trey Lyles, Karl Towns and Tyler Ulis have all been nominated for the McDonald's All-American game in April. The four high school standouts, Kentucky's entire 2014 recruiting class, are part of a list of almost 1,000 names, both boys and girls, nominated for the game. That list will be narrowed down to 24 players in each game and the rosters will be announced on ESPNU at 6:00 p.m. January 29.
Last year Kentucky had six players in the boys' game, making up one-fourth of the entire contest. The Wildcats also had two representatives in the girls' game, and another, Alyssa Rice, is nominated this year.
Drew Barker told KSR he's not so sure about Matt Elam anymore.
Drew Barker was a guest on Kentucky Sports Radio radio Tuesday morning and he admitted to being just as surprised as we were when Elam postponed his announcement at the Army All-American Bowl. Barker said he found out the news like everyone else, via Twitter, and couldn't talk to Matt until well after the game because they were on opposing teams.
Now, with Elam taking an official visit to Alabama, he isn't as confident as he was last week that the final pick will be Kentucky:
"I was really confident before this week, but you know, he didn't decide or whatever, so I guess he really is torn between the two schools and now I know he's going to take an official to Alabama, so I'm not really sure, honestly," Barker told KSR. "I think he could go either way. I'm honestly not really sure anymore. I could tell you before this week it was all Kentucky, but I'm not really sure anymore."
Elam speculation aside, Barker is still very excited about UK's 2014 class and he believes Stoops and Co. will have a couple wild cards on National Signing Day. He wouldn't be surprised to see a couple late surprises down the stretch.
Listen to Drew's interview below:
Bobby Petrino heading back to Louisville?
Please let this happen.
Petrino interviewed for the Louisville vacancy on Tuesday and several reports are saying the job is his. The Louisville Athletic Board will hold a meeting Thursday morning and the new coach will likely be named soon after. If it is Petrino, you will be able to hear the laughter coming from the KSR headquarters from anywhere in the state. We are really excited about the potential.
Also, further proof the job is Petrino's: Rick Pitino said he highly doubts it will happen, meaning he fully expects it to happen.
The NCAA is trying to determine the best fan base with an online poll.
Of course, Kentucky is already No. 1 with very little promotion but it's very early in the competition. Go ahead and pile on more votes in the "6th Fan" contest at NCAA.org. The winning school will receive $100,000 and all entries will be entered into a grand prize drawing for an all expense paid trip to the 2015 Final Four. An iPad air will be given away in each round, too. Happy voting!
Go Cats, everybody.