Reading Rainbow's Thursday News and Views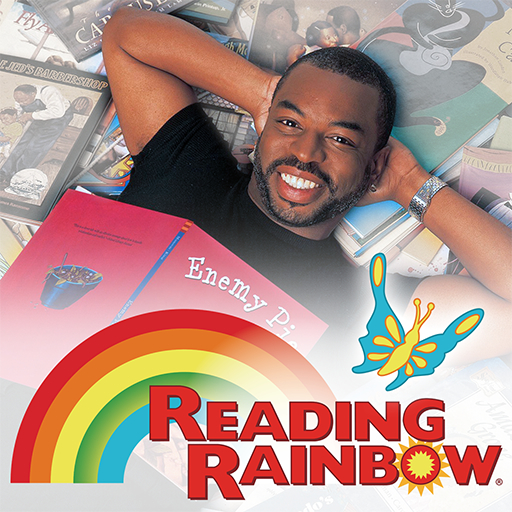 Would you like to read the best piece of news to hit the internet all day Wednesday? I don't know how to tell you this, you probably won't believe it, but LeVar Burton is trying to bring back Reading Rainbow. This is serious, people.
The 57-year-old Burton wants to revive the popular educational program that debuted in 1983 by launching a Kickstarter campaign to raise funds for its return. Burton set out to reach a goal of $1 million on Wednesday, and as I write this, he is sitting on $1,259,550 from almost 30,000 backers. That means, in less than one day, Burton raised seven figures in contributions for the return of Reading Rainbow. It has to happen.
Reading Rainbow won 26 Emmys during its original run through 2006 and I smell one more coming in 2015. This comeback ranks up there with Michael Jordan's in '95, if it happens and LeVar Burton doesn't just run away with the cash.
Let's watch the old intro for a trip down memory lane…
I'll be singing that for the next three days.
*****
John Calipari wants to see half of the SEC in the NCAA tourney in two years.
"We've got to be a cool league to play in," Coach Cal told reporters at the SEC meetings in Destin on Wednesday. He said the goal should be to have half of the teams in the conference playing in the NCAA Tournament in 2016. He thinks the SEC Network will help with recruiting and branding the league.
He also said he told Bruce Pearl to keep his shirt on at Auburn. "He'll do a good job there."
Jaylen Brown wants to visit Kentucky.
In his blog for USA Today Sports, class of 2015 star Jaylen Brown wrote that he knows he wants to take official visits to UCLA and Kentucky. "But I'm still not gonna rush anything," he said. "By the end of basketball season of my senior year I'll have a decision. Before then, I just don't know."
He also wrote this:
I'll be honest, the process is getting a little annoying; I'm getting a little tired of it. It's a blessing and a curse at the same time. I'm not sure when I'll be making my decision, I just know that I'm kinda ready to get it over with.
The Marietta, Georgia prospect is ranked No. 6 in the Top247 and Kentucky leads his Crystal Ball predictions at 63 percent.
New Vanderbilt head football coach Derek Mason has shiny new business cards.
But will those gold business cards help him keep up with the great job James Franklin did in Nashville? Doubtful.
Speaking of gold…
Keep voting for A.J. Reed for the Golden Spikes Award.
Click here to vote.
And be sure to check out Nick Jourdan's piece on Reed beneath this one on the site. Good stuff.
Karl Towns wears the biggest shoe in the John Calipari era.
A shipment arrived at the Joe Craft Center Wednesday afternoon carrying the team's new shoes for summer basketball, and one pair stood out among the rest. It was Karl Towns' size 20, the largest of any of the Wildcats to play under John Calipari.
If Towns were in the NBA, he would share the biggest feet title with Brooke and Robin Lopez, the only two current pros to wear a 20. There's a little fun fact for ya.
Lance Stephenson has lost his damn mind.
Don't wake the beast.
Kentucky football added a new preferred walk-on.
Former Paducah Tilghman kicker Miles Butler will walk on to the Kentucky football team next season, he announced in a ceremony at his high school Wednesday afternoon. Butler accepted a preferred walk-on spot with the Cats over an academic scholarship to Alabama, where he was going to try to walk on with the football team had Tuscaloosa been his final destination.
After his big announcement, Butler tweeted, "Despite having a great academic opportunity at the University of Alabama, I'm SO excited to join BIG BLUE NATION"
Welcome.
The SEC Championship is moving to 1:00 p.m. in 2015.
You'll have to start your pregaming a little earlier when Kentucky reaches Sunday of the SEC Tournament next season. The conference announced on Wednesday that the championship game will be played at 1:00 p.m. on ESPN, freeing up an extra two hours before the selection show begins.
Last season's title game with Florida tipped off at 3:15 on ABC.
Happy Trails to Mrs. Libby Gooch, my 5th grade teacher.
Before we part ways for the evening, I would like to give a special shout-out to Mrs. Gooch, the reason I read and write at a 5th-grade level today. Mrs. Gooch kept me on task in the classroom when my focus was on a not-so-promising kickball career and trying to hold hands with the young ladies of West Broadway Elementary. She is retiring from educating the young minds of Hopkins County at the end of the week to devote all of her time to cheering on the Cats in 2014-15.
So Happy Retirement to my favorite former teacher, who took me out of school one afternoon to represent the entire school and talk trash to the opposition in the county spelling bee:
It's all about intimidation. Just look at his face. That's fear.
That'll do it for now. Go Cats, everybody.