Ranking The 10 Best UK Basketball Targets I Saw Last Week
KSR's annual trip down south for wings, more wings and AAU basketball provided the opportunity to see several of the high school juniors and seniors John Calipari is eyeing this summer. We've known the names and YouTube clips of UK's targets for a couple of years now, but the July recruiting period is always our chance to see them play in person, and this year was one of the best.
As you know, Matt, Tomlin and I attended the first day of the AUU Finals in Atlanta on Wednesday, followed by two days of basketball at the Nike EYBL Peach Jam in Augusta. We did our best to watch every UK prospect at least once, catching big names like Diamond Stone, Jaylen Brown, and Stephen Zimmerman. We did not, however, lay eyes on Charles Matthews or Malik Newman, two guys we were hoping to see. Newman made the trip but did not play due to injury.
Now that we're back home and saw what we needed to see and ate the wings we needed to eat (and the ones we didn't), I took some time to rank the players based on their performances in the games I attended. I'll say that again: these rankings are based on the games I attended. So before you disagree with me in the comments section, remember, these rankings are based solely on the games I attended. It's a very small sample size, just one or two games per player, so don't put a ton of stock in how I number them below.
---

1.) Malik Monk
Shooting Guard, 2016
I knew very little about Malik Monk before following John Calipari (fresh off his visit with LeBron) to Court 4 on Friday night, where Monk scored 40 points against eventual Peach Jam champion Team Penny. Monk's 40-piece came on 14-for-20 shooting from the field, including 6-of-10 from downtown.
Currently the third-ranked shooting guard and sixth overall in 247Sports' 2016 rankings, Monk made a strong case for being the best player in the class. He is an unstoppable scorer, whether it's attacking the rim off the dribble or shooting from outside.
Watch the highlights from that 40 point effort below:

2.) Jaylen Brown
Small Forward, 2015
As good as Malik Monk was, it still took some serious thinking to put him above Jaylen Brown. I should call them 1a and 1b in the rankings, because Brown was just as impressive. The 2015 small forward target dunked, dunked, dunked, dunked and then dunked again in the Wednesday evening game in Atlanta. Robic sat against the wall under the goal, smiling from ear to ear with each new explosive highlight reel play.
In a class with longtime UK priority Malik Newman and several elite post players to choose from, Jaylen Brown may be UK's new biggest target. He is the real deal.

3.) Tyus Battle
Shooting Guard, 2016
A teammate of Cheick Diallo, Tyus Battle was Team SCAN's consistent offensive weapon all weekend. The class of 2016 target can score in a variety of ways and he showed some hops with a couple of flashy dunks in transition. I think he benefited from Diallo and Thomas Bryant drawing attention inside, but I'll give him the third spot here anyway. He earned it with one of the dunks.

4.) Caleb Swanigan
Center, 2015
Who? Caleb Swanigan. The big guy went up against two top 25 players in Diallo and Bryant and he outplayed them both. His big night in front of the UK coaching staff included a buzzer-beating three to send the game to overtime, followed by another three at the buzzer to force a second overtime. I believe he had 20 and 10 in the game.
UK has been in contact and interest likely picked up after he stole the show at the Peach Jam.

5.) Diamond Stone
Center, 2015
The No. 1 center in the class had his hands full in his first game of the Under Armour event. He drew the task of going up against Doral Moore, another highly-touted center with an offer from Kentucky.
Stone played well but not great, showing flashes of what we've long heard about his game: that he is a very skilled post player. However, he settled for long jumpers on too many possessions, rather than using his big frame to get inside and put that offensive skill set to work.
He did finish with 18 points and 12 rebounds, the better numbers in the head-to-head matchup with Moore, but Stone was blocked by Moore with a minute left in a tie game that led to the deciding basket on the other end. He turned it over on the final possession with a chance to tie.
Still, I saw the potential and why some are comparing him to a young DeMarcus Cousins.

6.) Cheick Diallo
Power Forward, 2015
I caught two of Diallo's games, and though he didn't blow me away offensively, I see why Slice loves him and was courtside for his every move. Diallo is a high-energy guy that is going to go after every rebound and challenge every shot. He took very few plays off, a rarity in an AAU showcase game, and played great defense, also rarely seen at this level.
There is a lot for Diallo to work on offensively, but his motor is second to none. Kid's a competitor and he's strong, two things you can't teach. The offense will come.

7.) Doral Moore
Center, 2015
The aforementioned Doral Moore did not post outstanding numbers against Stone — eight points, one rebound — but his length and athleticism was on display in the win against the higher ranked center. Moore blocked a couple of shots and altered several others after opening the game with two midrange jumpers, something I didn't expect to see in his game.
He has room to improve in several areas and needs to add some muscle, but he has the potential to be a Willie Cauley-Stein clone if he puts in the work. He has that rare athleticism and bounce for a 7-footer.

8.) Stephen Zimmerman
Center, 2015
Other than being the tallest guy on the court, Zimmerman didn't show me a ton of game to back up his high ranking in the two or three games I saw. He has good hands and a soft touch, but most of his points came from gifts down low, right around the basket. Word is he can score from the high post but I didn't see any of that. Maybe it's there, but he didn't use it. I wasn't overly impressed.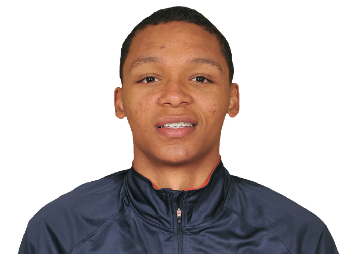 9.) Ivan Rabb
Power Forward, 2015
Rabb, a teammate of Zimmerman, also failed to shine. Like Zimmerman, most of his points came from close range. I thought he could've done a better job using his size and strength to grab more rebounds and put himself in position to get more opportunities offensively. He could've been more active on both ends, in my opinion.
That being said, he's big, strong and athletic and will make one college team very happy when he arrives on campus.

10.) Derrick Jones
Small Forward, 2015
Jones is super athletic which makes his performance in the game we saw super disappointing. He didn't do a lot of scoring, in part because his teammates weren't giving him the ball, and all of the high-flying dunks we had heard about were absent. I'm chalking this one up to a bad afternoon, although his skinny frame is also cause for concern. He's all bones right now.
So there ya go. That's a rundown of what I saw on the KSR scouting trip. Now let's go out and get Jaylen Brown immediately.