Random Leftovers From My Trip To See Nick Richards
Last night I wrote about my adventure through the frozen tundra of New Jersey to watch Nick Richards foul out of the Primetime Shootout. (You can read that here if you haven't already.)
Tonight I'd like to share with you a little more from behind the scenes, so I can clear out my photos and put it all behind me forever.
Mike Rice is slightly crazy.
Former Rutgers head coach Mike Rice (yeah, that one) is rehabilitating his coaching ways as Richards' high school coach these days, and after watching him work on The Patrick School bench, I can see how he was abusive to players at his previous job. I don't mean he is still physically abusive — he wasn't that at all — but my man is extremely enthusiastic and animated, through good and through bad. I felt nervous and fidgety just watching his sideline mannerisms and antics. He's so restless and anxious and all up in his players' faces. Zero chill from Mike Rice during games.
On that note, there's a good story on his rehabilitation here.
Calipari and Barbee devoured some local pizza.
Coach Cal cheated on his good buddy Papa John by munching on a couple slices of concession stand pizza while watching Richards' game. The pizza came from Pompeii Pizza, a popular thin crust spot in Roselle Park, and our freelance photographer on the scene captured the action:
Maybe those weren't the most flattering photos to share.
I was surprised there was no mention of Isaiah Briscoe at his old school.
Come on, Roselle Catholic. Show some love for Isaiah Briscoe in his old gym. Throw up a jersey, a banner, a McDonald's All-American banner, a Jordan Brand Classic plaque, or something.
It's really expensive to drive through New Jersey.
I knew that already but I was reminded when the turnpike emptied out my wallet. It didn't help that I drove into Manhattan first, where it was a cool $15 to go through a tunnel and $60 to park the car.
Don't they know I blog for a living?
Cookie dough is really popular in the West Village.
While in Manhattan, I tried to make a stop by Cookie DŌ, a new cookie dough shop near NYU's campus, only to find people standing in a block-long line IN THE RAIN with a TWO-HOUR WAIT to get in. For COOKIE DOUGH.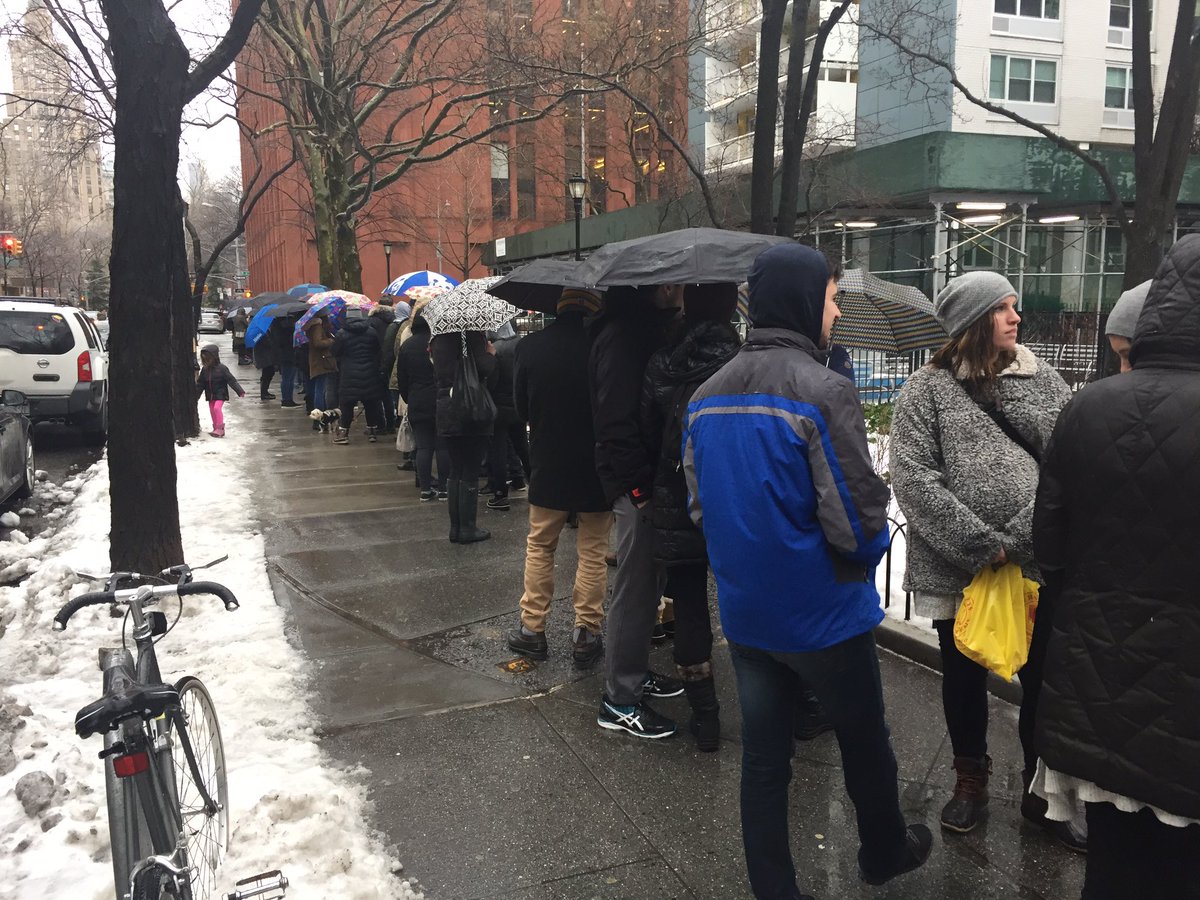 FOR COOKIE DOUGH!
New Jersey high school basketball is much more entertaining than Western Kentucky high school basketball.
They play a completely different sport up there. Growing up in Region 2 and attending Madisonville North-Hopkins High School, I can't say that I've ever seen anything like the talent I saw in Jersey. My Maroons would lose by 100 to any one of those teams.
The Patrick School is really, really good.
Check out this short documentary from Adam Zagoria. It's good stuff and it includes the game I attended at the end.