NYRA Bets presents 5 different ways to wager at your Kentucky Derby party
A message from our sponsor:
Bet the Kentucky Derby with NYRA Bets! New players who join today will receive a free $25 bet, and also earn up to a $200 deposit match new member bonus!
NYRA Bets is the official betting partner of Saratoga and the Belmont Stakes. Available nationwide in 30 states, NYRA Bets offers best-in-class HD live video and replays, online contests to compete with other NYRA Bets players, exclusive promotions that give back more, and expert picks and analysis. With an easy to use, free to download app, betting the Kentucky Derby online with a free $25 bet has never been easier.
Sign up here and get your free $25 bet now!
---
We are only five days away from Kentucky Derby 146. Without fans in the stands, everybody watching will be placing wagers from their phone or computer with the help from our friends at NYRA Bets. It's a great way to feel the rush of live horse racing, although it doesn't quite feel the same without cold, hard cash in your hands. There are other ways to throw money around at a Derby party that I know you'll enjoy.
1. Blind Draw Race Pots
The simplest way to get everyone involved in every horse race is to simply draw numbers from a hat. If that number wins the race, you win the pot. Ranging from $1 to $20 a pot, it's a fun and easy way to get your entire party cheering for every race.
2. Kentucky Derby Auction
Instead of blindly choosing a horse for the big race, the Kentucky Derby auction forces your party patrons to place a bid for their horse. With a big board, simply start at post No. 1 asking for $5 a horse and let the mayhem ensue. This year Tiz the Law will no doubt be the most expensive horse to acquire. You could go all in and start a bidding war, or diversify your portfolio with a couple of different long shots.
The winner can take all the prize money home, however, if the host footed the bill for an enormous smorgasbord of food and drink, splitting the tab between the house is not asking too much.
3. Last Place Draw
If you could bet on who would finish last, it would be too easy for jockeys to tank for a big paycheck. That doesn't mean you can't bet on last place from home. It's the same concept as No. 1 on this list, except this person gets a spot on the coveted Unofficial Derby Cup that features every single last-place finisher in Kentucky Derby history.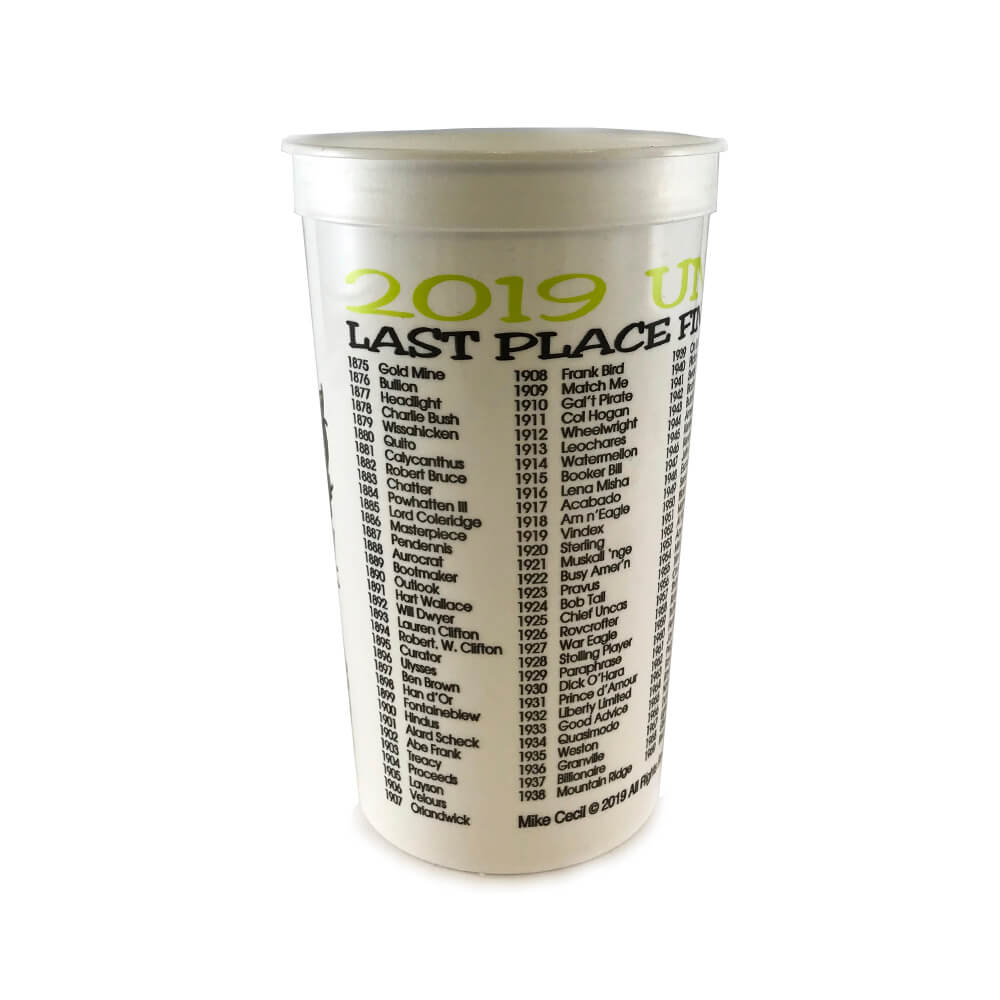 4. Exacta Squares
You're probably familiar with the Super Bowl squares concept. The large board has a grid of numbers randomly assembled, with teams represented on the x and y-axis. When the quarter ends, the score dictates which square is the winner of the pot.
This concept can be applied on a much larger scale in the Kentucky Derby. With 17 horses currently entered into the race, arrange those numbers randomly along the top and left-side of your grid. The top represents first and the left-hand side represents second place. By charging a dollar or even .50 a square, you can still create an enormous pot that will surely payout for more than what this year's exacta will be.
* To prevent folks from cheating the system, I advise you to wait until after the squares are filled with bettors before you complete the grid by writing the numbers.
5. "Horse Racing Game"
I don't know exactly what it's called, so I'll just use the name my friends gave it. If you take no other recommendations from me this year, please let this be it. It's ELECTRIC. Supplies needed:
2 Dice
Deck of Cards
A LOT of quarters
A good attitude
A board like this:
The board cost about $30 on Amazon, but it's well worth it. Let me explain how the game works.
Before the game begins, deal out a deck of cards between all the players. Each card represents a horse in the race. The seven card is for the seven horse, a jack is the 11-horse, a queen is the 12-horse, etc.
One person is assigned to roll the scratches. This person is putting the fate of the gamblers in their hands. The first number rolled eliminates that horse from the race. The first scratch is worth 25 cents, the second scratch is worth 50 cents and the third is worth 75 cents. If you hold a card of a horse that is scratched, you're paying to play in this race.
The game then begins with a roll of the dice. If the roller fires off a seven, the seven-horse advances one spot — UNLESS the seven-horse is scratched. In that case, every person that has a seven owes money into the pot. The dice are rolled until one horse finally reaches the finish line. The money is then divided up between the four cardholders of that horse.
I cannot do this game justice simply by explaining it. I can tell you that you can win and lose very quickly. In one NFL halftime alone I was down $17, thanks to having multiple 75-cent scratches. However, as fast as you're down, you can climb back up if you have multiple cards representing the winning horse.