Moving forward after Louisville's implosion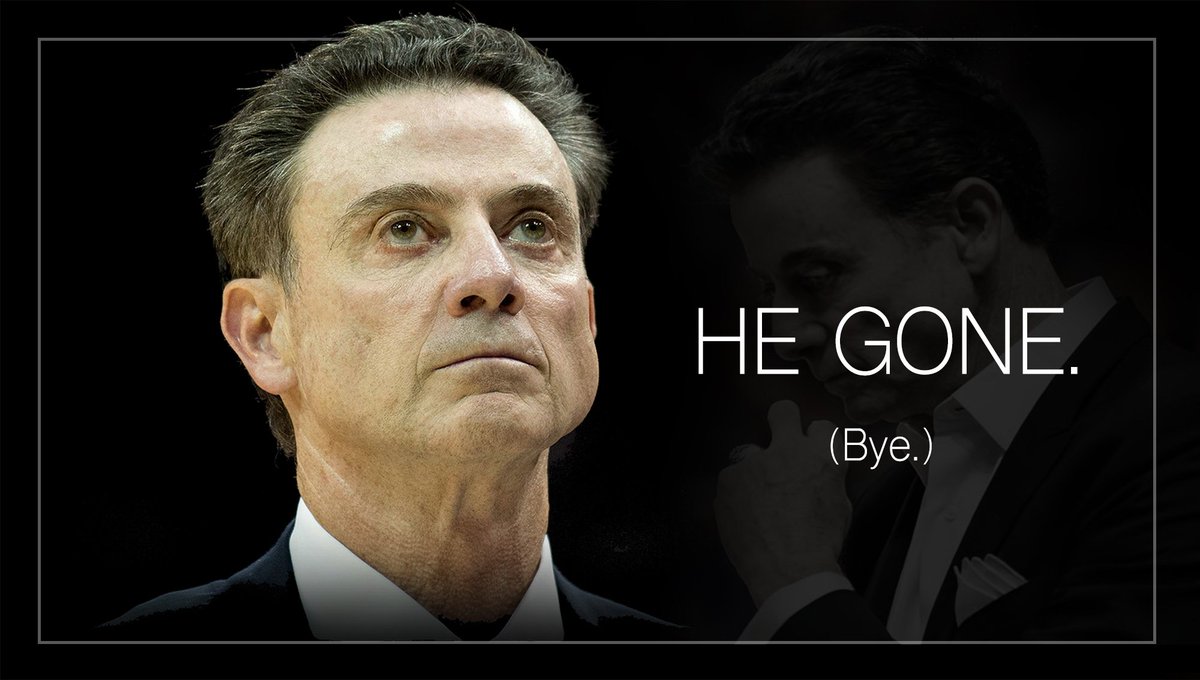 I sat down at Magee's Bakery around 8:15 am Tuesday for a business meeting, ordered a nice coffee and connected to the Wi-Fi for a casual morning of normal. Little did I know, I would spend the next four hours at Magee's after the FBI dropped an unexpected bomb onto the college basketball landscape, leaving me trapped at the computer, trying to find out what the hell was going on, much like everyone else.
What was supposed to be a regular day on Kentucky-Sports-Radio-dot-com (maybe with a little more Florida game hangover), turned out to be pure chaos after we learned Rick Pitino's Louisville was at the forefront of the new scandal. Once Pitino and Louisville were identified in the mess, Tuesday became one of the longest and busiest days I can remember as we covered, and celebrated, the fall.
Then came yesterday, the day after the website saw almost a million hits in a single day (it would've been a million if our server hadn't passed out from exhaustion), and the KSR radio show went live for almost four hours to cover the day of reckoning. UofL interim president Greg Postel finally held a press conference and announced the fate of the university's athletic director, Tom Jurich; and its head basketball coach and hooker-hirer, Rick Pitino. Much like Tuesday, yesterday was another long and blurry day of piling on the Cards' misery, which is one of our favorite past times.
And just like that, he was gone. 👋🏻 pic.twitter.com/qxlXm1iXIq

— Drew Franklin (@DrewFranklinKSR) September 27, 2017
That brings us to today, Thursday, and it's time to move on. The past two days were tons of fun, but we're a third of the way through what could potentially be a very special football season for the University of Kentucky. The Florida game is in the rearview mirror and Big Blue Nation has slowly come to accept it happened, and now a sneaky-talented Eastern Michigan team comes to town to try to upset the Cats coming off the disappointing loss. Our focus shifts to that game now, with an occasional update from Louisville or the FBI's investigation as a whole, when necessary.
Let's get caught up on what's been going on while we were busy watching Pitino proclaim his innocence in his third major scandal at UofL.
*****
The new KSR Football Podcast will come out today.
Nick, Freddie and I recorded our post-Florida/pre-Eastern Michigan show yesterday, but we were unable to upload it until this morning because the site has been crippled on the back end with all of the Pitino traffic. I believe Nick will have it for you by the time the radio show is on, so you can start it right at noon when KSR goes off the air.
I apologize for the late delivery.
Matt and I are recording the Free Money Podcast this afternoon.
As I said up top, the last couple of days were pretty hectic and that meant the Free Money Podcast was put on the back burner. We will record it today and release tonight, this week's final picks included.
The Big Blue Madness campout is going strong.
Tonight's the big night when the players stop by to pass out pizza and UK provides entertainment with a special show to entertain campers. Last I heard there were about 300 tents already set up around Tent City, and more are likely to join for tomorrow night's ticket distribution.
Mark Stoops to address the media one last time before Saturday.
It's Thursday, which means Mark Stoops will give one final update for the week before a new game. Stoops is expected to chat with the Lexington media following Thursday's late afternoon practice, so check back here for his comments while you're waiting for the dinner bell to ring. Nick Roush will relay everything you need to know.
Romeo Langford dropped Louisville from his list.
Langford's father sent out a text message saying, "Due to the current allegations associated with the University of Louisville men's basketball program, a family decision was made that Romeo Langford will no longer be considering U of L in his recruitment."
Louisville, which lost both of its 2018 commitments Wednesday, is going to have a hard time getting any highly-ranked players to sign in the coming years.
Jarren Williams to visit Alabama this weekend.
Alabama will host 17 players who are already committed to other schools, including Williams. The Kentucky commit will be one of three QBs in the bunch to watch the Crimson Tide host Ole Miss.
I don't know what's normal, but 17 seems like a lot of already-committed players. Maybe back off a little bit, Saban.
Alabama and Miami are two basketball programs to watch as FBI probe continues.
A men's basketball administrator at Alabama resigned Wednesday night after Bama's internal review of its program revealed the administrator, Kobie Baker, is a person of interest in the FBI investigation. Expect more on this very soon, maybe even with some shadiness around star freshman point guard Collin Sexton.
Down in Miami, the school president released a statement saying the U.S. Attorney's office is investigating one of its basketball staff members.
The list of programs this whole thing touches is likely to get very, very long before it's all said and done.
Rest in peace, Hugh Hefner.
Hefner passed away last night, but let's be real: he's been in heaven for decades.
More to come throughout the day; hopefully nothing more from the FBI…