Monday's Top 10: Predators Bandwagon Edition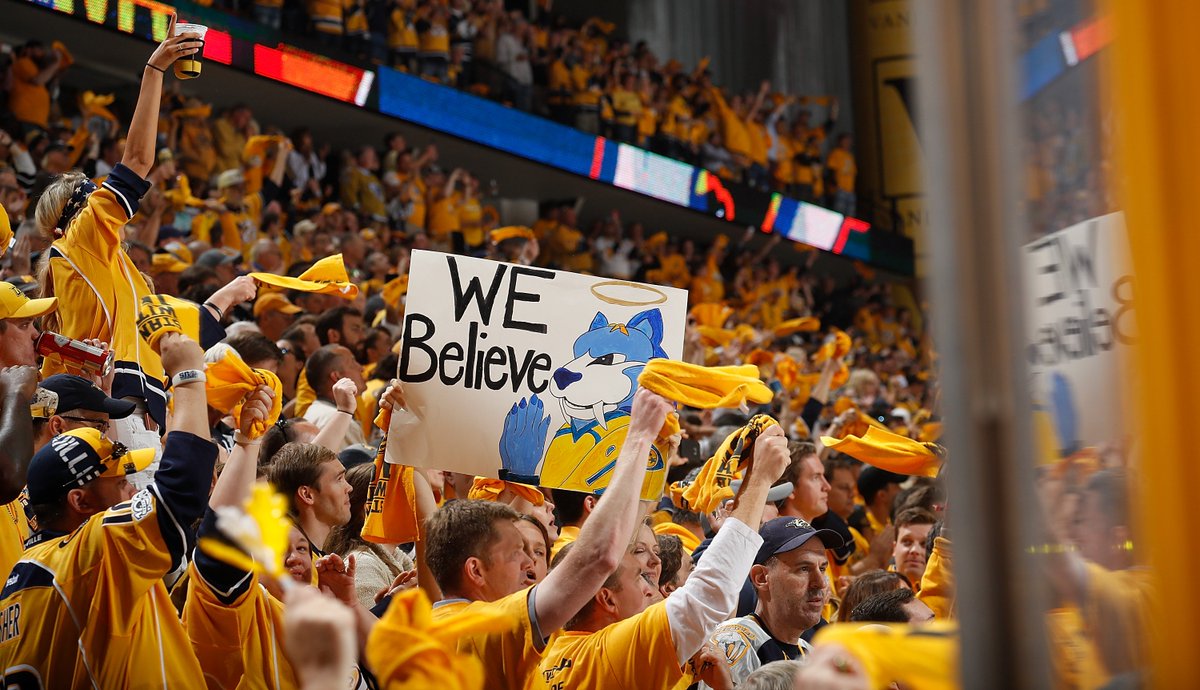 Confession: I have an aisle seat in the front row of the Nashville Predators bandwagon and I don't care who knows it. In a short three weeks I've gone from "Hockey is stupid" and "Siri, what's icing?" to all the way in on the Nashville Predators and their current playoff run. I am the definition of bandwagon fan and I don't care.
Tonight the Preds host the Ducks in Game 6 of the semis with a shot at the Stanley Cup Finals on the line and I've been offered a very good ticket to the game, but my commitment to KSR takes priority, so I will be staying in Lexington. (Don't worry, I'm not bummed about that at all. It doesn't bother me one bit. Crying? Me? I'm not crying. Nashville's no fun anyway. I'm fine. I'm not sulking over my coffee thinking about it right now, I swear. No FOMO here.) If the Preds get the win and advance, I am legitimately worried Nashville may burn down. That city has embraced its NHL team and pushed country music and bachelorette parties to the side, at least during this run.
So go Preds. Beat the Ducks. Party at my house. I wish I could go to Nashville.
On to the Kentucky stuff…
1. Hamidou Diallo Decision Watch is
Diallo's decision could come any moment now. The most talked-about NBA draft entrant without an agent spent the weekend back home in New York weighing over his two options with his family, and his final decision could come today, tomorrow or Wednesday, the deadline to return to school. We've heard he has made up his mind, so the news could come out today — or it could go all the way to the end. We're all in the dark here together.
2. An Instagram caption gives hope.
The Heroes Basketball League, whatever that is, shared a photo of Hamidou Diallo last night with a caption reading something along the lines of "Hamidou Diallo stopping by Heroes Basketball to watch the games. He'll be a freshman at Kentucky next year." That caption has since dropped the part about Kentucky, but maybe the original caption was written with some inside info?
3. Cam Johnson still in play if Diallo stays in draft.
If Diallo is gone, Cam Johnson is still a possible addition to fill that backcourt spot, and Kentucky's chances in Johnson's recruitment got much greater over the weekend thanks to two outside forces. First, Pitt issued a statement standing by its move to restrict Johnson's transfer to the ACC, which means he would have to sit out a year before playing at North Carolina, should he choose the Tar Heels. Then, Arizona's Rawle Alkins announced he will return to school, thus occupying that spot Johnson had been eyeing with the Wildcats. Now Kentucky is in good position to land the sharpshooter if it misses out on Diallo's return, so I think John Calipari is in pretty good shape either way.
4. UK Softball advanced to the Super Regional.
Switching from basketball, the Kentucky softball team needs some recognition for its home stand over the weekend, in which it swept Illinois in the Lexington Regional. Now the Cats are off to Eugene to play Oregon in the Super Regional for a shot to advance to the Women's College World Series in Oklahoma City. It is only the fifth time UK has advanced to the Super Regional.
5. Ohio County student hit his teach with an Ls Down on his way out.
Valedictorian? He better be.
6. Cloud Computing took the Preakness; Jimmy Brumbaugh was there with Big Z.
By now you probably know Cloud Computing upset Always Dreaming and Classic Empire in the Preakness, but did you know Za'Darius Smith was there with his old defensive line coach?
The former UK defensive lineman was with the former UK defensive line coach and his family during the race:
I had a blast at Preakness with Z and the Family!! pic.twitter.com/RyR4vhHId4

— Jimmy Brumbaugh (@CoachBrumbaugh) May 20, 2017
We miss Za'Darius.
7. Shout-out to Stephan Jaeger and Aaron Flener for winning the PGA Web Tour tournament over the weekend.
In what is one of the greatest athletic achievements of all time, Stephan Jaeger and his caddy, former KSR writer Aaron Flener, won a Web tour golf tournament in South Carolina over the weekend. Why is that such a big feat, you ask? Because the weekend before that, we were doing unspeakable things on a bachelor party and I have no idea how they were able to pull it together and play four days of winning golf a week later.
This is Jaeger hitting a golf ball out of our beach house a week before he hit driver-gap wedge to two feet on a par 5 for eagle and the win:
Last weekend he was hitting off the hardwood in our beach house; this weekend he has the lead going into Sunday. Let's go @SJ_sedl_Golf! pic.twitter.com/qDbksEpAiP

— Drew Franklin (@DrewFranklinKSR) May 20, 2017
One week later, he's holding the trophy and a check for $126,000, while I'm still drinking Gatorade and trying to get my life back in order. Amazing athleticism to turn that around. Congrats to the both of them, those savages.
8. You need to watch Mommy Dead and Dearest on HBO.
Last night I caved and watched the documentary that everyone is talking about, and it did not disappoint. You need to watch it immediately, but be ready for a shocking story that'll have you glued to the TV for 82 minutes.
For those who don't know what I am talking about, watch the trailer:
It's wild.
9. The SEC Baseball tournament starts tomorrow.
Kentucky is the No. 3 seed in the tourney and has a bye into the second round, where it'll meet the (11) South Carolina/(6) Vanderbilt winner on Wednesday. That game will be played at 10:30 am on the SEC Network. Go Cats.
10. Matt is back on KSR radio today.
After a weekend away at J the B's bachelor party in New Orleans, Jones is back to take his microphone away from Ryan Lemond and Jared Lorenzen. He'll recap the weekend and discuss what's ahead for Big Blue Nation.