Monday Night News and Views
Grab your big barrel and get in here! It's time for tonight's News and Views!
(This photo popped up on reddit yesterday and I thought you'd like to see it. It's from way back in the day when the cheerleaders showed a little less skin.)
So much news to get to…
Vince Marrow agrees to a contract extension at Kentucky. Suck it, Harbaugh.
Mark Stoops landed arguably his biggest commitment on Monday when it was announced Vince Marrow will stick around Lexington, spurning Jim Harbaugh and Michigan. UK's lead recruiter agreed to an extension through the 2018 season, although details of the new deal are still on the down low.
"I'm thankful for the support of Dr. Capilouto, Mitch Barnhart and Coach Stoops with this contract extension," Marrow said via Tweeter. "Our program is headed in the right direction on and off the field with the new facilities and overwhelming support of the BBN. I'm excited to be part of it as we continue moving forward."
Marrow's decision to stay at a rebuilding Kentucky proves the program is on its way to new heights. Never in a million years did we think a UK assistant coach would turn down an offer from Michigan under the sport's hottest name, but that's exactly where we are today. Marrow believes in the movement and wants to continue being a big part of it.
With Marrow's decision to stay down with Stoops like four flat tires, the 2015 class will remain intact and could see even more momentum as Signing Day approaches. Things could've gotten ugly and desperate had he bolted for Ann Arbor.
So LESSSSGGGOOOOOO!!!!!
Damien Harris announced that he will announce at 1:15 pm Friday in an announcement from his high school.
As Tyler pointed out earlier today, the announcement being during school hours could be considered positive for Kentucky's hopes. Or maybe he has no problem breaking his friends' hearts in front of them.
It's almost over!
Kentucky is the unanimous No. 1 team in America, again.
In other news, the sky is blue, water is wet and Ryan Lemond is the worst driver in the state of Kentucky.
Alex Poythress will undergo surgery on his torn anterior cruciate ligament tomorrow.
Thoughts, prayers, positive vibes and roars go out to Alex as he has surgery and begins the rehabilitation process. Send him a tweet at @AlexTheGreat22 to let him know you're thinking about him.
Tyler's eye looks better.
I'm told Chris Jones had a speedy recovery as well. THANK GOD HE'S OKAY.
Calipari and Andrew Harrison aren't listening to the haters.
The downside of Kentucky's nine-day break is it has been nine days of criticism following Andrew's poor showing at Louisville. But don't worry; he's not listening to the naysayers.
"I don't think he's listened to it, I know I haven't," Cal said. "All we did is got back to work and made some adjustments for him and the other guards and said, 'OK, alright, this is what works, this is what doesn't work and let's keep going.'"
Andrew has been working on his mid-range game: pull-up jumpers and floaters, according to Cal. There's also the new tweak to the backcourt, which Devin Booker revealed as the guards doing a better job of finishing at the rim.
(Note to self: Don't tell Devin Booker any secrets.)
Cal said this group is wired different.
He said he's been seeing three or four guys in the Craft Center late at night when he's come in from recruiting trips. Cal admitted it's very easy at UK for players to get to the practice gym — his rough estimate was 12 steps from the lodge — but "they're here."
"They're calling coaches to come over. They're getting extra stuff in. They're wired different. They know they've gotta continue to work and get better."
Watch John Calipari's entire pre-Ole Miss press conference below:
Kentucky opened as a 23-point favorite over Ole Miss.
It's down to 21.5 in at least one Las Vegas sportsbook now. That's one you should stay away from, but who am I to tell you what to do with your disposable income?
James Young has a December highlight reel from the D-League.
I realize he has a deal with Jay Z and can afford all those fancy outfits and chains now, but is riding around in a bus through Maine and Delaware and Connecticut and every other terrible state really better than a sophomore season at Kentucky? He's a Celtic and all that, I get it, but I'd rather have the luxuries, exposure, Raising Cane's, sorority girls and stress-free lifestyle that comes with being a basketball player at the University of Kentucky. Agree to disagree, I guess.
At least he has a unique signature…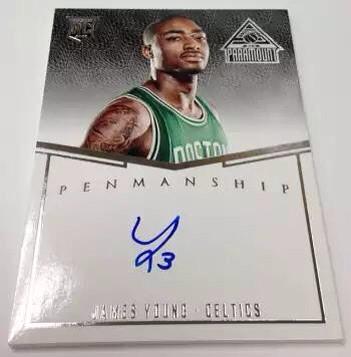 Of course, Young had a career-high eight points in 10 minutes for Boston tonight after I wrote that.
KSR will be LIVE from the McDonald's on Richmond Road in Lexington tomorrow morning.
Plus the return of Flener's Bachelor recaps here on the website. And a basketball game. What a day!