Monday Night News and Views
Good evening, Cats fans… Drew here, coming in late with some Monday basketball news…
The college basketball world is still talking about Kentucky's win at Louisville on Saturday and we're still enjoying it around here as well. The 40-0 talk we try to avoid is at an all-time high now that the Cats are 13-0 entering conference play and several of your favorite and not-so-favorite national writers weighed in on the probability of perfection on Monday.
While they're talking actual basketball stuff, we're still caught up in the excitement of the win with GIFs and memes, like the one above or the many on down below. It may get old one day, but today is not that day.
Kentucky is still unanimous in the AP, one shy in the USA Today.
The Cats received all 65 first place votes from the Associated Press, but one coach is still higher on the Blue Devils in the USA Today poll. Kentucky received 30 of the 31 coaches votes, losing one to second place Duke.
SHOW US YOUR FACE YOU COWARD!
Tony Barbee said it could get scary once the offense catches up to the defense.
Barbee filled in for Coach Cal on Monday night's call-in show and discussed all things UK basketball, including the potential improvement during this week's Camp Cal. Barbee hopes to see around 25 or 30 percent improvement during the downtime entering non-conference play as they work on getting the offense up to speed with the already outstanding D. "It could be really scary on down the road, once the offense catches up with the defense," he said.
As for what SEC teams could end UK's win streak, Barbee said he expects Florida to be much better once that game rolls around. He thinks any team could potentially upset the Cats from here on out because all of the coaches in the conference know each other so well.
Las Vegas is praying Kentucky loses a game.
According to this story on ESPN.com, Las Vegas is set to lose a lot of money if UK runs the table. William Hill, one sports bookmaker, is set to lose well into six figures if the Cats go unbeaten. A spokesperson for William Hill said 95 percent of the action on UK's undefeated prop bet is 'Yes"; the bet was at +450 entering the Louisville game. That's quite a drop from the 400-1 odds before last season.
Kentucky vs. Louisville was the most-watched college basketball game in the history of ESPN2.
There were a lot of eyes on the Deuce when UK and Louisville got together Saturday afternoon. The network announced today the game posted a 2.1 overnight rating, the highest of any college basketball game ever.
But what about those first few minutes on ESPNews? That had to be a record, too.
Tyler Ulis named SEC Freshman of the Week
That's a fifth trip to Lexington for the Freshman of the Week trophy this season:
11/17: Trey Lyles
12/1: Karl Towns
12/8: Karl Towns
12/22: Devin Booker
12/29: Tyler Ulis
Ulis had 14 points, two assists, zero turnovers and three stitches at Louisville.
The Cats posted a 3.129 cumulative GPA for the fall semester.
"These kids work in the classroom, and I'm proud of them," Cal said of his team's seventh 3.0 GPA in eight semesters. "They're not only playing selfless basketball, they're getting it done in the classroom too, which makes me just as proud."
I had a 3.0 once. In high school.
Malik Newman dropped a 50-piece in front of Coach Cal.
Newman scored 50 of his team's 85 points with Calipari and Kenny Payne watching from the stands. The five-star guard's single-game high came after scoring 40 points in 17 minutes — That's possible? — in a game earlier in the day.
Kansas and Mississippi State also had coaches in the building to watch Newman ball.
Former Louisville football standout charged with a string of Christmas robberies.
Nate Harris, Louisville's leading tackler in 2006, spent the holiday season holding people at gunpoint at several hotels and a dry cleaner around the city of Louisville. He first hit up the Red Roof Inn on Christmas Day then bounced around the next two days robbing other rundown hotels and the laundry facility.
Harris originally committed to The U out of high school but ended up at Louisville after confessing to being the lookout during an armed robbery in Miami. He was also charged with armed robbery outside a Moby Dick fast seafood joint in October.
Bobby Petrino is currently inquiring about a fifth season of eligibility for Harris.
Are you voting for your favorite NBA Cats in the All-Star race?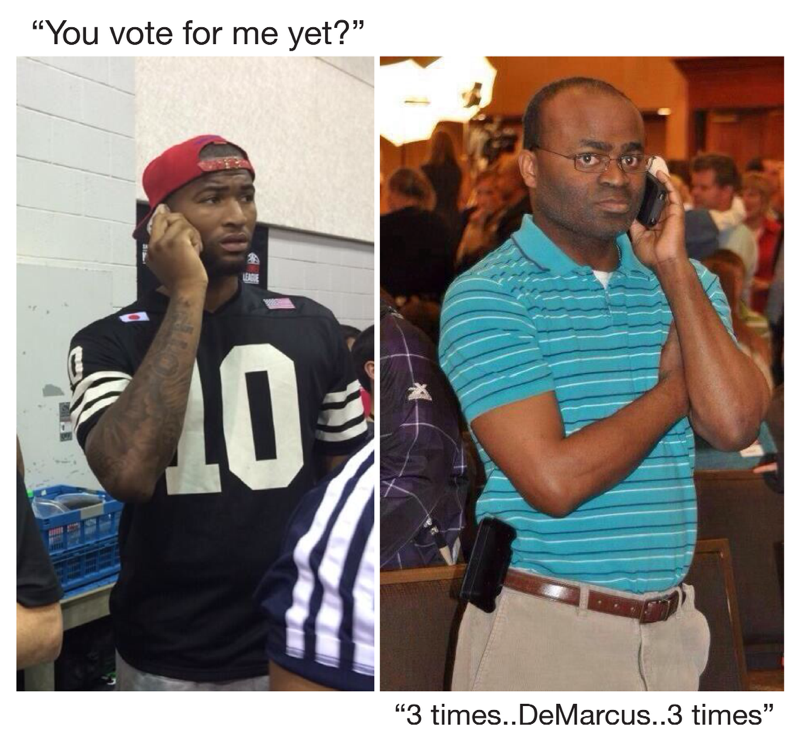 If not, go here to submit your ballot.
Anthony Davis and John Wall are on pace to be starters. DeMarcus Cousins NEEDS YOUR HELP.
However, DeMarcus does not need help dunking on Mason Plumlee:
I'll leave you with that.