Monday Insider Notes: UK's plan for 2019 isn't complicated
I hope everyone had a great weekend. I went to a bachelor party at Land Between the Lakes and really enjoyed myself. I hadn't been to Lake Barkley/Kentucky Lake for about 15-20 years and it's beautiful down there. The lake seemed a little cleaner than some other lakes I usually frequent, which was nice. It was a hoot of a weekend, but it sounds like there was a plethora of news on the recruiting front. I spent my recovery Sunday texting and chatting to see what I missed over the weekend. I'm still playing catch-up, but here's what I've learned.
My Podcast: First, let me self-promote. Along with the help of KSR I started a podcast called Hardly Committed, which is produced by Nick Roush. It's a 30-40 minute weekly podcast where I talk UK basketball recruiting, UK basketball and The Office (for about five minutes at the end). I was blown away by the downloads for our first episode and I look forward to doing this for the foreseeable future. It can be some nerdy basketball recruiting chat, but big-time recruiting fans should love it and we provide enough background on each target where casual fans can follow along, too.
Please do me a favor and download the podcast and leave a nice comment. The more it grows the better it will be, so help me out! Download the podcast HERE.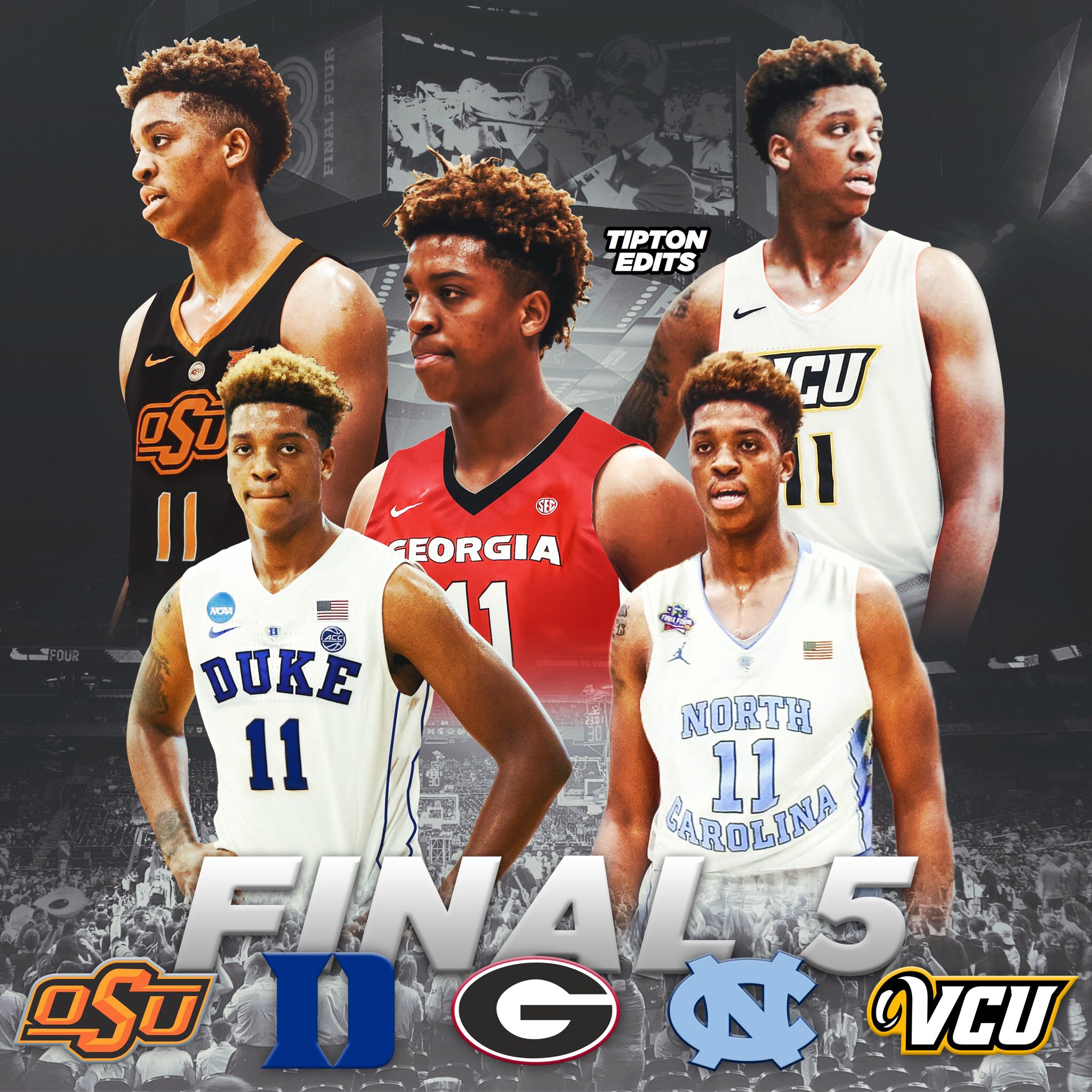 Bacot: UK reached out but it didn't amount to anything as you can see above. Armando Bacot narrowed his list to five and the Cats weren't included. Bacot had already cut his list to 10 and Kentucky didn't make that cut earlier this year, but the Cats started to watch Bacot a few times this summer. I'm told UK reached out, Bacot was interested but the Cats realized that they were too far behind. Bacot did Kentucky a favor by eliminating the Cats because had UK made this cut then he would have officially visited Lexington and it would have turned into a much bigger time commitment for a guy that will seemingly end up at UNC. Bacot is a really intriguing player but this is an example of UK being a little too far behind and being unable to make up the ground. Sometimes UK can, sometimes they can't. Oh well.
I am truly blessed to finally announce my final top 8 schools…@hoopmajorhm???? pic.twitter.com/TYXwkmPXEE

— James Wiseman (@BigTicket_JW) July 28, 2018
Wiseman: UK target James Wiseman cut his list to eight over the weekend and shockingly UK and Memphis made the cut (sarcasm font). Also making the cut along with UK and Memphis- Arizona, UNC, Vanderbilt, Kansas, Texas and Florida State. I often get asked if it's not Memphis or UK then where will Wiseman end up? First, I'd be shocked if he doesn't end up in Lexington or Memphis for college, but I do think Vanderbilt is running third. If absolutely nothing happens with Kansas and the FBI then I think the Jayhawks will get an official visit and may be a team to keep an eye on, but I think it'll be Kentucky or Memphis.
Last week I said that for the first time I was starting to get a little nervous about UK's chances. The good news is after I published those Monday Insider Notes I had several phone conversations with people that know more about Wiseman's recruitment than I do. The consensus seems to be that Wiseman himself goes back-and-forth between UK and Memphis, but is genuinely trying to keep an open mind about the other schools, too. Everyone I've spoken with has said that it's going to be between Memphis and UK and that UK is still is a comfortable spot.
Wiseman is unsure when he is going to make a final decision. UK would love to get this wrapped up in the fall, but many around Wiseman believe he will end up waiting until the spring. The official visits will happen during the fall, but remember that Wiseman is unofficially visiting UK this month. That's the plan at least. So, over the next two/three months Wiseman will likely be on UK's campus twice. That's good news.
I still think the night before Wiseman's decision we're talking about Memphis and UK. It's been that way for months and that's not going to change in my opinion.
Speaking of visits: Dontaie Allen and Kahlil Whitney will visit UK over the next week and should we put this thing on commitment watch? I don't think we hear of a commitment before the Bahamas, but I don't think it's out of the question UK lands a commitment from one of these two targets before September. I would be surprised if the Cats land both before September, but I'm told that's not out of the question.
My guess on what happens is that one commits (my guess as of today would be Whitney) and then Allen takes all his visits and takes his time. Maybe it's the opposite and Allen pulls the trigger early and Whitney waits. I'm not too sure, but just my guess. UK will continue to recruit the other player and there's a decent chance both end up in Lexington. It will likely depend if the two want to play together.
I am told UK would be happy landing both and would be OK with both committing ASAP. Remember, sometimes John Calipari will ask a player to wait or take their time. They do that when they're worried about scaring away another prospect, but that won't be the case here. UK would be fine with having three wing players in Allen, Whitney and D.J. Jeffries because both Allen and Whitney can shoot from deep. Calipari wants his teams to be great offensive and be consistent of versatile scorers across the board. Whitney and Allen are versatile and would be able to play with one another.
By the way, I'm told UK absolutely loves Whitney and "UK fans will, too". UK loves Allen, too, but they've known about him longer. Things moved quickly with UK and Whitney and they make take this relationship to the commitment level in the next few weeks.
Cole Anthony: We knew that Anthony would be heading to a prep-school for his senior season but over the weekend he announced he will join the ranks at Oak Hill. UK has landed nine players from Oak Hill with the most recent being Keldon Johnson. Other UK greats include- Doron Lamb, Rajon Rondo, Cliff Hawkins, Ron Mercer and Billy Gillispie's ex-girlfriend's ex-boyfriend, Alex Legion.
People talk about the sliminess of prep schools but Oak Hill doesn't fit the mold. They seemingly do things the right way and I'm asked if him going to Oak Hill helps or hurts UK's chances. It won't change anything. Oak Hill doesn't push their players in one direction and they will only help Anthony make a more informed decision, but ultimately it will be Anthony and his dad's decision. UK still remains in a good position.
As I've said several times- Anthony is going to wait until late in the spring and he will be monitoring UK's roster situation. If it's a crowded backcourt he won't end up in Lexington. If it's him and Maxey running the show I think they end up in Lexington together.
No need to overthink 2019: Things will continue to change for UK in 2019. Things change weekly and we haven't even started looking ahead to 2020. However, it's pretty easy to see UK's plan.
UK wants more scoring options at the wing or in the backcourt. UK is recruiting Allen, Whitney, Anthony Scottie Lewis, Bryan Antoine and Keion Brooks. It seems highly likely the Cats land two of those players.
UK wants two more bigs with at least one being a bruiser. UK is recruiting Matthew Hurt, Vernon Carey and James Wiseman. Kentucky needs at least two. This one seems a little trickier but the Cats still haven't panicked. They have reached out to a few other bigs, but no offers. It likely means UK knows they're probably going to land one of those targets and probably that they feel good in two or all three recruitments.
My guess is UK's class involves Tyrese Maxey, D.J. Jeffries, and at least three players listed above, maybe four depending on how many players leave after this season. The bigs as of today seem slightly more important, but that's my opinion.
Remember, there will eventually be some new names. Maybe we don't learn them until February or March, maybe it's another grad-transfer like Reid Travis, but it won't just be those players listed above.
We often get so caught up in who exactly UK will land, but more-so than previous years UK's staff is hoping to just land positions/style of play. This year they have done a great job of having so many players fit what they're trying to do. There have been previous years where UK landed a guy they wanted, but maybe he was defensive oriented and the Cats still needed shooting. Or maybe UK landed a great shooting guard but the player wasn't versatile enough to play point and not good enough defensively to guard the three. UK feels confident with all their targets. Obviously some fit better than others, but it could end up just being a numbers game. Get two from the first bullet point, get two from the second group and the Cats will be just fine for 2019-2020.
[mobile_ad]