Missing Casey Kasem's Thursday News and Views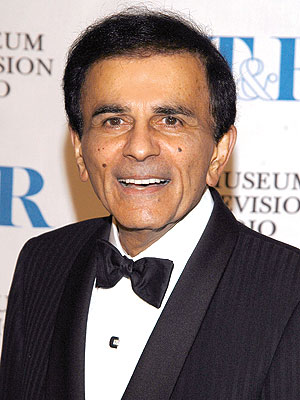 Can we talk about how Casey Kasem is still missing?
The story of the radio icon vanishing first went viral on Monday, and since then, he still hasn't turned up. Kasem, 82, has Lewy body dementia, and under the care of his wife, disappeared. His daughter, Kerri, told People Magazine that she hasn't seen her father since May 7, and on Monday, a judge ordered an investigation into his whereabouts to no avail. In the court filing, Kerri's attorneys said that in the past few months, Kasem has been moved repeatedly by his wife so that his children wouldn't be able to see him. Rumor has it Kasem has been taken out of the country, or maybe even to an Indian reservation in Washington state.
The whole story is so bizarre, tragic, and troubling that it's almost becoming the new missing plane. Kasem is an American icon, and there was a hardly a weekend car ride in my childhood that didn't include his weekly Top 40. I think I speak for all women when I say that as a teenage girl, there's nothing I wanted more than a long-distance dedication read by Casey Kasem. There was something so innately comforting and familiar about his voice that when you had the radio on, it's like you had a friend in the car. And yes, even Casey lost it sometimes.
Casey, if you're out there reading tonight, I hope you're well. These news and views go out to you.
Calipari says he'd love to coach LeBron, but the timing's not right
We knew John Calipari wasn't capable of staying quiet down in Florida. While he was supposed to be rehabbing his hip and eating cottage cheese on a beach, Cal was on the phone with The Plain Dealer, Cleveland's main newspaper, to talk about wanting to coach LeBron James one day. Since Cal came to Kentucky, NBA rumors have swirled around him nonstop, but the only scenario that I believe legitimately scares fans is LeBron leaving Miami and asking Cal to come with him. Cal pretty much said on Wednesday that if that were to happen, he would do it. "I would tell you if I had a chance to [coach LeBron], I would absolutely," Cal told The Plain Dealer, reigniting a spark of fear in hearts across the Bluegrass.
Of course, like all great doomed relationships, the timing for Cal and LeBron has never been right. Cal said that their careers "are criss-crossing without crossing," and that he's "not in a position where I would leave Kentucky right now." In fact, he said that despite his fervent desire and the two's friendship, they've never talked about it:
"Yes, I would love to coach him. But early in his career I said maybe that would happen happen some day, but as we both get older it doesn't appear that it will happen. But he and I have never discussed it."
Predictably, all of this led to an onslaught of rumors that the Cavaliers are now interested in Cal as their new head coach. Of course they are. The faint possibility that LeBron could return to Cleveland is the only shot they have with him.
So, do we feel calm or worried about this? I'm not worried…for now. I'm in the camp that believes that nothing Cal does is accidental. It's not a coincidence that he spoke to a Cleveland paper and praised the Cavaliers organization while the possibility of LeBron coming back to the Cavs lingers on the horizon. He's essentially showing everyone his hand, and letting the chips fall where they may. In addition, Cal's last quote of the interview may be the most troubling of all:
"All those people who said I couldn't coach in the NBA, if I coached him, would say, 'Oh, he's a really good coach.'"
Doesn't that sound like the Cal we all know and love? The one who wants to prove all the haters wrong? It does to me.
HOWEVER, I seriously doubt Cal's going anywhere right now. Let's take solace in the fact that Cal said he's not in a position to leave the job he so dearly loves, and pray the age limit is raised to two years, in which case he may retire here. Plus, the chances LeBron actually goes back to Cleveland aren't that great, and Cal certainly isn't going without him.
The NBA Draft Combine begins
On Thursday and Friday, the best NBA Draft prospects will strut their stuff in Chicago, Illinois. Well, except for Andrew Wiggins, Joel Embiid, and Jabari Parker, who decided to skip it. That leaves Julius Randle as one of the top prospects participating, and because Julius is Julius, he said skipping the Combine was never an option for him because he's such a competitor. James Young is also taking part, and his performance may be even more important than Randle's. Young is still considered a late lottery pick, and a good showing could push him forward a few slots, whereas a poor performance could drop him out of the lottery altogether. (Update: apparently Young withdrew from the drills portion of the Combine, so nevermind.)
We'll be watching the Draft Combine all day, and you can too. Here's the TV/streaming schedule (all times Eastern):
Thursday:
10 a.m. – 1 p.m., ESPNU/WatchESPN.com
1 p.m. – 3 p.m., ESPN2/WatchESPN.com
Friday:
10 a.m. – 1 p.m., ESPNU/WatchESPN.com
1 p.m. – 3 p.m., ESPN2/WatchESPN.com
Dakari wants a new Twitter name…suggestions?
Changing my twitter name what should it be?

— Dakari Johnson (@dslowmotion22) May 14, 2014
@DakariInTheUSA is free…just saying.
DeMarcus Cousins and Eric Bledsoe are hanging out together
The former Cats snapped this pic with that guy, possibly in Hawaii, where we know DeMarcus has been vacationing this week. Must be rough…
The basketball team gets a perfect score of 1000 on the APR
The NCAA released the APR scores for 2012-2013, and the UK Basketball team scored a perfect 1000, raising the multi-year score to 989 over a four-year period. The football team also did well, pulling in a 932. In addition, the basketball team posted a 3.11 GPA this past semester, with 10 of 16 players posting a B-average or better.
Meanwhile…
KSR will be live from Sleep Outfitters in Danville on Thursday
Matt and Ryan are headed to my hometown, Danville, for Thursday's show, which will take place at the brand new Sleep Outfitters at 2900 S Danville Bypass. Head on out to give them a warm Danville welcome and the chance to win some awesome prizes. Just saying, you might have an even better chance if you take them some fresh Burke's Bakery doughnuts.