Mini-Golf's Monday Morning Wakeup
Grab a crooked putter and the brightest golf ball you can find and get out to the nearest miniature golf course… It's Miniature Golf Day!
Why is today Miniature Golf Day, you ask? Well, that's a good question. I can't find the origin of Miniature Golf Day, but the internet tells me it's Miniature Golf Day, so we're rolling with it. Don't get it confused with National Miniature Golf Day, though — that's the second Saturday of May. Today is the world-wide Miniature Golf Day, celebrated every September 21 in every single country around the globe.
Happy putting!
Mark Stoops will talk to the media at noon.
Another Monday, another press conference for Mark Stoops. This time, he will talk about what went wrong in the Florida game, after having time to review the film and let it sink in. He will also look ahead to Saturday's contest with Missouri and update us on any news we need to know going into the week. We will get a look at an updated depth chart, too.
All that coming up at noon, so stick around.
Drake gave a shout-out to Kentucky in his latest hit.
The internet is going crazy over new music from Drake, released last night. In the hit new song "Scholarships," Drake gives a shout-out to his favorite college basketball team:
"And I rock Kentucky blue" @Drake pic.twitter.com/kYF2Kfte4L

— Drew Franklin (@DrewFranklinKSR) September 21, 2015
You hear that, recruits?
An update on Alex Poythress:
Jon Rothstein from CBSSports.com reports Alex Poythress is still not participating in live competition in Lexington. However, Poythress is running and dunking in practice. This comes from John Calipari, according to Rothstein.
Randall Cobb shined on Sunday Night Football.
Cobb caught eight passes for 116 yards last night in Green Bay's win over Seattle, a rematch of last year's exciting NFC Championship. The former Wildcat led the Packers in receptions and yards while Anthony Davis watched on in his Randall Cobb jersey: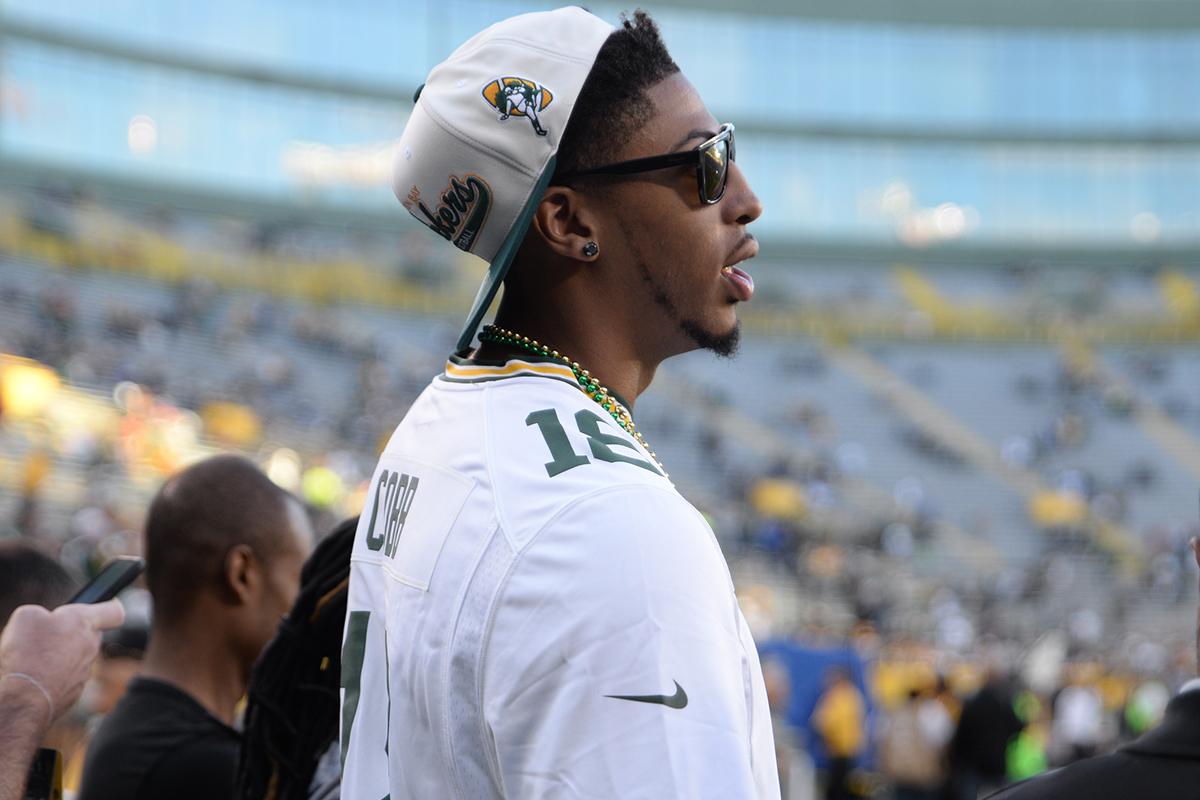 And over in Pittsburgh, Bud Dupree recorded his second career sack on Colin Kaepernick and the Niners. That's two sacks in two games for the rook.
Mrs. Tyler is on vacation this week.
You're stuck with me for five days while Mr. and Mrs. Tyler enjoy lovely San Francisco on vacation. I've locked myself in the office with a weeklong supply of food and other survival necessities to get me to the weekend. Wish me luck.
Watched Southpaw last night.
It's pretty good but much darker than I expected. I thought it would be more punching and less crying.
The Good: The fight scenes are so realistic.
The Bad: 50 Cent is in it.
Tonight: Black Mass
Thoughts and prayers go out to Aaron Jackson. #WhatCancer
Sending some love out to Aaron Jackson, a huge UK fan currently fighting the good fight against cancer. Jackson loves the Cats and he could use some love from the BBN family right now. Leave him a message below to let him know we're all with him in this battle he will win. #WhatCancer
Go Cats, everybody.