Louisville Week's Monday Morning Wakeup
You feel that? I do. It's football excitement. It's the football excitement we get during this week every year, no matter the circumstances. It's Louisville week. We always get up for Louisville week, because we hate Louisville, and there's nothing better than beating them in the only sport their fans can talk to us about. So let's do that.
This year, Kentucky will be playing for more than bragging rights in the state when it meets the Cardinals in the regular season finale. Kentucky will be playing for its bowl eligibility for a second consecutive season. Last year, UK fell short in the same situation, though it played well on the road and had a shot to win in the end. Hopefully the outcome is different this time around. If it is, both programs finish at 6-6 on the year, with Kentucky holding the hypothetical tiebreaker. Do that, kill them in basketball on December 26, and we won't hear a word out of baby bro for the next year.
It's going to be a fun week leading up to the Governor's Cup. I think there's a pretty big holiday, too.
Louisville is favored by four points.
As of now, Louisville is giving up four points to the Cats out in Las Vegas. The line was bet down to three, briefly, but moved back to four.
Hey Boom, thumbs up if you're going to beat the Cardinals.
Awesome. I love the confidence.
Mark Stoops will talk about the game at noon.
Finally, a positive Monday football press conference. Stoops will go live at his normal time today to look back on the fun (and cold) Saturday night in Commonwealth Stadium, and look ahead to this upcoming Saturday's challenge.
As always, we will have the live stream and all the news here on KentuckySportsRadio.com.
Kentucky will become college basketball's new No. 1 team today.
Thanks to North Carolina's loss at Northern Iowa, Kentucky will move to the top spot in the college basketball rankings later today. The AP and USA Today Coaches polls will be released some time this afternoon, and there's very little chance any team not named Kentucky will find itself at No. 1.
Sacha Killeya-Jones will visit Lexington today and tomorrow.
Lexington bound in the am🤑🔵⚪️

— Sacha K-J‼️ (@The_SKJ) November 23, 2015
The first to commit to John Calipari's monstrous 2016 recruiting class, Killeya-Jones will visit Lexington today and tomorrow for the Boston game.
Say hi if you see him.
Rawle Alkins still likes Kentucky.
The Cats' already loaded backcourt for the 2016-17 season hasn't knocked Kentucky out of consideration for Rivals.com's ninth-ranked player in the 2016 class. Alkins included UK in his eight schools when he named them via Twitter on Sunday.
I can't imagine he will commit to Kentucky, or that he's even actually considering it at this point, but I've beyond doubting anything when it comes to John Calipari and recruiting.
Karl-Anthony Towns made Tyus Jones wear his Kentucky jersey.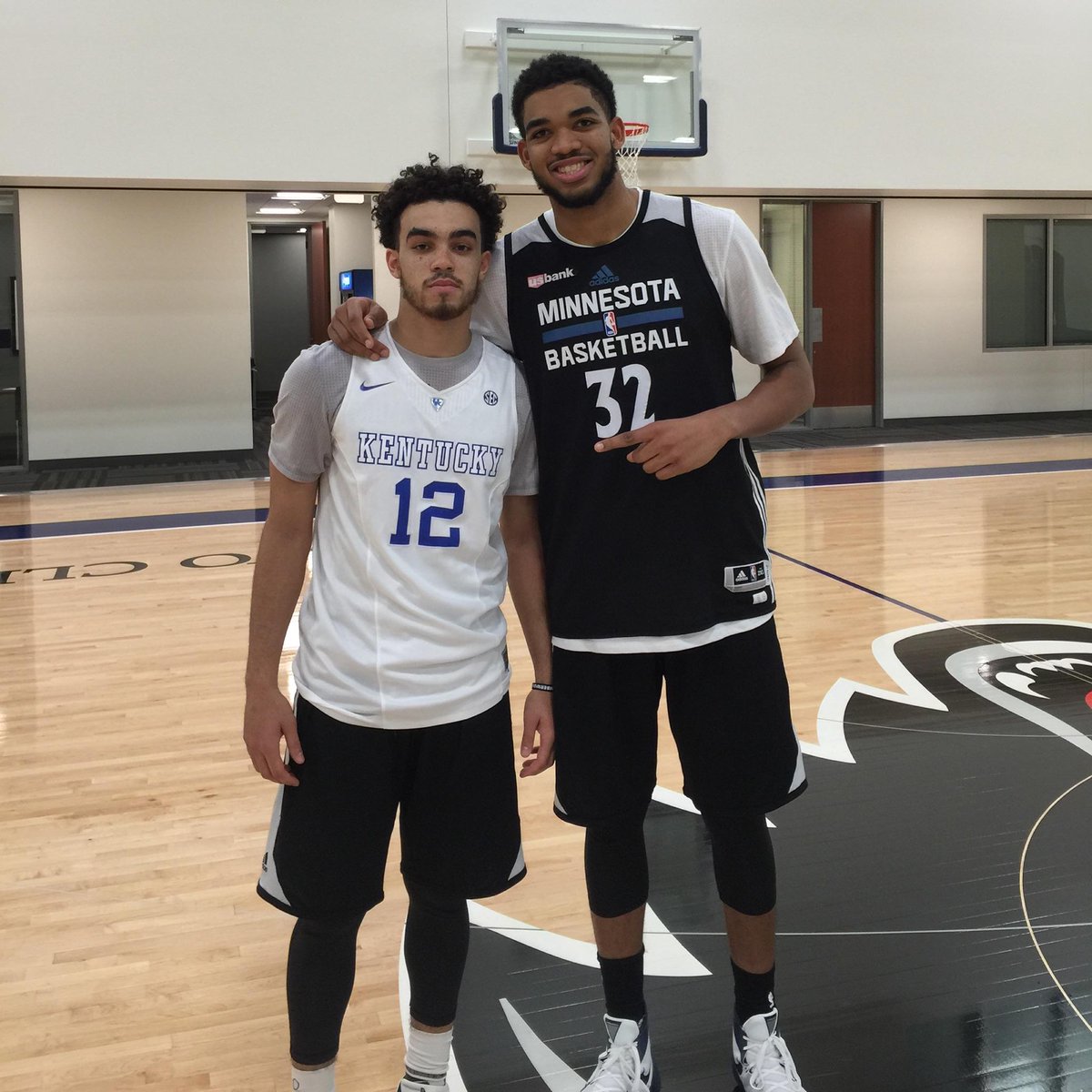 The two Minnesota rookies had a friendly wager on last week's Kentucky-Duke game, and Jones, the former Duke point guard, came out on the losing end.
You missed Canesgiving.
On the Sunday before every Thanksgiving, my friends and I get together for our annual Canesgiving dinner. (Think Thanksgiving, but with Raising Cane's chicken fingers instead of a turkey. Genius, I know.) This year we had quite a spread for such a small group, with gifts and decor provided by the good people at Cane's.
But the star of the show was the Cane's sauce fountain; a lifelong pipe dream that became a reality last night. If you can dream it, you can do it. It was beautiful.
The Cane's fountain is ready for #Canesgiving15 (@RaisingCanesLEX) pic.twitter.com/ar0G9S9L9e

— Drew Franklin (@DrewFranklinKSR) November 22, 2015
Today, salads and treadmill.
(After I finish the leftovers, of course.)
Tune in to KSR.
It's the first of five days of Louisville hate.