Lexington Burger Week Ratings 2016
Today marked the end of Lexington Burger Week 2016 and no one is happier than my insides. I narrowed Burger Week down to a four-day event and somehow managed to still fit 12 burgers into my body in that span. Had I gone any longer there would've been some serious health implications, but I had a big enough sample size (one-third of the list) to earn the right to rate some of the field.
Below you'll find the 12 burgers I tried, listed by order of consumption from Tuesday to Friday. They're graded on a five-burger scale, with five being the best and one being Parkette Drive-In.
To the other burgers I didn't have the privilege of tasting, I look forward to devouring you next year. (Or I accept invites to come in before then.)
Here they are, the 12 burgers of #LexBurgerWeek 2016, better known as #DrewGains20PoundsWeek…
---
1.) The Pimento FGT BLT Burger | A&W Burgers, Chicken, Floats
Fresh, never frozen, beef burger topped with housemade Spicy Papa sauce, pimento cheese, fried green tomato, hickory smoked bacon, American cheese, lettuce and ripe red tomato on a caramelized bun.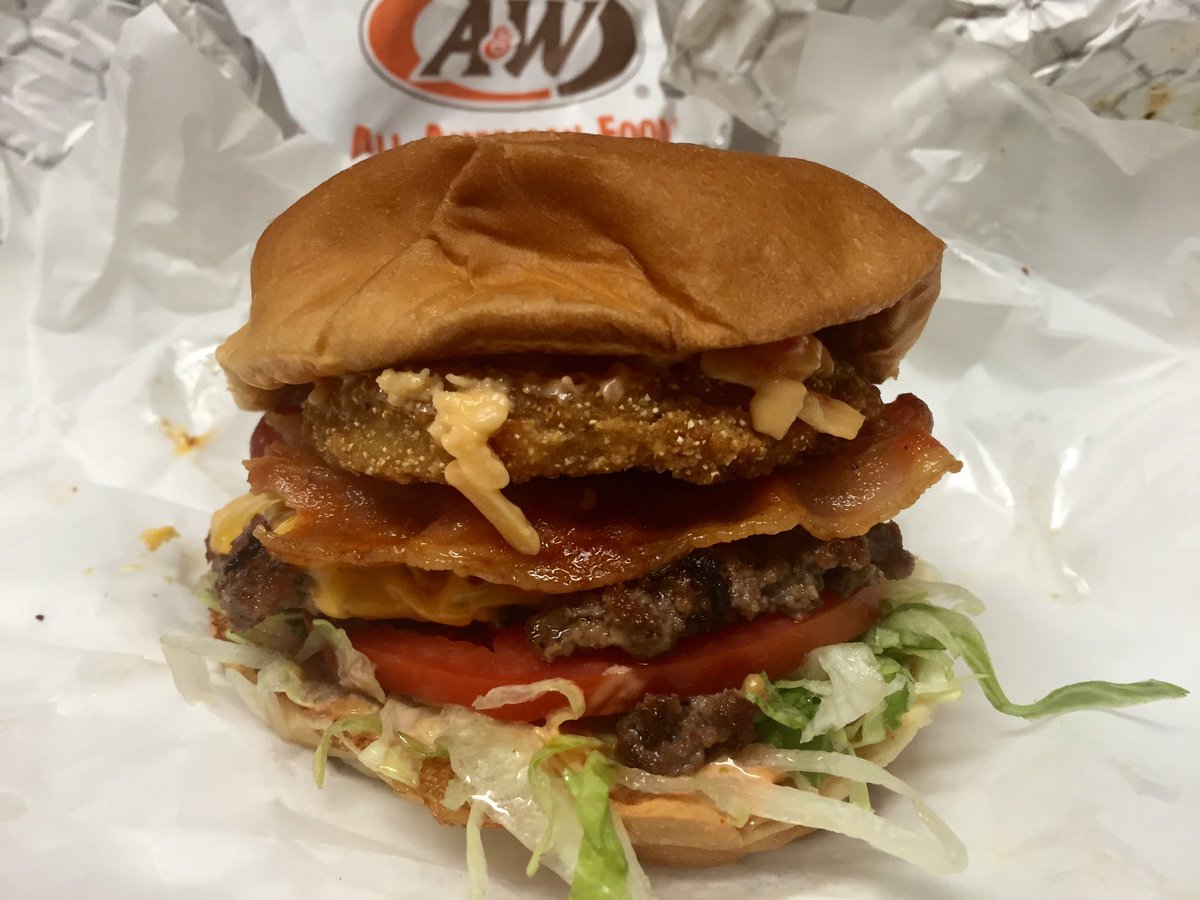 Rating:
A&W's Pimento FGT BLT Burger was my first stop simply for its convenience (it was next door) but it was also one of my favorites. The bacon was crisp — which is rare in the fast food world — and the pimento cheese and Spicy Papa sauce were delicious additions. Not to mention, I'm a big fried green tomato guy.
Moments after taking my first bite, I texted several of my friends, "Shut it down. A&W wins burger week. I don't need to try any others."
But I had to try others.
---
2.) The Slam Dunkel | BRU Burger
Brisket, chuck and sirloin blend burger topped with crispy onion straws and slathered in bavarian beer cheese made with Blue Stallion Dunkel.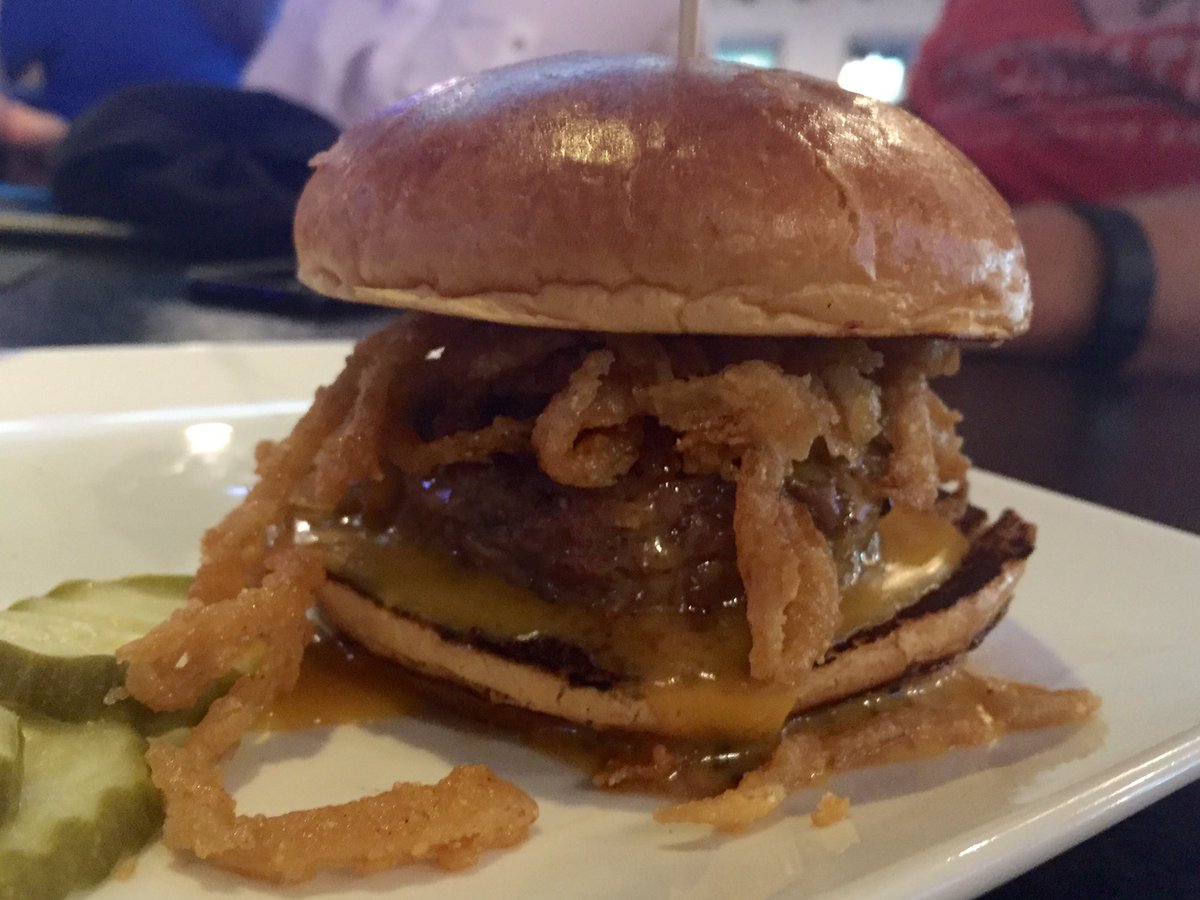 Rating:
Up next on my Tour de Burger was Bru Burger's Slam Dunkel. It caught my eye for its beer cheese, beer cheese and, man, I love beer cheese. You put beer cheese on anything and I'll eat it. Try me.
Anyway, the Slam Dunkel was decent but I was a bit disappointed overall. The beef was a little overcooked and it had the unfortunate draw of following A&W.
Would I order it again? Yes, and with Bru's pretzels because they're awesome. But the Dunkel only gets a three-burger rating for this particular experience.
---
3.) Brewmaster Burger | Drake's / Harry's
A fresh, never frozen, seared 8 ounce burger, cheddar cheese, caramelized Guinness-braised onions, Parmesan- horseradish aioli, fresh cut toppings on a toasted bun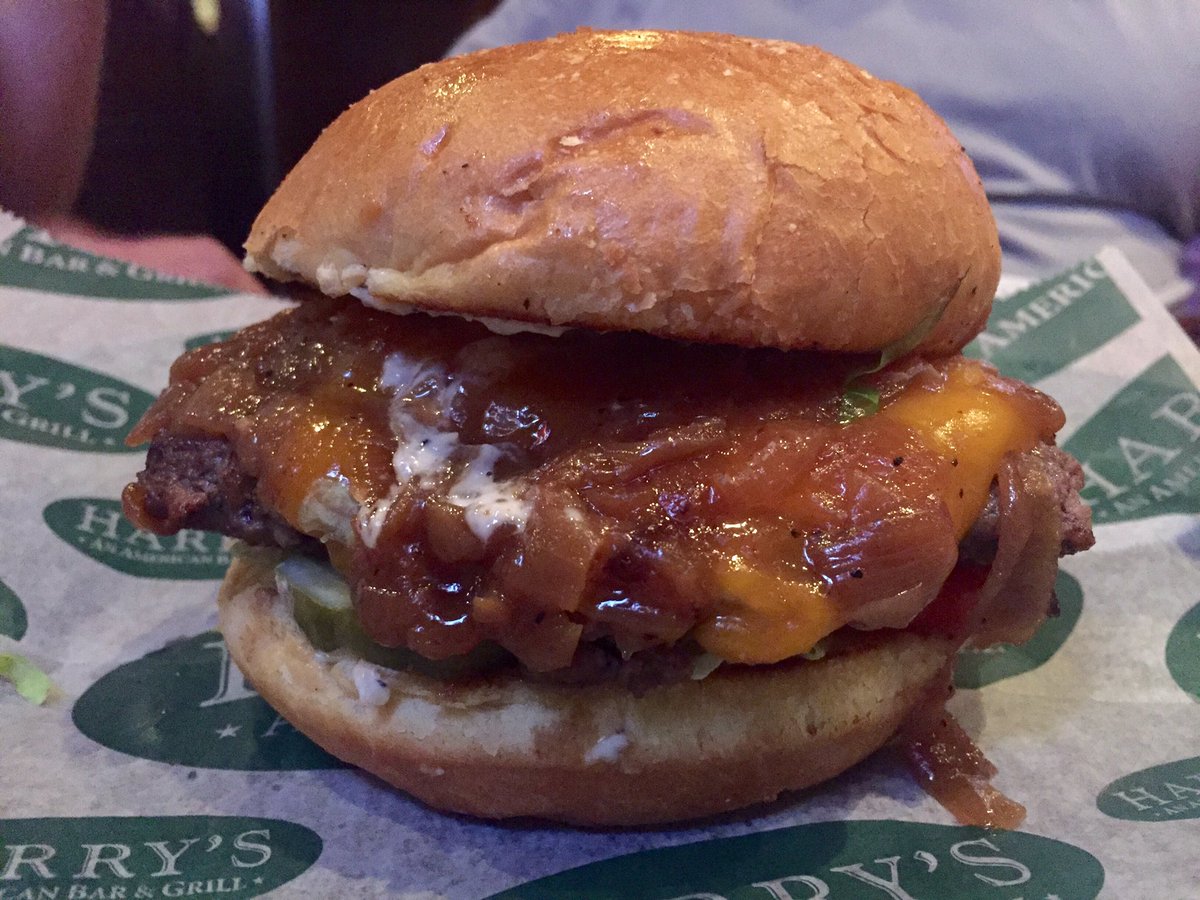 Rating:
BHG Restaurants used its Brewmaster Burger special for both the Harry's and Drake's locations. I tried it out at Harry's Palomar to avoid the weeknight temptations I often encounter when I go to Drake's.
Harry's and the burger were good, as always, but only good enough to earn a four-burger rating. If I'm eating a burger at Harry's, give me the Juicy Lucy all day.
---
4.) Breakfast All Day Burger | BurgerFi
All-natural Black Angus patty (no hormones, no antibiotics, no steroids) topped with American cheese, fried egg, handmade hash browns, two pieces of hickory bacon and a touch of maple syrup. Served on a toasted potato bun with ketchup and caramelized onions.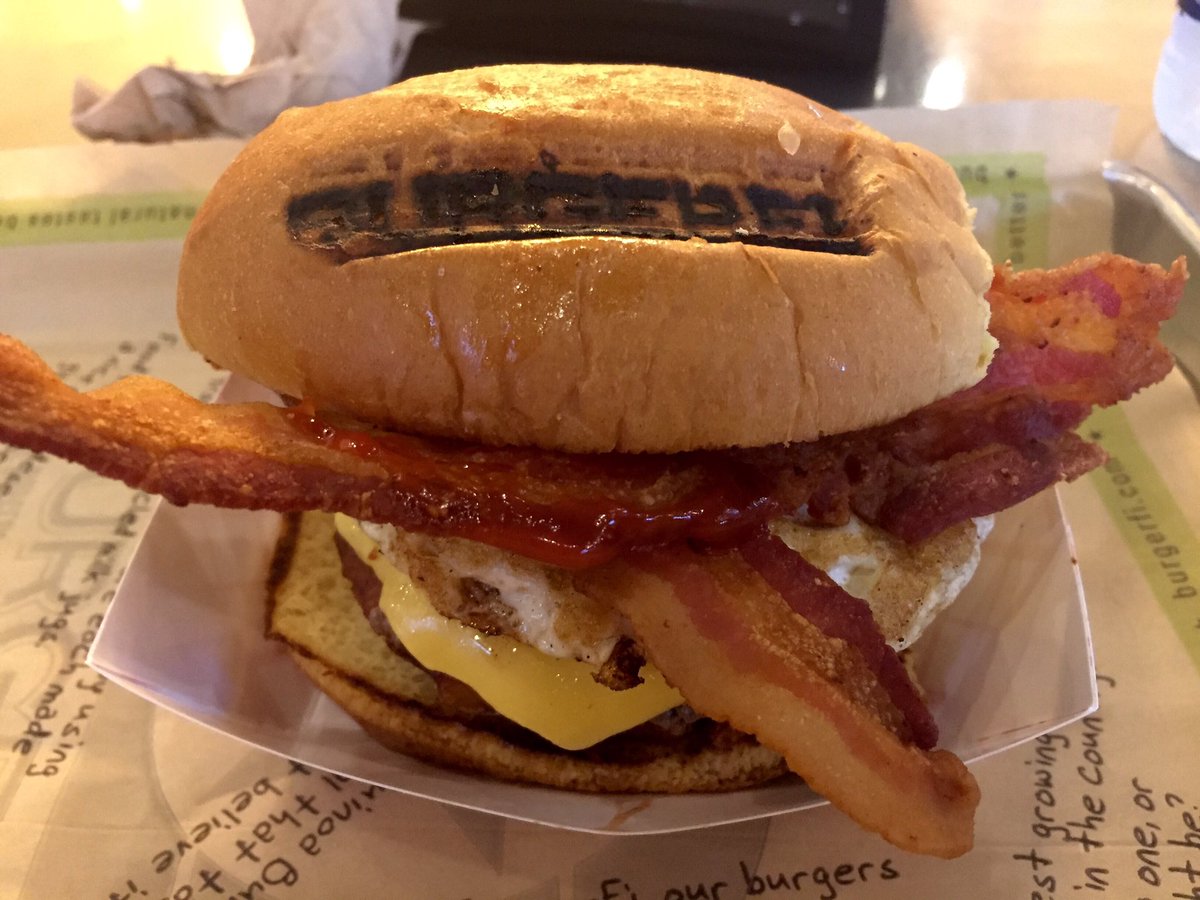 Rating:
BurgerFi is my go-to when I want a burger in Lexington and its Breakfast All Day Burger fell right in line with the other burgers I've had there, although this one is a monster. It is exactly what it says: breakfast on a burger. I'd like to try it at 10 am after a long night out, rather than after eating it after having two other burgers the same night.
I highly recommend giving it a shot sometime; it's always on the BurgerFi menu, not just during Burger Week.
On a related note, the Key Lime Concrete at BurgerFi is the best thing you'll ever put in your mouth to satisfy a sweet tooth.
---
5.) French Onion Burger | Smithtown Seafood
Quarter pound Kentucky Proud beef, sherry- and demi glacé-bathed caramelized onions with Kenny's Norwood Cheese on a croissant bun with roasted garlic aioli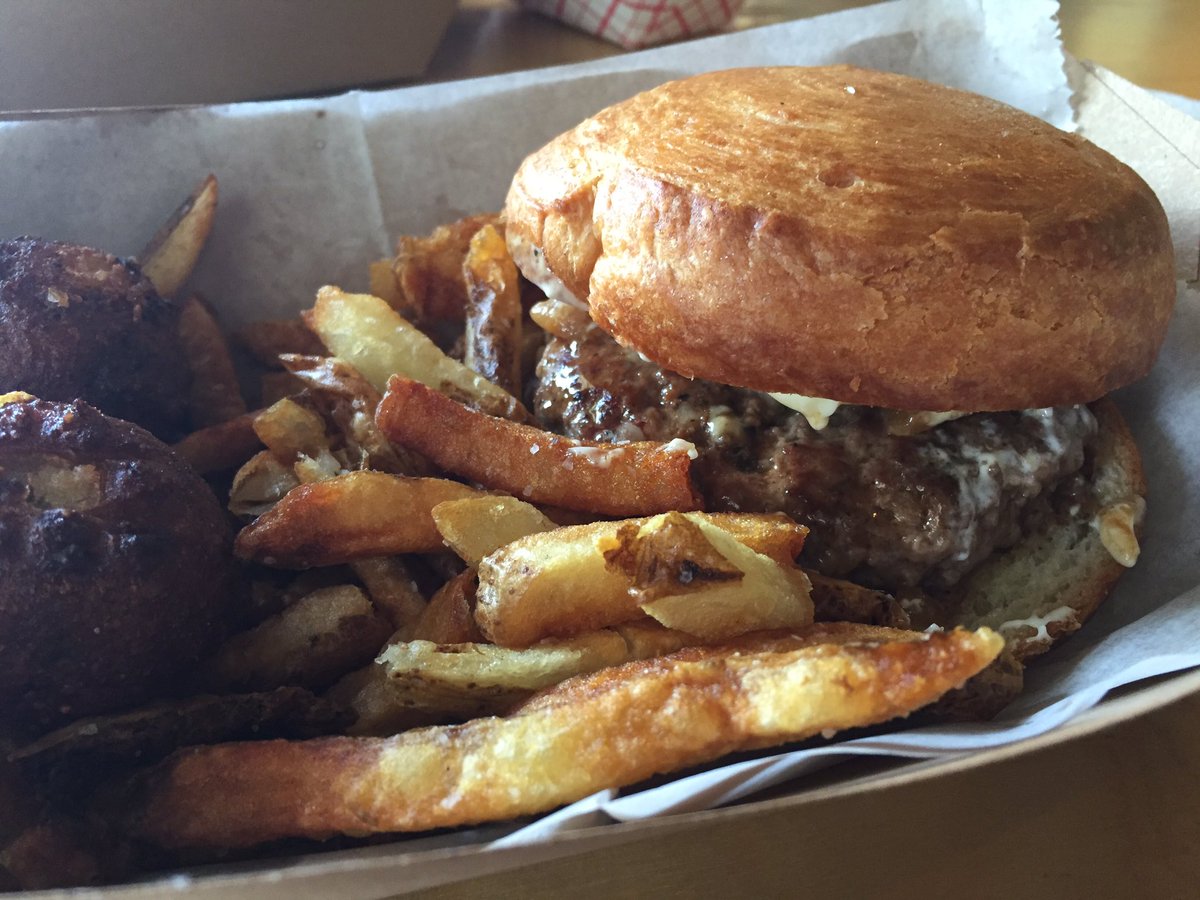 Rating:
Ranking in my top-three is the French Onion Burger at Smithtown Seafood. I had never heard of Smithtown Seafood when I met a friend there for lunch, but Smithtown is now on my restaurant list after how well it performed for Burger Week. It was damn near perfect.
---
6.) Borachoburger | Enoteca
Single, hand-patted burger with Spanish chorizo, arugula, drunken goat cheese, aioli & bourbon sauce on local brioche bun.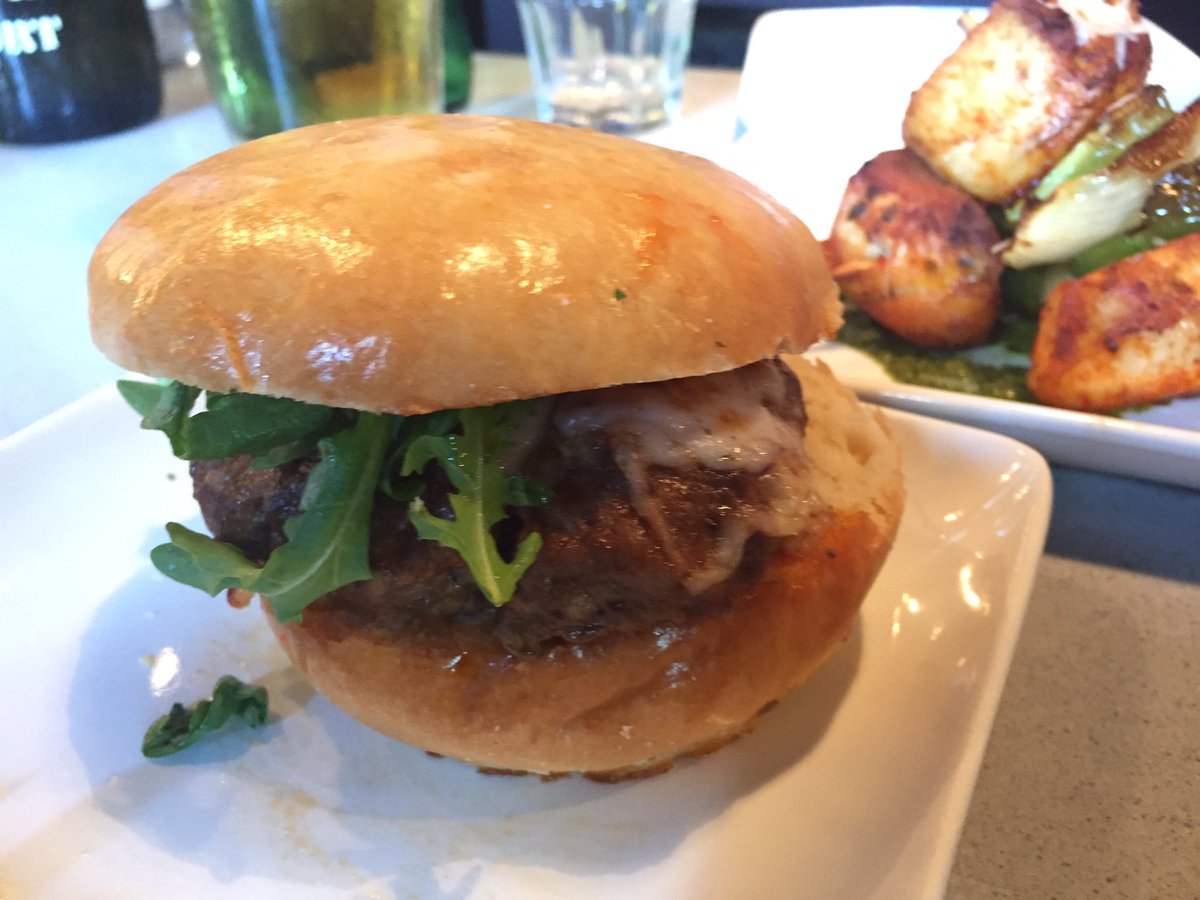 Rating:
As is the case with beer cheese, I will eat anything if you work a little chorizo into it. That's what the good people at Enoteca did for the Borachoburger, another one of my favorites of the week. It's a gold medalist in the bun category, too. Very, very, very good burger.
---
7.) The Spicy Nick | Nick Ryan's
Six ounce certified Angus beef patty, fried onion straws, fresh diced jalapenos, Nick's spicy barbecue sauce and melted cheddar cheese.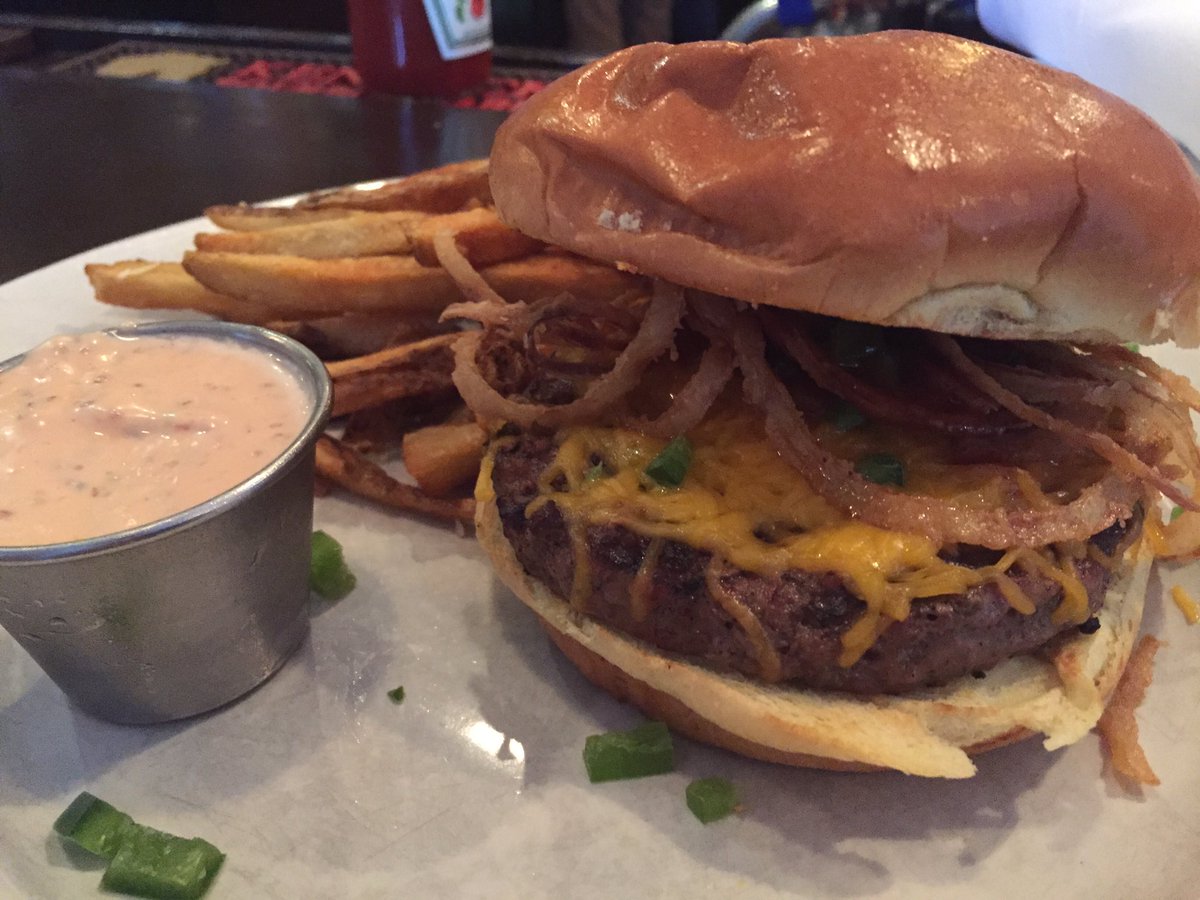 Rating:
Nick Ryan's Spicy Nick was the classic case of not living up to the hype. It caught my eye with its description and photo on the Burger Week list, but just didn't follow all the way through with the taste. Not bad, but not enough for a fourth star.
---
8.) El BanditO'round | Shamrock's
7 ounce hand-pattied natural ground chuck patty with El BanditO cream cheese spread (diced jalapeño and banana peppers) layered with sweet habanero glaze and topped with a Brewers City onion ring, leaf lettuce and tomato served on a toasted 5-inch sesame bun.
Rating:
If you've had a burger at Shamrock's, you already know it's one of the best places in town for a burger. The El BanditO'round was just another great one on the long menu full of burger greatness, living up to those Shamrock's burger expectations.
I washed it down with some of that buffalo chicken dip and a Cougar Bait for good measure.
---
9.) The Fiesta Burger | The Cellar Bar & Grille
8 ounce fresh ground natural chuck, topped with homemade queso, salsa and jalapeños, all on a toasted bun.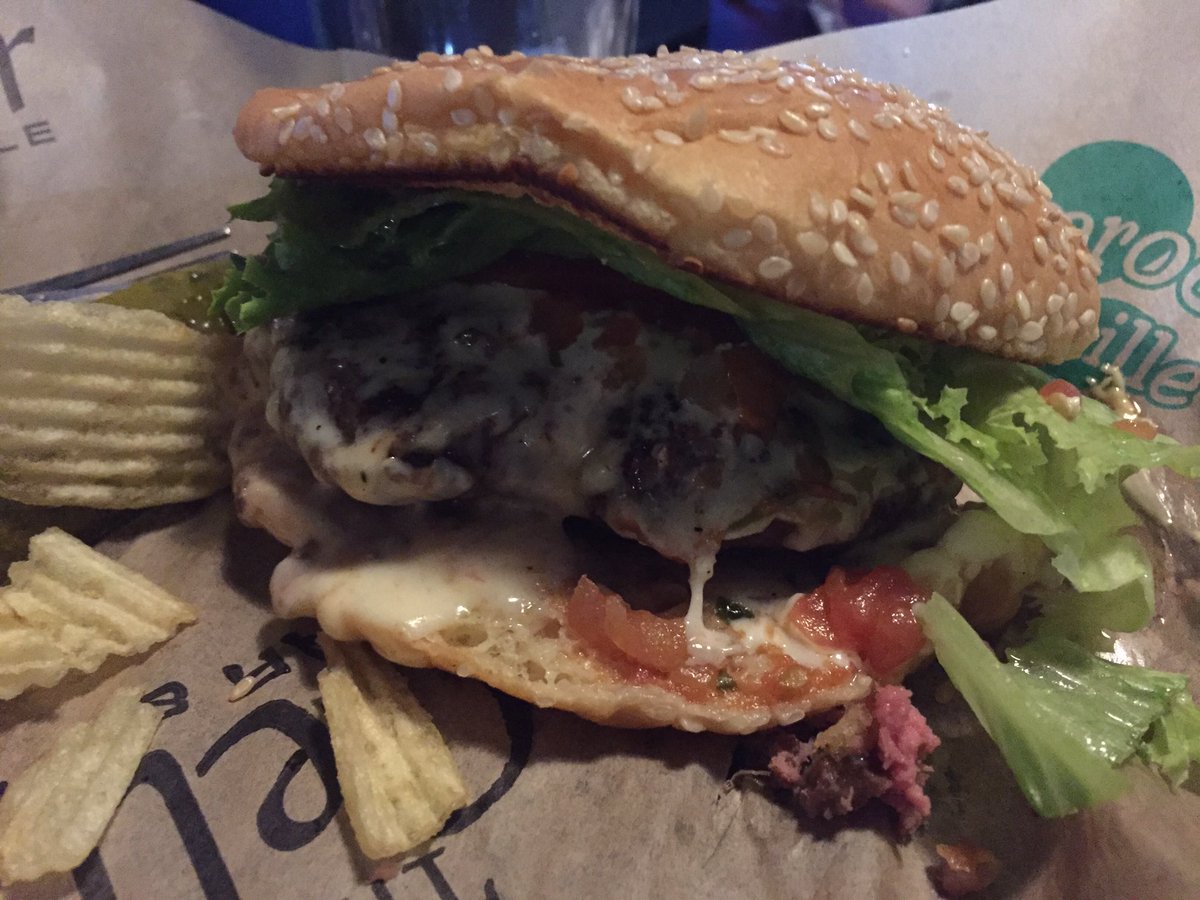 Rating:
Also from the same mold of the Shamrock's burgers, the Cellar (same ownership) delivered with its Fiesta Burger. Come on, it had queso poured all over it. How can you ruin anything that has queso on it?
---
10.) Kentucky Hot Brown Burger | Parkette Drive-In
4 ounce certified Angus beef patty topped with American cheese, oven-roasted turkey, bacon, alfredo sauce, tomato and a toasted bun.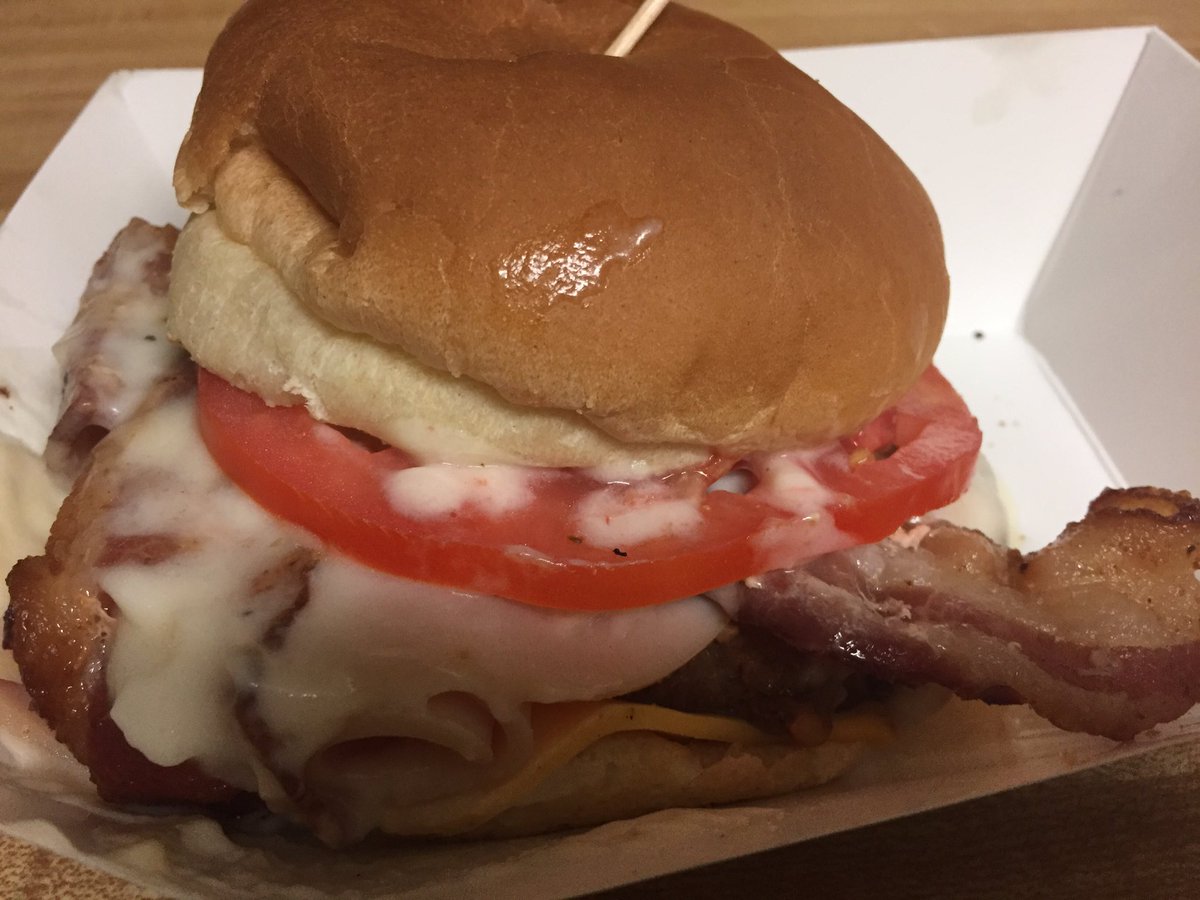 Rating:
My middle school cafeteria thinks that burger patty was suspect.
---
11.) JDI Bourbon Bacon Burger | JDI Grill & Tavern
1/3 pound Angus beef patty covered in housemade bourbon sauce, topped with caramelized onions, applewood smoked bacon, melted swiss cheese sauce, lettuce, tomato, and pickle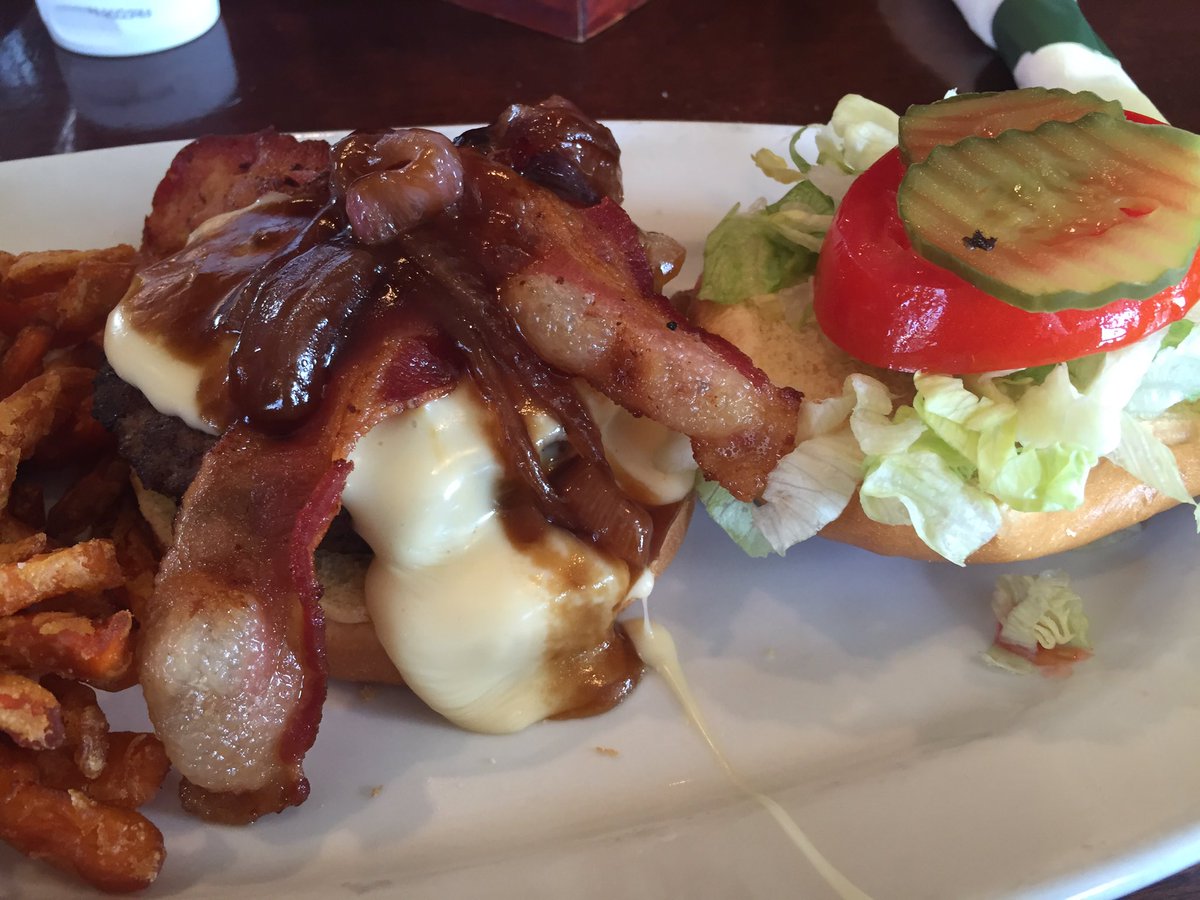 Rating:
JDI had so much potential but it swung and missed on my Bourbon Bacon Burger. I ordered it medium-rare and it came out extra-well, and the bun tasted like your standard generic brand bun that sat on the shelf too long.
You were on the right path, JDI. Execution hurt you.
---
12.) My Cast Iron Skillet Double Cheeseburger | My House
Two four-ounce patties of ground chuck and sirloin, homemade special sauce, fresh tomatoes and lettuce, plus the hamburger dills that have been in the back of my fridge for going on four years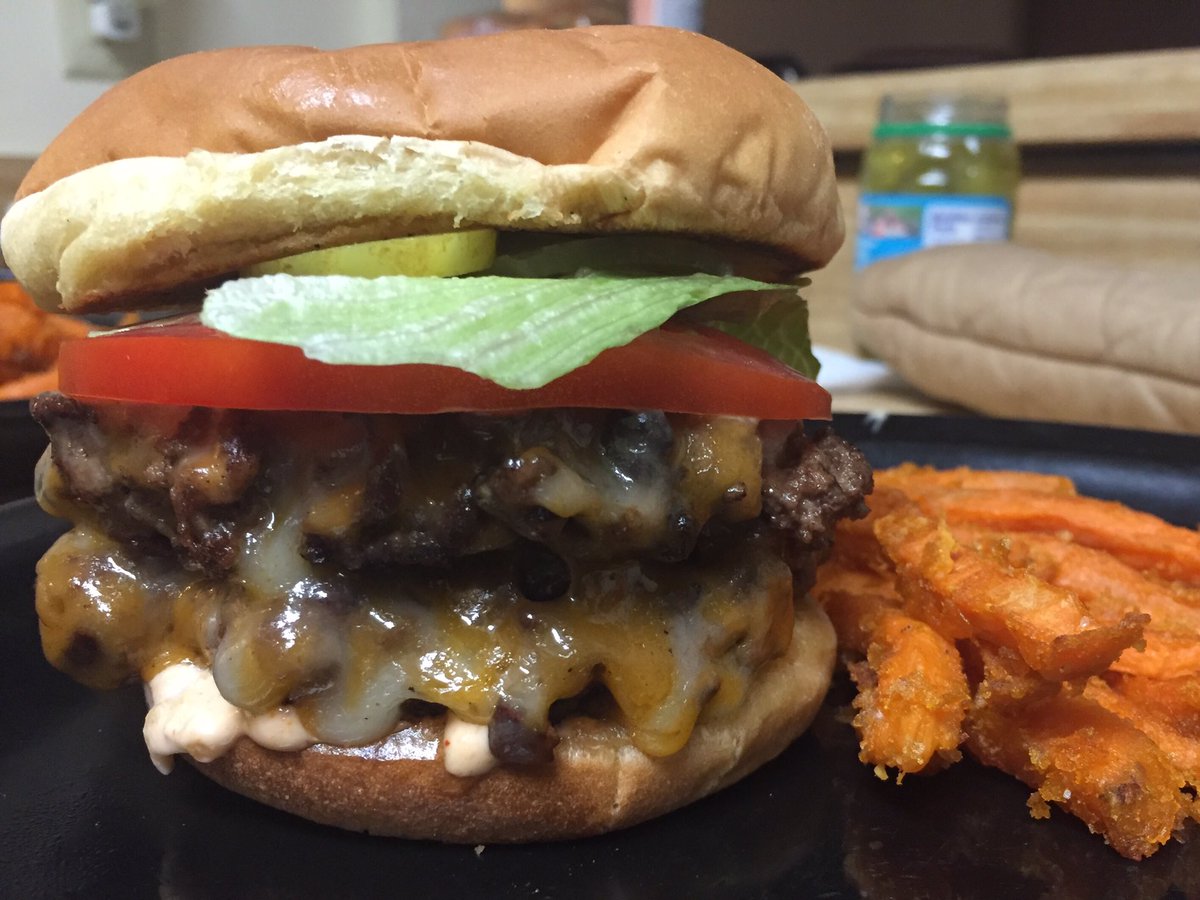 Rating:
The best burger of the week, and in life in general, was the burger I made at home Friday night in my cast iron skillet. (Grills are for amateurs.) It was perfection and it's completely normal for you to be totally jealous I didn't invite you over for one.
---
Final Thoughts:
First of all, I do not recommend taking this approach to Burger Week. Eating 12 burgers in four days is one of the worst things you can do to your body, legally. I felt terrible all week, to the point I began hating myself and wondering why I was still going. But I did it for you, KSR readers; I kept pushing and fighting and chewing and swallowing thousands of calories for you. I put my life on the line so you could read about burgers in a blog post on a Sunday night in July. Consider this high-cholesterol journalism and I'm the award-winning journalist that can't fit into his pants anymore.
But back to the burgers, A&W takes the crown in a surprise upset. The one fast food restaurant on the long list of participates shocked the world by having the best burger and I have several people supporting this claim. Way to go, A&W. You win. Smithtown, BurgerFi and Enoteca, you weren't far behind.
Happy Burger Week, everyone. Diet starts on Monday.